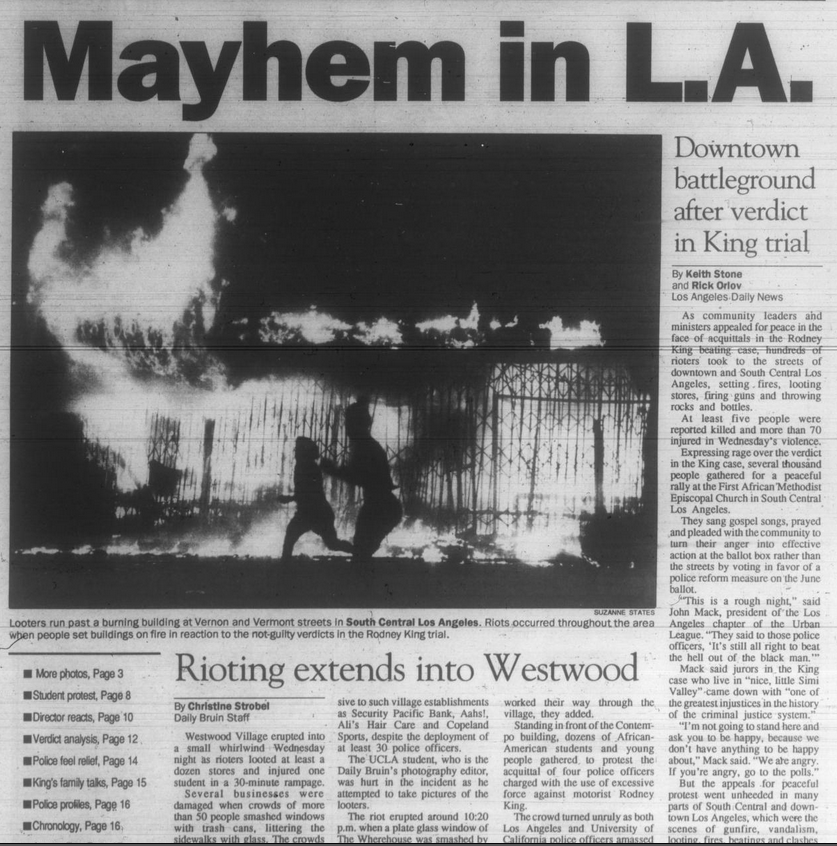 On Wednesday, April 29, 1992, a jury acquitted four LAPD officers who were videotaped beating African American motorist Rodney King. The "not guilty" verdict ignited a firestorm of
civil unrest
across Los Angeles, as residents pointed to issues of disparity in unemployment, poverty and the justice system. For nearly a week the city simmered with looting, fires and violence. As the drama unfolded on live television, a large crowd of students, faculty and staff gathered in Bruin Plaza. The unrest reached
Westwood Village
, as a crowd smashed windows and looted stores. Although students were in the midst of midterms, UCLA shut down the campus on Friday. For four days following the verdicts, most of UCLA and Westwood were blocked off, and Mayor Tom Bradley '41 deployed the National Guard and a dusk-to-dawn curfew. Students for Social Justice organized to aid riot victims, clean up impacted neighborhoods and focus on the
civil rights issues
at the heart of the rebellion.
CHICANO STUDIES
In the turbulent 1960s, UCLA had made a commitment to confront bias with the establishment of the
Institute of American Cultures
(IAC), bringing diverse voices to UCLA. However, the debate reignited in 1990 when UCLA suspended new admissions to the undergraduate Chicano studies major, citing the recession and social and budget policy changes. The student group MEChA (Movimiento Estudiantil Chicano de Aztlán) organized a demonstration calling for a Chicano Studies department. The proposal gained support in the Academic Senate but in 1993, after years of negotiations, UCLA Chancellor Young announced the program would not be implemented.
Events on the UCLA campus drew national attention to the movement when, on May 11, 1993, following the death of Cesar Chavez, protesters challenged this decision by staging a sit-in at the UCLA Faculty Center. Emotions were high, 80 protesters were arrested and there was an estimated $30,000 in damage. Later that month, five students, one professor and three community members began a hunger strike protesting Young's decision, with hundreds rallying in support. The civil disobedience lasted two full weeks, resulting in a compromise agreement. On June 7, 1993, more than 1,000 gathered outside Murphy Hall to celebrate the establishment of the
César E. Chávez Center for Interdisciplinary Instruction in Chicana and Chicano Studies
.
AFFIRMATIVE ACTION
As a public university, UCLA is mandated to educate a student body that reflects Californians — with diversity across socio-economic, ethnic, geographic and cultural backgrounds. Outreach programs were put in place following student protests in the late 1960s, in response to a UC study that found Native American, African American, Latino and students from low-income households were not prepared by their schools for UC admission.
By 1991
, as a result of these and other actions, UCLA's undergraduate student body had become the most diverse of any research university in the nation.
In 1995, Mother Jones magazine named UCLA one of its Top 10 Activist Campuses. That year the UC Regents voted to discontinue affirmative action for admissions and employment. A year later, Californians passed
Proposition 209
, amending the state constitution to prohibit state institutions from considering race, sex or ethnicity in public employment, public contracting and public education. Following the passage of Proposition 209, minority student enrollment declined — African American students fell from 693 in 1995 to 99 in 2006 — the lowest since the 1960s. In response, the University and the Alumni Association, in partnership with the Black Alumni Association, the Latino Alumni Association and American Indian Alumni of UCLA, expanded outreach efforts to admitted students from underrepresented minorities to welcome students to UCLA.
CHALLENGING THE FUTURE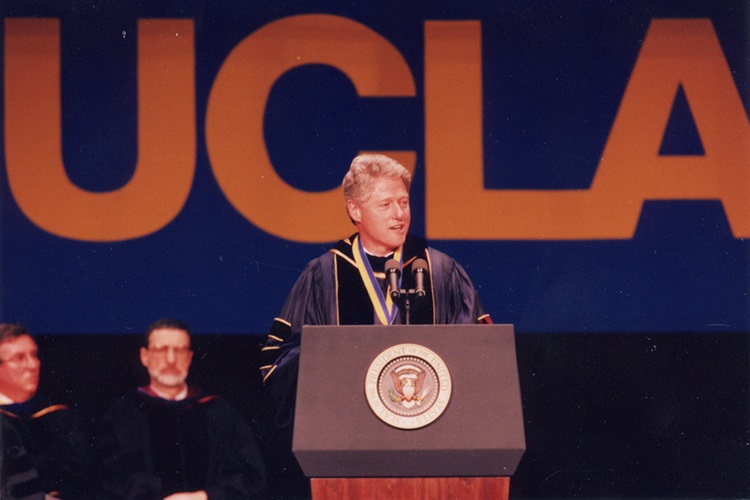 UCLA's 75th anniversary was celebrated in 1995, coinciding with the UCLA Alumni Association's 60th anniversary. The yearlong event, with the theme "Challenging the Future," culminated with an academic convocation in Pauley Pavilion.
President William Jefferson Clinton
attended to receive the UCLA Medal, and declared that "UCLA is an example of America's faith in the future, the thing that's kept us going for 218 years."
The 1990s graduated some of the leading politicians and proponents of civic change of the future. They include Los Angeles City Councilman
David Ryu '99
, who became Los Angeles's first Korean American council member in 2015; Congresswoman
Linda Sánchez, J.D. '95
, who made history as the first Latina to serve on the House Committee on the Judiciary; and recent presidential hopeful Senator
Kirsten Gillibrand, J.D. '91
, who was elected the youngest member of the U.S. Senate. Ryu, a past president of the Asian Pacific Alumni of UCLA, has said, "Being at UCLA, with the diverse array of experiences, people and backgrounds, was eye-opening. UCLA is like a family ... I couldn't be more thankful to UCLA and the alumni for helping shape this great life I have had the privilege to live thus far."
NEW GROWTH & SUSTAINABILITY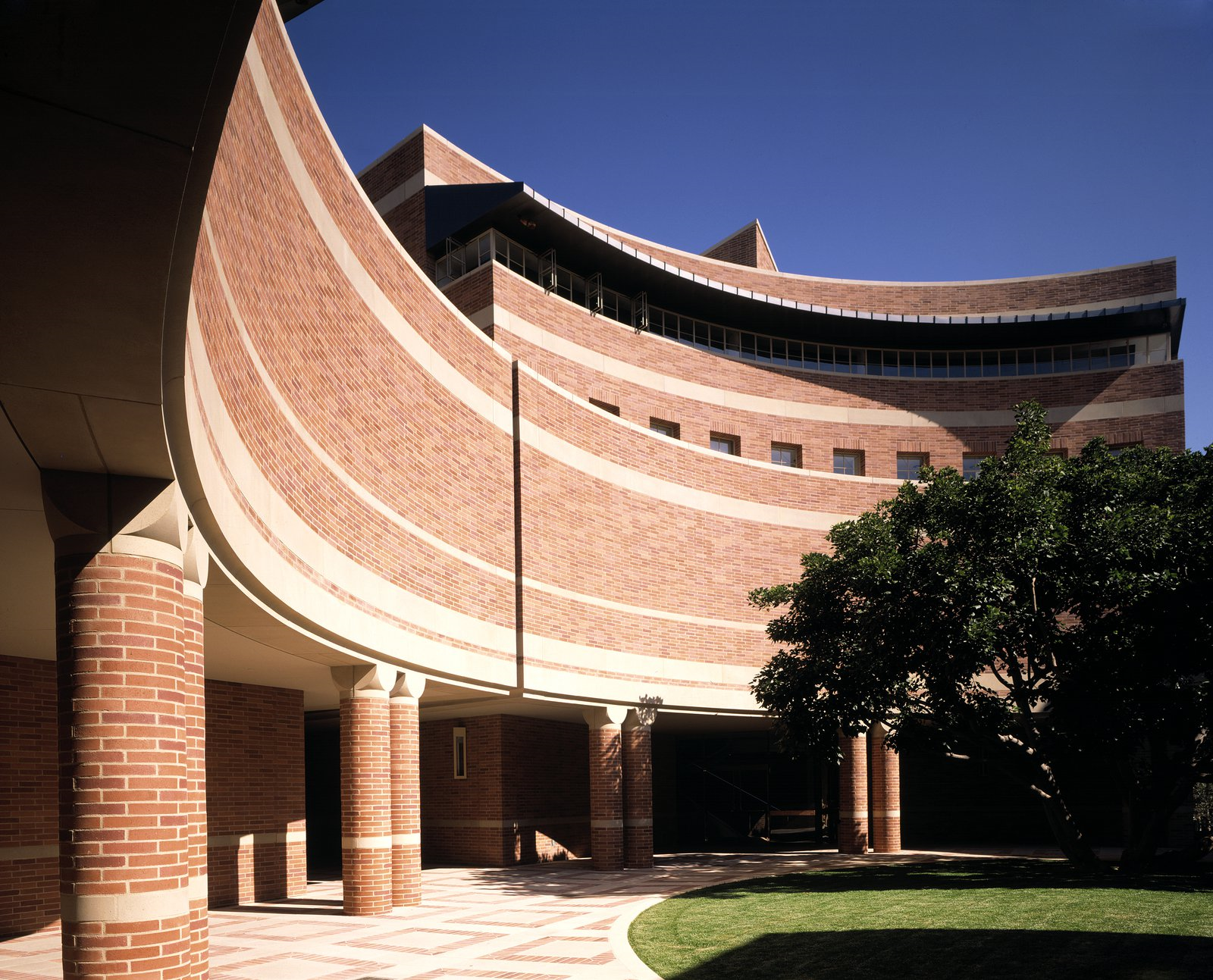 As UCLA grew, it added new buildings to accommodate the growing student body, while older ones were retrofitted to meet modern standards. Sunset Village and Covel Commons modernized campus housing with air conditioning, ethernet connections, an arcade and technology center. The seven-building Anderson School of Management, opened in 1995, was designed by architects
Pei, Cobb, Freed & Partners
to resemble the courtyards of an Italian village.
In 1994, UCLA opened its first new professional school in almost 30 years, the School of Public Policy and Social Research, today the Luskin School of Public Affairs. UCLA Luskin recently marked a quarter-century of advancing the public good through social work, urban and regional planning, and policymaking.
In 1990,
Donald Findley
, former executive director of ASUCLA, received the Bruin Bear Award from Chancellor Charles Young for his work as the champion and founder of UCLA's beloved family camp,
Bruin Woods
. Alumni leaders had wanted to open a vacation and conference center at the Lake Arrowhead facility since the 1940s. Findley, who had been instrumental in creating the Treehouse, Kerckhoff Coffee House, North Campus Student Center and The Cooperage, guided the renovation of the rundown property, now host to generations of alumni families.
As campus grew, UCLA began to address sustainability issues, and by 1990, campus had reduced its water use by 18 percent and was diverting waste from the landfill to recyclable energy. UCLA's
cogeneration plant
, which can generate a large percentage of campus energy needs, opened in 1993. Sustainability expert and UCLA Alumni board member,
Jaime Nack '98, M.P.P. '02
, described her college experience as a "boot camp" for her business and marketing skills. The environmental consultant and marketing strategist said, "How you walk through life can have an impact in many ways. You can choose to look through an environmental and social lens and make change."
NORTHRIDGE QUAKE RATTLES CAMPUS
Campus jolted awake at 4:31 a.m. on Jan. 17, 1994, to the 6.7 magnitude
Northridge earthquake
— centered approximately 17 miles north of Westwood. The quake surprised sleeping students, knocking out power and rattling nerves. Students were forced to evacuate Dykstra after the dorm suffered cracked ceilings, buckled doorways and broken windows. The UCLA Medical Center emergency room experienced a large influx of patients with earthquake-related injuries. Undergraduate classes were canceled after the shaking caused significant structural damage. Kerckhoff's spires rotated a full six inches, and cracks appeared on Royce Hall, forcing the building to close.
At the time of the quake, UCLA was in the midst of a two-decade seismic reinforcement program. This program was instrumental in preserving UCLA's iconic structures; however, many remained shuttered for months. Charles Oakley, UCLA campus architect, told the Daily Bruin, "From the construction site point of view, we did much better than my fears at 4:30 this morning. We were far from untouched, but it was nothing cataclysmic."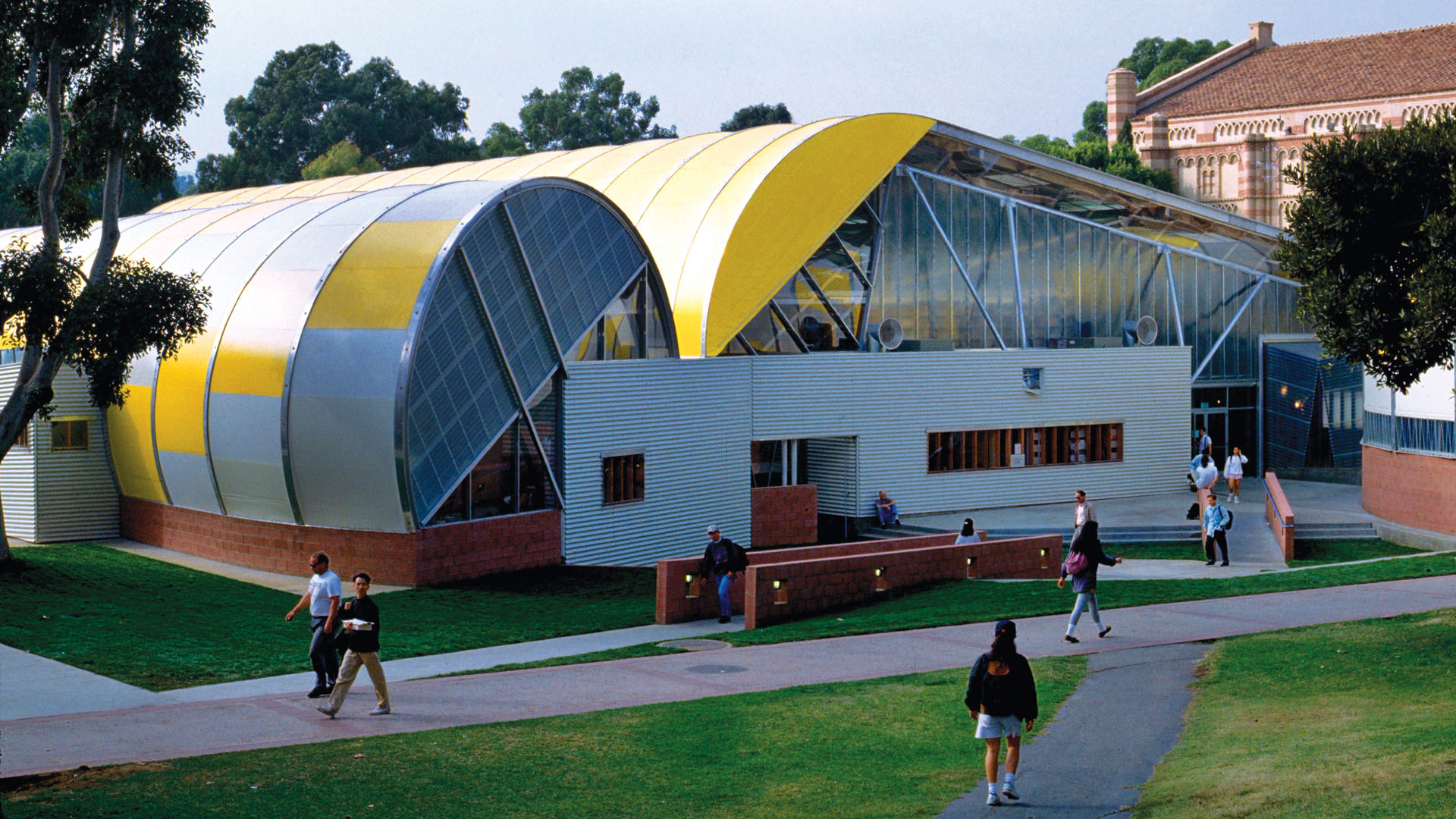 Powell Library, one of the first four buildings on campus, began a seismic upgrade in 1992. The firm
Hodgetts + Fung
, comprised of UCLA professor Craig Hodgetts and Hsinming Fung, M.Arch. '80, were enlisted to design a temporary home for 150,000 of the library's six million volumes. Hodgetts + Fung used a sense of playfulness to create a blue and gold, aluminum, Plexiglas and canvas structure nicknamed
Towell
— Temporary Powell Staging Facility. Located at the bottom of Janss Steps, the structure was built quickly for a cost of $3.2 million. Before being dismantled, Towell was briefly repurposed as classrooms and by ASUCLA as retail space.
ARTS ON CAMPUS
UCLA has long been an incubator for a wide range of artistic and cultural events. Students arrive at UCLA to learn from icons in their chosen field, and campus hosts performances and lectures. In 1996, UCLA's campus was host to a crowd of 75,000 for the first annual Los Angeles Times Festival of Books. While the festival has moved on, it is now the largest book fair in America, attracting over 130,000 book lovers.

With a mission to champion art that challenges the viewer and inspires change towards a more just world, the

Hammer Museum

opened its doors to the public in November 1990. The museum, financed by Occidental and adjacent to their headquarters, was built to house Dr. Armand Hammer's extensive private collection of paintings and drawings. Three weeks after opening, Dr. Hammer passed away, and the museum asked neighboring UCLA to take on operations. The collection has grown to over 2,000 works of art, including many emerging artists. Free admission to the Hammer Museum is made possible through the generosity of Erika J. Glazer and Brenda R. Potter.

The Fowler Museum of Cultural History

, later renamed the Fowler Museum at UCLA, opened in 1992, replacing a cramped independent research unit in the basement of Haines Hall housing 30,000 artifacts donated mainly from archaeological digs. Museum director Christopher Donnan said, "Our collections represent the artistic traditions of the world and include some of the finest examples anywhere." In 1981, UCLA raised $22 million to build the new structure. The museum currently holds 170,000 pieces from contemporary, historic and prehistoric cultures, and has a mission to explore global arts and cultures to increase appreciation of the world's diverse cultures. Through repatriation efforts, the Fowler works to return donated Native American remains and artifacts back to its tribes.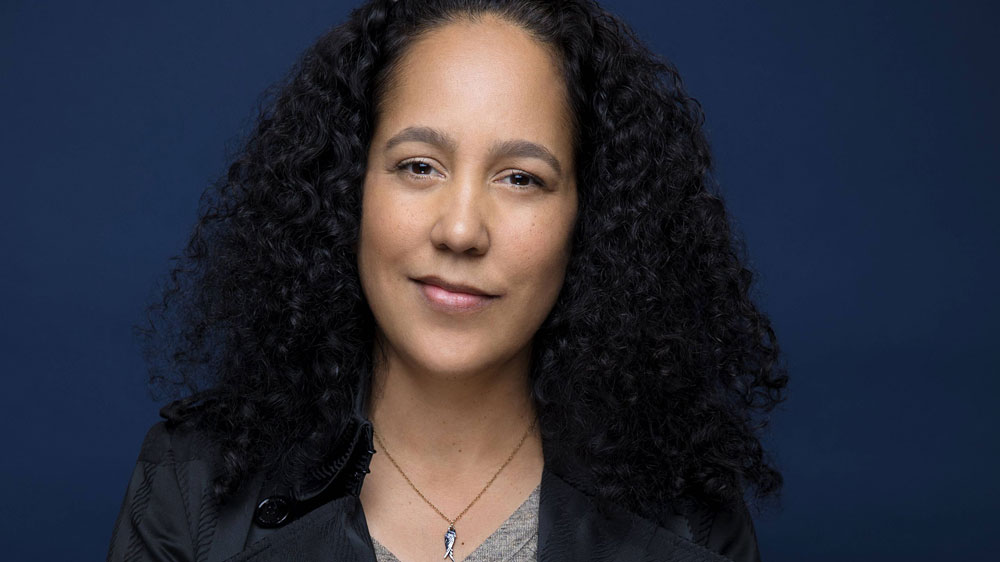 Evolving technology opened new pathways for creative endeavors. UCLA students of the 90s utilized all available mediums for artistic expression — from film, to music, to performance — many crediting UCLA for giving them the tools to realize their vision.
Eric Nakamura '93 and Martin Wong '90
bonded over a shared interest in punk rock and Asian pop culture. The pair co-founded the self-published magazine Giant Robot, which grew into a full-color publication with worldwide readership and shops in Los Angeles, San Francisco and New York City. Nakamura curates museum exhibitions, including the Giant Robot Biennales.
Wong
helped to create Save Music in Chinatown (SMiC), promoting all-ages shows to support public elementary schools.
Film director, producer and writer
Gina Prince-Bythewood '91
was honored in 2009 as UCLA Filmmaker of the Year by the School of Theater, Film and Television. She also ran track at UCLA, qualifying for the Pac-10 Championships in triple jump during her sophomore year. Prince-Bythewood's directorial debut, which she also wrote, was the acclaimed film "Love & Basketball."
After graduating from UCLA with a history degree and plans to become a financial broker, actor
Will Forte '93
instead honed his comedic skills as a member of The Groundlings, a Los Angeles improvisational troupe. Forte joined Saturday Night Live in 2002, performing offbeat sketches. He received acting and writing Emmy nominations for his role on "The Last Man on Earth."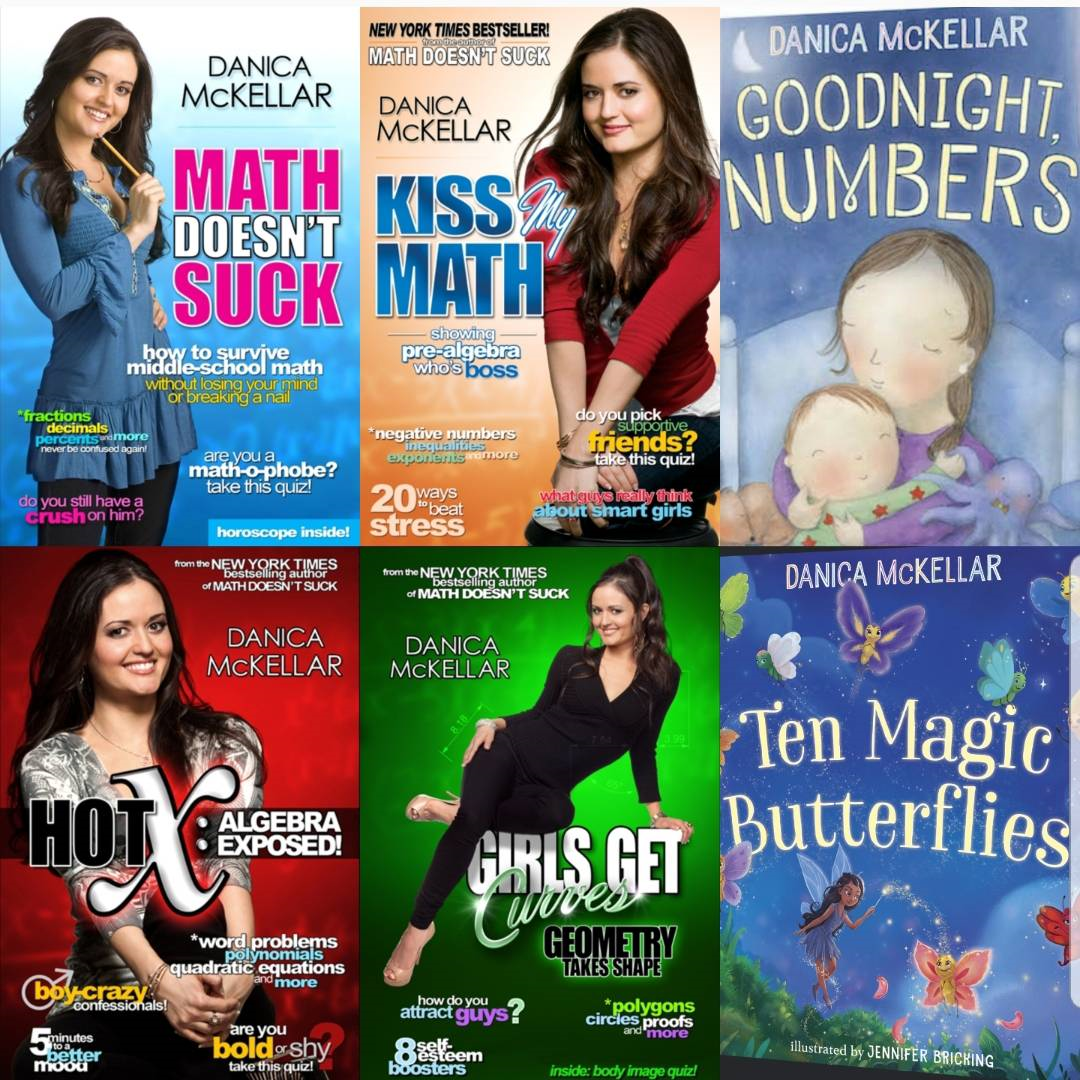 Actress
Danica McKellar '98
, known for roles on "The West Wing" and "The Wonder Years," has written six non-fiction books about mathematics. McKellar began acting at a young age and discovered her love of studying math at UCLA where she graduated summa cum laude in mathematics, working for two years as a calculus tutor. She says about her time at UCLA, "It gave me a chance to reinvent myself, and to value myself for something other than being on television."
Classical violinist
Eric Gorfain '91
now plays contemporary music, from KISS to Pearl Jam, with a string quartet. He says "I didn't realize that I wanted to be a professional musician until I got to UCLA. If I had chosen a different college, (my professional music career) may not have happened."
Director
Kristin Hanggi '98
made her Broadway debut with the '80s rock musical "Rock of Ages," becoming the youngest woman nominated for Best Director of a Musical. Hanggi attended the UCLA School of Theater, Film and Television and says, "UCLA provided me with a lot of encouragement and nurturing. The school's amazing resources allowed my imagination to play. If we wanted to put on a show in the theater department, we were allowed to put on a show."