Zoom! It's become a part of our new way of life. From business meetings to family reunions to social hangouts, video conferencing platforms have helped sustain our connectedness to other human beings from the safety and convenience of home. But are we achieving real connections, and if so, how can groups keep that energy going when Zoom fatigue has crept into our virtual reality?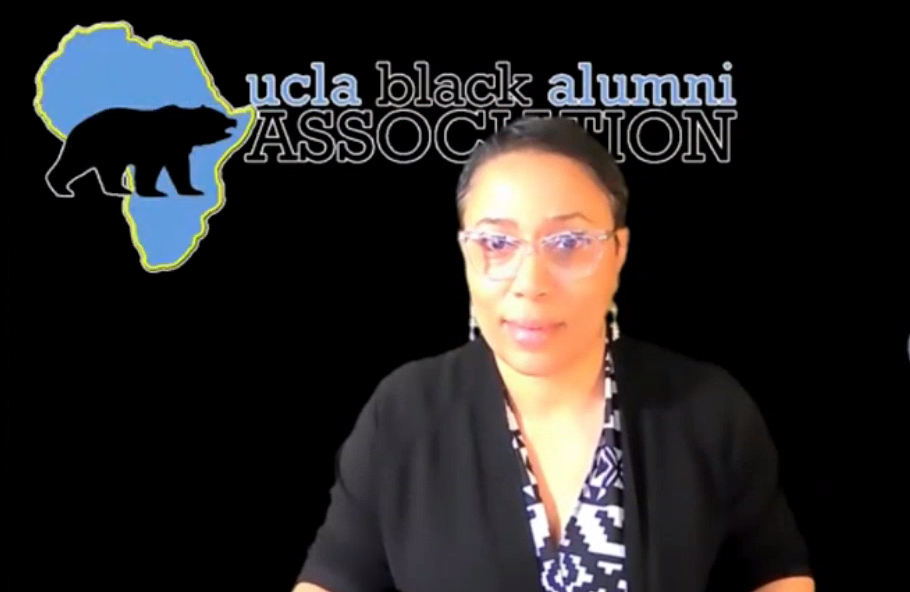 "Make it fun!" said Michelle Johnson '14, president of the UCLA Black Alumni Association (UBAA), "And be strategic in your planning process."
In the fall of 2019, UBAA had a massive, four-day homecoming reunion, "Black 2 Westwood," complete with a general meeting, football game, scholarship event and DJ party, as part of UCLA's Centennial Celebrations. In March 2020, they were among the first groups who had to cancel their scholarship gala due to the onset of the pandemic. But that didn't stop them from planning a virtual party and fundraiser in October.
"We had to ask ourselves, 'What can we keep? What do we have to give up? How can we retain as much of what makes this event special while moving into a virtual space?'" she explained. Duplicating the energy of the event from the previous year wouldn't be possible, but they figured out early on that using the same DJ and emcee who were skilled in connecting with people would go a long way in bringing back some of that same energy.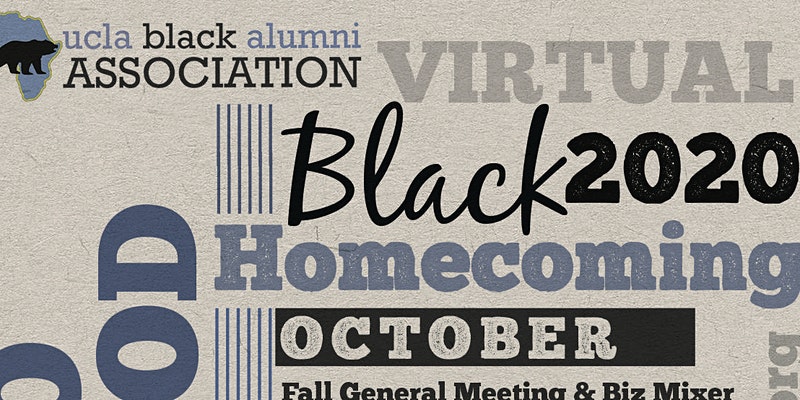 Preparation was the key. They had to set realistic expectations, identify the stakeholders and invest in resources, including a project manager and a dedicated marketing person. They kept the design consistent to preserve the look and feel. They predicted that a younger audience than before would be more likely to come because of the virtual platform and lower price point. They also examined the expectations their members had of this event versus what they were capable of delivering. Johnson said, "People think that because it's virtual there's no work to do, but in actuality there's a ton of work to do to make sure it goes off right."
For UBAA, assigning a project manager proved beneficial. The person in that role was able to get organized, establish timelines, assess necessary resources like upgrading software, and stay on top of the details. Volunteers with these skillsets are valuable assets. Johnson said, "You have to treat virtual events with the same seriousness as you would in-person events."
Their virtual Black Alumni Homecoming Reunion this fall was a success. Their members punctuated their joy by dancing in their chairs during the DJ Zoom party.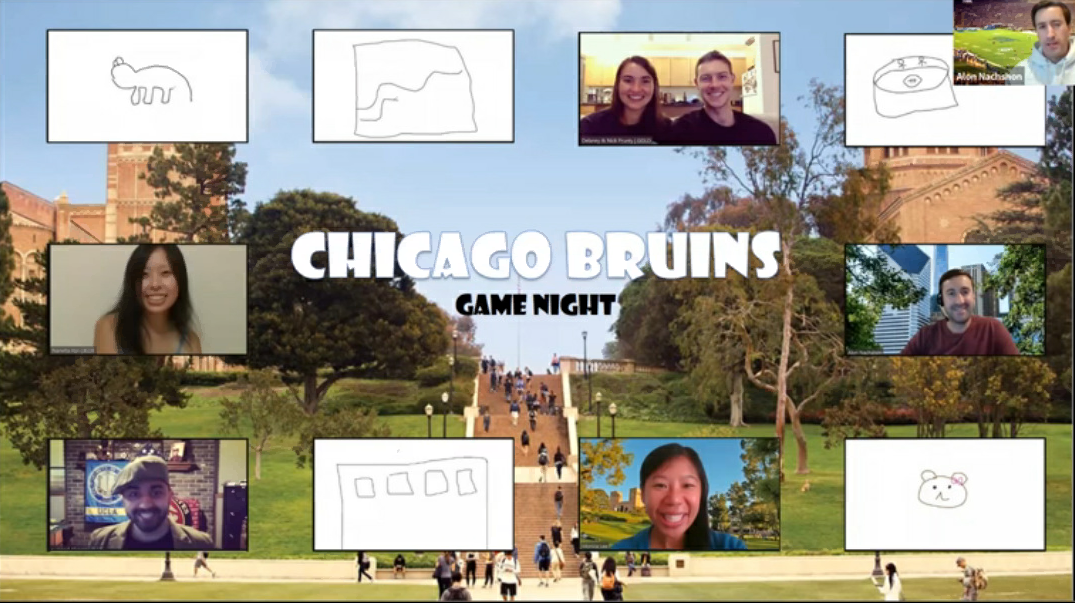 Meanwhile in Chi-town, the Chicago Bruins were planning their recent events around a simple concept: game-play. From themed trivia nights to Pictionary to quiz-based games using the
Kahoot app
, they were able to bring Bruins together for fun, relaxing events.
Alon Nachson '11, president of the UCLA Alumni Chicago Network, identified three ways to drive innovation in virtual event planning. "The first step is knowing your audience. Are they alumni, parents, students, family members? We already know that as Bruins they're going to be smart, diverse and competitive, but understanding who they are allows you to tailor your approach to the topics that interest them."
The second step was preparing presentation materials for the "eyes, ears and heart." Just like a business meeting, they had to come up with ideas for constant, interactive content. The general structure of each event was about 10 minutes of welcome and networking, followed by 30 minutes of game play. The games have continuous prompts for engagement; everyone participates with each question at the same time. They are strict during the game about minimizing sidebar discussions, so as to keep the game moving and entertaining for all.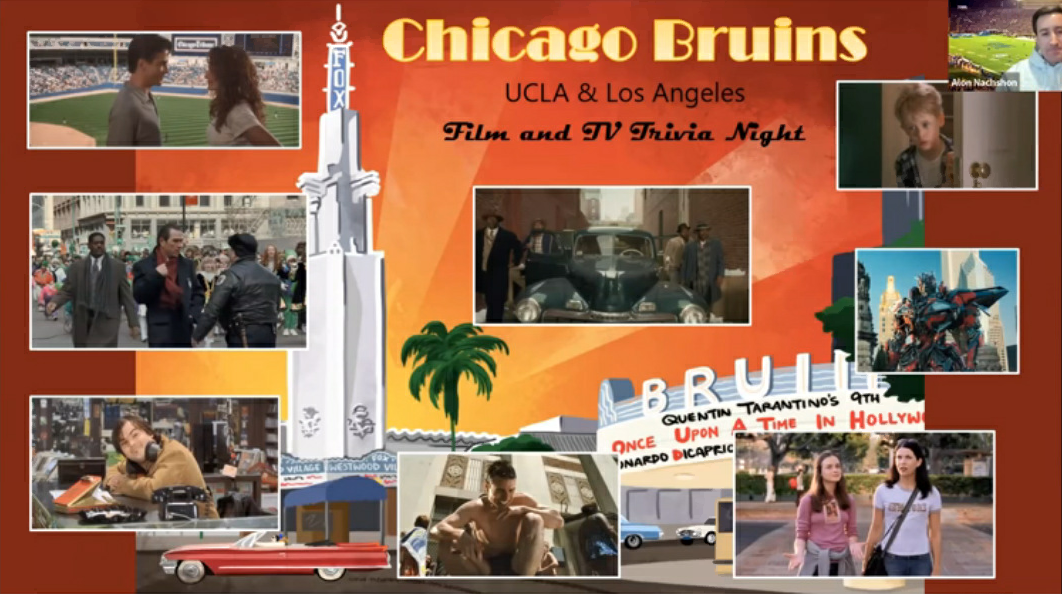 Their most recent event was a UCLA and Los Angeles film and TV trivia night. "For this, we had everyone download the Kahoots app, which is a great platform for interactive trivia games and presentations. Users can look at Zoom and submit their answers via their mobile device, which makes game play very smooth, " said Nachson.
The third step in driving innovation, according to Nachson, is exploring what opportunities exist in the virtual space. Since most multi-party video conferencing takes place in Zoom, what are ways you can increase engagement through the tools within this software? One fun way is through sharing virtual backgrounds. Another is the ability to annotate on a white board and within breakout rooms, which they used for their Pictionary game. And the beauty of the virtual space is there are no geographical boundaries, which opens the door for guest speakers to present from anywhere in the country or the world, on any topic.
Nachson said, "We had a request for a more instructional/informational type of event, so we're looking for a speaker who can show us how they create visual effects for movies, or someone who can teach Bridge, or conduct a cooking tutorial." Sky's the limit with what you can do!
The same new opportunities go for audiences too. Orange County Bruins Co-President Monica Ebeltoft '89 said, "We've had a different group of attendees than who typically attend our in-person events. I think what we'll look at in the future is programming for both virtual and in-person events (when it's safe to do so), because it increases our engagement. It's interesting how this has opened a new door for us."
One of those doors in a non-Zoom platform is Netflix's take on virtual movie nights. Lambda Alumni Association Co-President Kaya Foster '10 explained that Teleparty (formerly called Netflix Watch Party) allows groups to watch the same show simultaneously next to a built-in chatroom where they can comment, banter and provide additional entertainment. "People can't see each other, which is a nice break, because they can focus on the film and still be able to talk to each other or use those old-style smiley faces." However, one limitation of Teleparty is everyone would need their own Netflix account to participate.
The Whittier Bruins found a way to build community involving their local community. Network president Ken Elisaldez '02 shared how they organized a "Make a Difference Day" by supporting a local restaurant that was experiencing some difficulties. "It was a three-pronged event. People could support the business by ordering takeout or dining outside. Ten percent of the restaurant's net proceeds that evening would be donated to our scholarship fund. And then we also had a Bruin dinner table on Zoom when a designated hour of the day was spent sharing a meal together.
"The event went surprisingly well. It had rained that night, so they had low expectations, but a lot of Bruins, even folks from outside of Whittier, came out to support the restaurant and just to get out. When I came to pick up my order, I got cheered by a bunch of Bruins who were there. I said, 'I don't even know you guys, but Go Bruins!'"
In the virtual space, building Bruin community can go through different paths and with some risk, but for Michelle Johnson, she said her UBAA members appreciated them taking a leap to try something different. And if the participation numbers sometimes don't materialize for some events, like the Chicago Bruins have experienced, Alon Nachson has this word of advice: "So long as Bruins are interacting, it doesn't matter if the event isn't perfect. At the end of the day, if you had Bruins there hanging out, you had a good event."
---
Building Bruin community is an ongoing Connect series. If you would like to share your experiences on building community for future inclusion, please email Connectfeedback@alumni.ucla.edu.
Past articles: