Get the UCLA credit card and get more cash back for the things you buy most.
Reward yourself with the BankAmericard Cash Rewards™ credit card for UCLA alumni. Earn cash back on your purchases with the only card that helps support UCLA Alumni Affairs — with no expiration on rewards.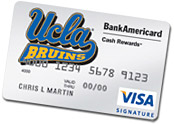 Simple cash back. No hoops to jump through™
1% cash back everywhere, every time
2% cash back on groceries
3% cash back on gas
Grocery and gas bonus rewards apply to the first $1,500 in combined purchases in these categories each quarter.
Get a $100 cash back bonus after qualifying purchase(s).

See the benefits of membership for UCLA alumni.
---
† For information about the rates, fees, other costs, and benefits associated with the use of the card, or to apply, click Apply Now above and refer to the disclosures accompanying the online credit card application. This credit card program is issued and administered by FIA Card Services, N.A. See Terms and Conditions accompanying online application for information on the rewards program.
If you do not wish to receive future emails that are primarily about marketing offers from Bank of America, please click here. Please allow 10 business days for your opt-out to become effective.
Please do not reply to this message. If you have inquiries or comments about Bank of America's products or services, please write to us at Bank of America, 101 S. Tryon St., 8th Floor, Charlotte, NC 28255.
For information about how Bank of America manages customer information, read the Bank of America Privacy Policy.
©2013 Bank of America Corporation.