FEBRUARY 2017 | ORANGE COUNTY EDITION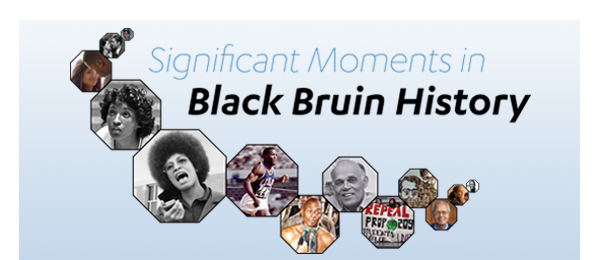 Significant Moments in Black Bruin History. As part of a continuing series, this timeline highlights additional meaningful events and contributions by African American Bruins through nine decades. Read about lesser known facts like the role Rafer Johnson '59 played at Robert Kennedy's assassination or the events that served as a catalyst for the creation of the Black Student Experience Mural. Each story is significant for its impact on the growth of UCLA and its influence can still be felt today.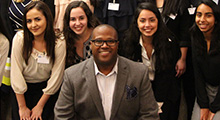 The Future of Alumni Scholarships
Meet George Brown, III, director of the UCLA Alumni Scholarships Program. He is leading the 80 year-old scholarship program with kindness, heart and a mindset of progress and possibilities. Click here to discover how Brown has ushered the program into the 21st century and how you can be a part of it.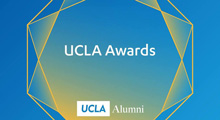 Nominate Someone for a UCLA Award
In our lifetime, we've come to know some ordinary people doing extraordinary things. UCLA Awards honors such Bruins who demonstrate excellence in their field or have have made significant contributions to public, community or university service. Nominate a Bruin, whether you know them personally or not, who you believe deserves to be recognized for their outstanding service. Deadline is Feb. 3.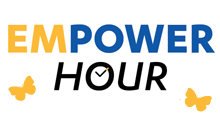 Video - EmPower Hour: Supporting Undocumented Bruins
The national conversation on this topic has brought up a diverse array of political, personal and cultural perspectives. The UC System, including UCLA, has been leading efforts in creating resources for undocumented students. View this conversation held on Jan. 25 with Bruins who contribute to these efforts on campus, locally and nationally.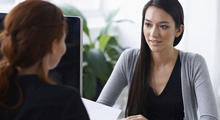 Free Online Career Coaching
Sign up for a limited-time, one-month free trial of individualized and customized online career coaching by Feb. 28. Experience an hour session with a career coach and receive access to a library of learning modules that will help you build your professional brand. Courtesy of InsideTrack in collaboration with UCLA Extension, UCLA Career Center and Alumni Affairs. Discount code: ucla2017.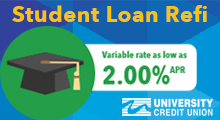 Master Your Student Debt
Don't let student debt take over your life! University Credit Union can refinance all your student loans with one LOW fixed/variable rate. Consolidate up to $150k with 5, 10 or 15 year terms. No application, origination or pre-payment fees. Start SAVING now!





UCLA Ranks First Among Elite Colleges That Enroll the Highest Percentage of Low- and Middle-Income Students



UCLA's Statement on President Trump's Immigration Executive Order






Two Alumnae Community Activists Will Be First Fellows-In-Residence of Pilot Program at UCLA



UCLA Moves Forward with $16.5 Million Package of Major New Programs and Services for Veterans



Residential Dining Tops the List of Niche's 2017 Best College Food in America Rankings



Resources for UCLA Parents and Families Impacted by Travel Ban








UCLA ONE Allows You to Find Other Bruins in Your Field, Exchange Best Practices, Obtain Peer-to-Peer Advice








Hundreds of Bruins in 31 States and 21 Countries are Hosting a Dinner for 12 Strangers. Check for a Dinner Near You and Sign Up Today.



Meet Up with Other Bruin Parents and Family Members at a Coffee Social Near You - Feb. 4



Photos: L.A. Sparks Night with President Christine Simmons '98






What It's Like Being a Top Bruin Athlete, On and Off the Court



New President of ABC Entertainment Channing Dungey '91 Determined to Win with Diverse Line-Up of TV Shows








Help Review Applications or Interview Admitted Students for Scholarships





UCLA Arts Winter Calendar Showcases Depth, Diversity of Programming



UCLA Math Professor and Alumni Team Help Create Realistic Animation in Disney's 'Moana'



Tastes of UCLA: An Exploration of Campus Cuisine, Past and Present





$500 Mail-in Rebate with the Purchase or Lease of a SunPower Home Solar System - Learn More



Get $20 Off Your Vivid Seats Order of $200+ for UCLA Away Games and All Your Favorite Live Events



Blue and Gold Member Benefit: Continue Your UCLA Education By Taking 10% Off Any UC Extension Course, Onsite or Online





ANDERSON NETWORK



Feb. 3, UCLA | 2017 Anderson Women's Leadership Summit



Feb. 10, UCLA | PULSE Entertainment, Sports & Technology Conference


ASIAN PACIFIC ALUMNI OF UCLA



Jan. 26, Video Recap | Asian Pacific Alumni of UCLA General Meeting


BLACK ALUMNI ASSOCIATION



Video Recap from Jan. 31 | Black Alumni Association General Meeting


BRUIN PROFESSIONALS NETWORK



February, All Chapters | Network Meetings



Feb. 16, Pacific Palisades | Genesis Open and Networking Breakfast



Feb. 27, UCLA | The Changing Landscape of College Admissions



March 7, UCLA | UCLA Power Networking Night


ORANGE COUNTY NETWORK



Feb. 2, Santa Ana | Orange County Bruin Bench & Bar Special Presentation: Bias in the Justice System: What Do We Learn From the Movies?



Feb. 11, Irvine | Volunteer at Second Harvest Food Bank



Feb. 18, Irvine | OC Bruins Hike: Bommer Canyon



Feb. 24, Irvine | UCLA vs. UCI Volleyball



March 11, Irvine | Volunteer at Second Harvest Food Bank


THE AFFILIATES OF UCLA



Feb. 9, UCLA | Lunch with Dr. Anastasia Loukaitou-Sideris


UCLA ALUMNI AFFAIRS



Feb. 6, UCLA | Notes From The Cafe: An Evening with R.F. Georgy



Feb. 15, UCLA | Save the Date: How to Manage Millenials with Nicki Klein



Feb. 18, UCLA | UCLA vs. USC Men's Basketball Pregame Party



Feb. 26, UCLA | Spirit Squad All Access Reception



March 4, UCLA | UCLA vs. WSU Men's Basketball Pregame Party


UCLA PARENT & FAMILY PROGRAMS



Feb. 4, Nationwide | Parent & Family Coffee Social Day






View this email in your browser.
UCLA Alumni Connect, Vol. 16, No. 2, Orange County Edition | Other Editions
UCLA Alumni Affairs, James West Alumni Center, Los Angeles, CA 90095
©2017 UCLA Alumni Affairs