MARCH 2014 | YOUNG ALUMNI EDITION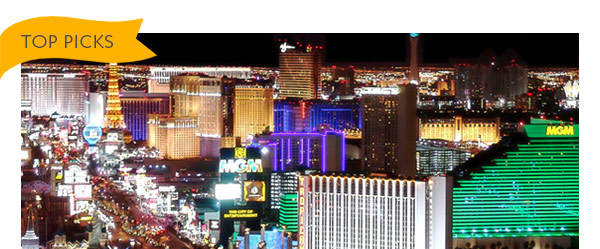 March Madness begins at the Pac-12 Tournament Alumni Pregame Party at the MGM Grand, Las Vegas, hosted by UCLA Alumni Affairs and UCLA Athletics. Get hyped up for the big game Vegas-style with a fabulous buffet, cash bar and entertainment with hundreds of your fellow Bruins, including 1995 NCAA Champion Ed O'Bannon. Register today and save.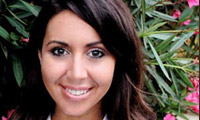 Meet Michelle Marquis '09
From making the hard decision to leave a comfortable job, to networking to achieve professional growth, Michelle Marquis represents an inspiring alumni story about adjusting to post-college life in L.A.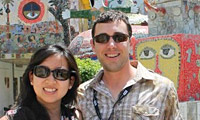 A Cuban Experience
Alex '08 and Kristina '06 Gruenberg's tour of Cuba with UCLA Alumni Travel are full of interesting stories. They reminisce about their favorite foods, help dispel some common myths and even recount a surprise Beyoncé sighting.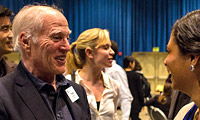 Alumni in Entertainment Share Insights With Students
Last month, more than 500 students solicited free practical advice from alumni professionals in various entertainment fields. Like producer Frank Marshall '68, more than 100 alumni volunteered their time at Entertainment Networking Night to connect with students and fellow Bruins in their industry.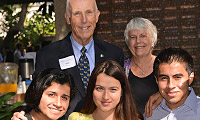 We Give Because We Are Bruins
Bob Weeks '64, J.D. '67 and Nancy (Rockoff) Weeks '64, M.A. '66 are longtime supporters of Alumni Scholarships. They feel a sense of pride and inspiration from the caliber of students UCLA attracts and they want to be there for the next generation.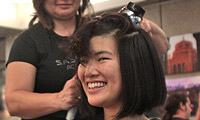 Bruins Lop Their Locks for Kids in Need
Hundreds of donors exchanged a free haircut for at least 10 inches of hair, which will be made into wigs for children suffering from medical hair loss. This largest Locks of Love event on the West Coast resulted in nearly 2,000 inches of donated hair. See photos.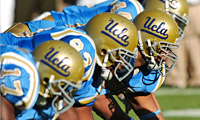 UCLA Football and the Bruin Revolution at a Stadium Near You
Save the Date for UCLA Football and Bruin Bash, the Official Pregame Fan Party in: Charlottesville, VA; Arlington, TX; Berkeley, CA; Boulder, CO and Seattle, WA. Be there!





Message from the Chancellor: The Impact of Prop 209 and Our Duty to Our Students



Hillary Clinton Delivers Keynote Address and Accepts UCLA Medal



Alumni Can Now Support Research With This Innovative Crowfunding Platform



Nobel Laureate Randy Schekman '71 to Deliver Keynote at UCLA Commencement



UCLA Graduates Ranked #1 Among California Colleges in Peace Corps Volunteers



U.S. Supreme Court Justice Sotomayor Visits UCLA School of Law



Fernando Montes-Rodriguez '01 Works With Ex-con UCLA Student to Prevent Youth Incarceration



Founders of Blizzard Entertainment, Michael Morhaime '90, Allen Adham '90 and Frank Perce '90, Helped Revolutionize the Gaming World








Join the Fight Against Pediatric Aids by Supporting Dance Marathon 2014





Volunteer for the Largest UCLA Open House for Newly Admitted Students - April 19



One Bus, One Cause - Serve With Bruins to Beautify the Community






Help K-6 Graders Maintain High Test Scores by Being an English Reading Tutor








Film by Grace Lee M.F.A. '02 Explores Life of 'American Revolutionary'





It's Never Too Late or Too Early to Share in the Future of Someone You Love With a ScholarShare 529 College Savings Plan



Get the Right Policy at the Right Price. Find Out More About Auto and Home Insurance With Liberty Mutual.








LOS ANGELES SOUTH BAY NETWORK



March 6, El Segundo | Game Watch: Men's Basketball vs. Washington



March 8, El Segundo | Game Watch: Men's Basketball vs. Washington St.


LOS ANGELES WESTSIDE NETWORK



March 8, Los Angeles | Game Watch: Men's Basketball vs. Washington St.


ORANGE COUNTY NETWORK



March 15, Newport Bay | Saturday Morning Hike



March 22, Irvine | Volunteer to Fight Hunger


SAN DIEGO NETWORK



March 21, San Diego | Alumni Dinner at 57 Degrees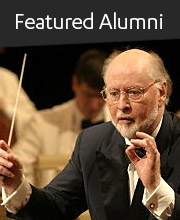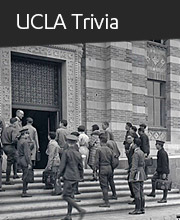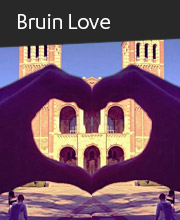 View this email in your browser.
UCLA Alumni Connect, Vol. 13, No. 3, Young Alumni Edition | Other Editions
UCLA Alumni Association, James West Alumni Center, Los Angeles, CA 90095

Ensure email delivery | Unsubscribe
©2014 UCLA Alumni Association