Reflections: Volunteering at the Venice Family Clinic
Nancy Sicotte, M.D., (RES '96, FEL'98) is the vice chair for education in the Cedars-Sinai Medical Center Department of Neurology, where she is responsible for the overall educational activities of the department, from medical students through fellowship training. Dr. Sicotte is the founding director of the Cedars-Sinai Neurology Residency Training Program, director of the Multiple Sclerosis Center at Cedars-Sinai, a professor-in-residence in the David Geffen School of Medicine at UCLA and site director for the third-year neurology clerkship rotation for the David Geffen School of Medicine. In addition, she manages a busy outpatient multiple sclerosis clinic and neuroimmunology clinical research program, and has been a volunteer physician at the Venice Family Clinic for the past 18 years.
I began volunteering at the Venice Family Clinic during my neuroimaging fellowship at UCLA. It was a great way to balance the sometimes solitary and esoteric world of image processing with real life clinical neurology, while allowing me to keep up my general neurology skills. I was inspired by Barbara Vickrey M.P.H. '90, M.D., who was a faculty volunteer and clinic supervisor during my first year as a volunteer. Other longtime volunteers include Sy Young, M.D., who also trained in neurology at UCLA. A more recent recruit is Ed Teng, M.D., Ph.D., who started seeing patients with me during his residency.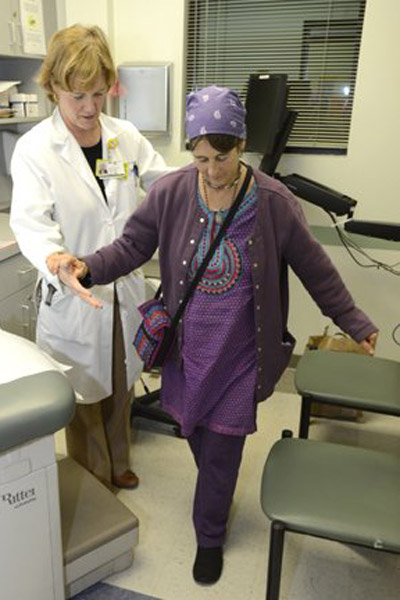 I especially enjoy having residents volunteer with me so they can experience the novel aspects of how the clinic works. The Venice Family Clinic provides low- and no-cost comprehensive care to nearly 23,000 people every year. Seeing patients at the clinic is an extremely rewarding experience that allows me to provide continuity of care and feel like I am making a bit of a difference.
To other UCLA medical alumni, I challenge you to consider volunteering as well. It is a small effort that reaps big rewards, and it is a wonderful way for each of us to pay it forward for all the support we received during our training. The amazing staff is there to help guide and support you. Give a try—you will love it.
For more information on volunteering at the Venice Family Clinic, visit www.venicefamilyclinic.org/volunteers/