I
t's hard to imagine UCLA without ASUCLA, our campus hub, yet that's what happened, in reverse, in March 2020, when UCLA shut down for the pandemic lockdown. Fortunately for Bruins, ASUCLA was committed to making a rapid pivot to remotely provide services and support the community relies on.
The student-led
Associated Students UCLA (ASUCLA)
has been a provider of retail services since UCLA was established in 1919. One hundred years later, in an average pre-pandemic year, the organization is home base for undergraduate and graduate student government and media, serves 20,000 restaurant customers each day, provides 1,500 student jobs on campus, meeting space for over 1,100 events each year and sells nearly $40 million of UCLA merchandise in more than 80 countries.
Today, ASUCLA is a much more resilient, caring, empathic and hopeful organization for the benefit of all the Bruins, past, present and future that we'll continue to serve.
Facing sudden and unanticipated changes, ASUCLA was determined to meet community needs, while striving to support their employees. Through these fundamental principles, ASUCLA overcame the pandemic's many challenges, with reduced onsite staff and resources, and turned them into opportunities for success. Pouria Abassi '98, ASUCLA Executive Director & CEO says, "Today, ASUCLA is a much more resilient, caring, empathic and hopeful organization for the benefit of all the Bruins, past, present and future that we'll continue to serve. I think we've made the Bruin community proud."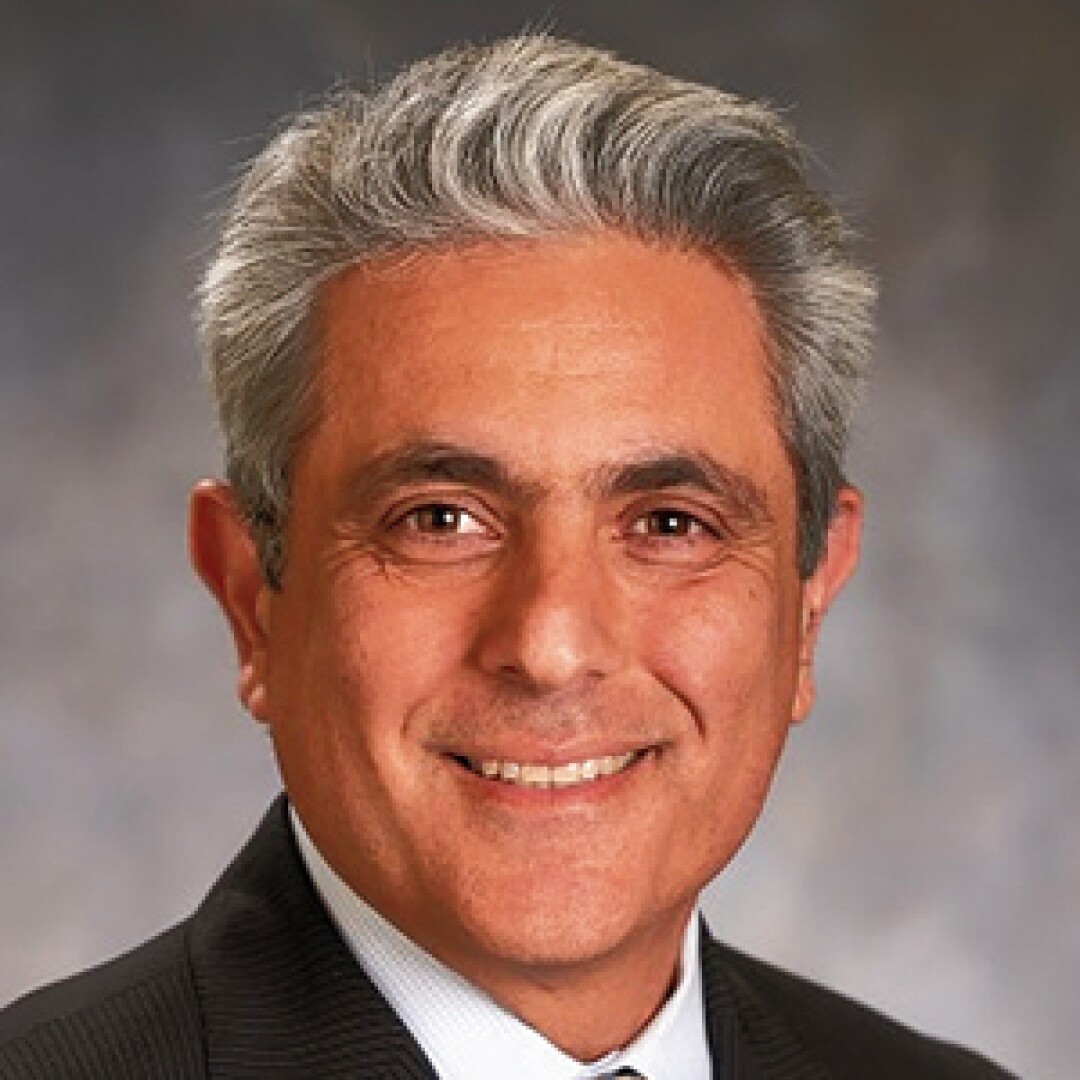 The first step was to ensure that courses could continue; this meant the onsite fulfillment and shipping operations needed to be expanded and enhanced. These upgrades let ASUCLA meet the demand for hard copy or electronic academic material for students and faculty with low- or no-cost delivery fees. The team also created a "Classroom in a Box," a one-stop shop for professors who needed to adapt to remote instruction.
As a result of the campus shutdown, ASUCLA's service and business lines dropped by over 70%, especially in catering, restaurant operations and retail services. ASUCLA used Bruin ingenuity to pursue other funding opportunities, including grants and partnerships to make up as much of the difference as possible. To keep its staff employed and paid, the organization applied for and received a $4.7 million SBA/PPP loan, which it then successfully petitioned to have forgiven.
New websites were built to react to current needs, provide lasting benefits and facilitate remote ordering and shipping of sought-after products. One microsite let students order and return graduation regalia online, first for Class of 2020 and then Class of 2021, a process that normally happens in person. A new program providing IT loans at 0% interest was launched with Wescom to help students make remote technology purchases.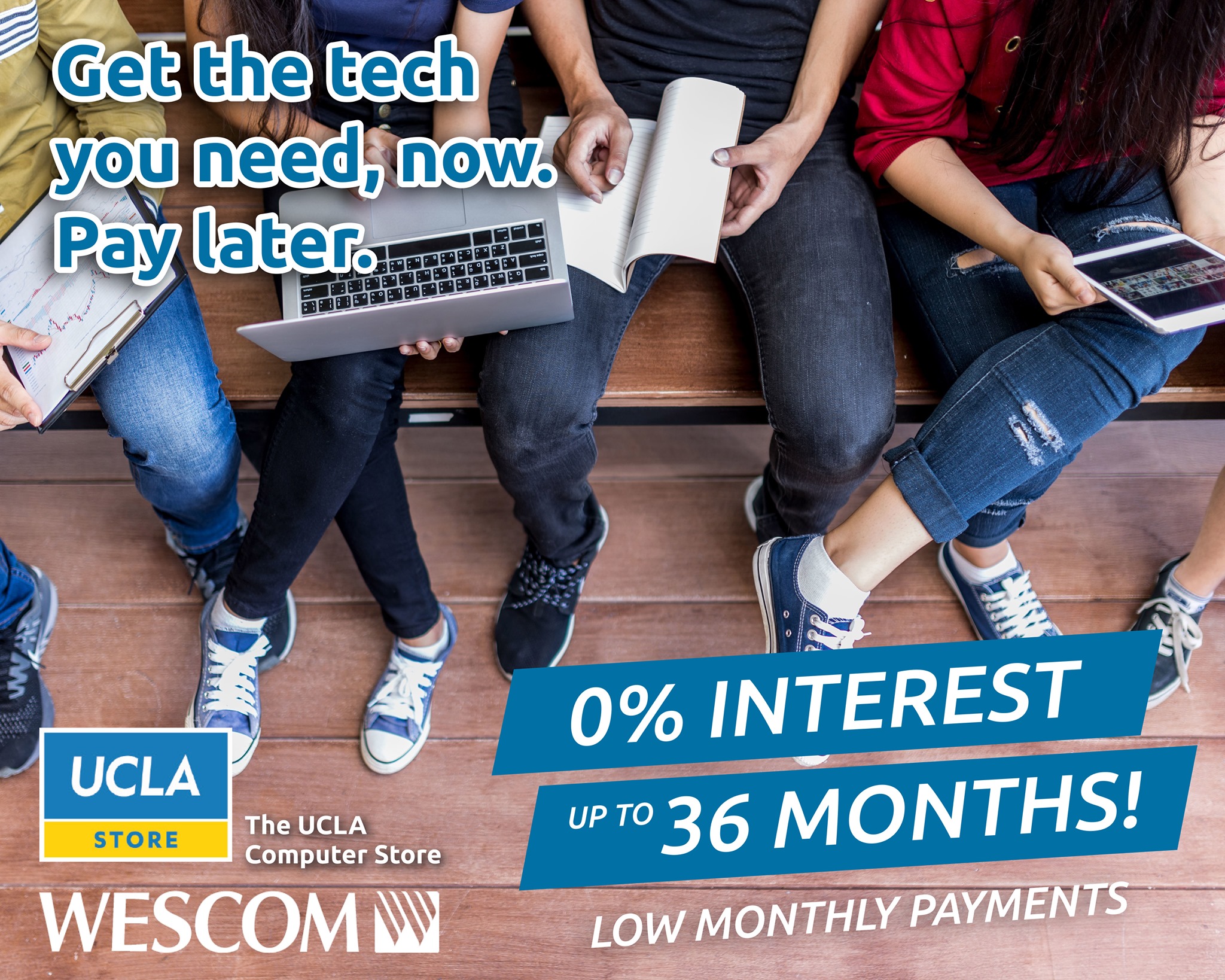 For the approximately 800-900 students, researchers and UCLA Health staff who continued to work and live on campus, Hilltop market remained open and ASUCLA launched "Catering Express," a food delivery service with online ordering. ASCULA also continued to support student governments and their remote meeting needs, working with campus partners to allocate and distribute COVID relief-related funds to students.
The organization made it a priority to give back to the community: the Bruin Health Pharmacy and UCLA Blood and Platelet Center stayed open for blood donations; ASUCLA Restaurants donated 3,000 thousand pounds of food and meals to UCLA and the community of Los Angeles; and the UCLA Store coordinated a large donation of food to
Helping Hands Pantry.
UCLA Health asked ASUCLA to help them find 1,000 iPads for patients who were alone in the hospital because of COVID safety rules. ASUCLA's connections with buyers worldwide made it happen. A grateful patient reached out to thank the team for making virtual family visits a reality.
The organization made it a priority to give back to the community.
During the campus closure, the Team Shop at Pauley Pavilion was remodeled and rebranded to feature the new UCLA, Nike and Jordan Jumpman products when they became the Official Team Supplier for UCLA Athletics. Bruin fans who want to show school pride love the new "merch," especially UCLA Sport tees in 17 different sports and sweatshirts with the UCLA and Nike logos.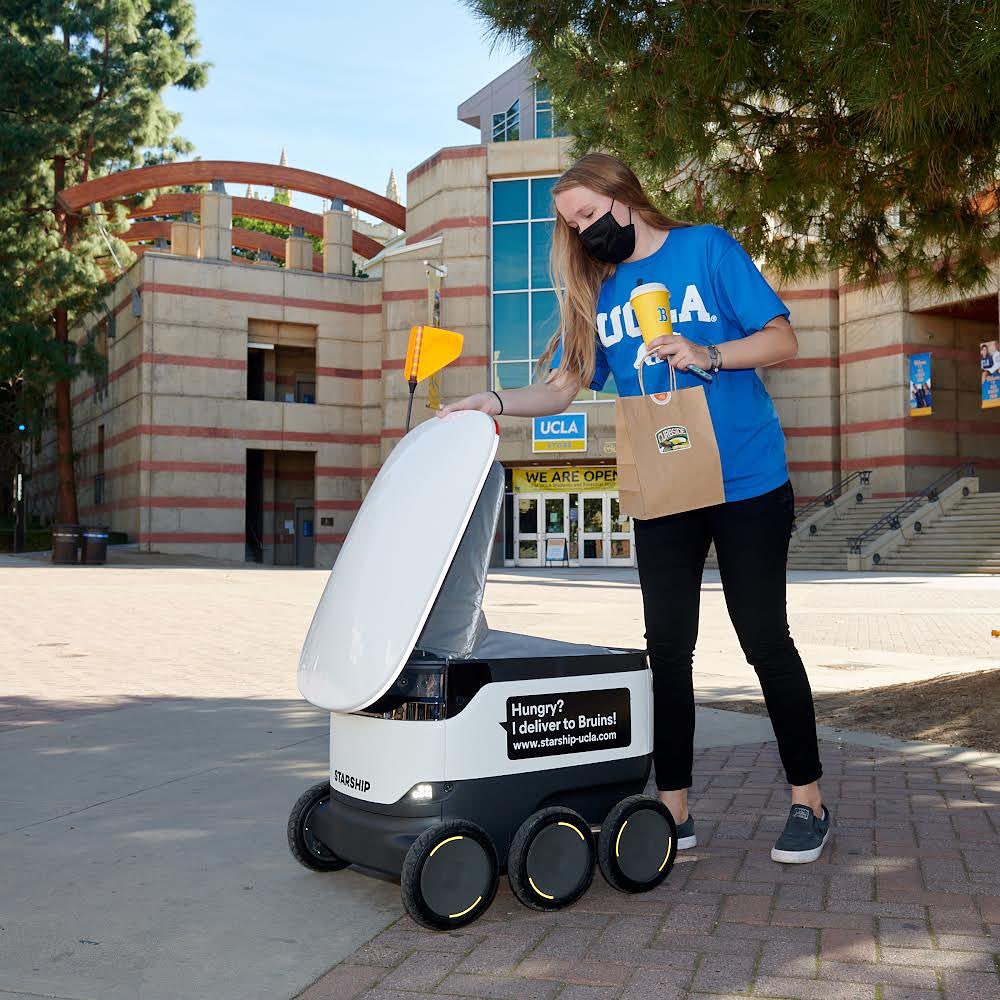 One advantage of the lockdown was that it provided the time and space to geomap the campus for a new robot food delivery program. Immediately popular, the adorable
Starship robots
are bringing smiles and snacks across campus. With the addition of more units, the fleet of 50 delivery robots are run from an ultra-secret, high-end nerve center on North Campus.
ASUCLA also worked internally to support Diversity, Equity, and Inclusion efforts for their team. They launched trainings, roundtables and town halls, and created a
diversity statement.
ASUCLA was also proud to work with student groups and Student Affairs to create space in Kerckhoff for the new Black Bruins Resource Center.
Winter quarter will hold more exciting events and openings. Athletics fans will have new food options for the 2021-22 season, including pizza, salads, wings and paninis. There will still be food truck options on the south outdoor courtyard, Jersey Mike's Subs will return, and Joe Brewin' will now offer Starbucks coffee, tea drinks and snacks. Fans can also skip the lines by placing food orders through the Starship app.
A mural by world-renowned muralist and UCLA professor Judy Baca will become one of the largest art pieces on campus when it's unveiled at Ackerman. The mural was commissioned as part of the UCLA Centennial Celebration and has provided terrific engagement with campus partners. Other new improvements to look forward to include the
Wescom Student Terrace
, an outdoor space for student events, as well as a new casual dining service and a planned upgrade to the Kerckhoff patio. A new e-gaming lounge is scheduled to open soon, and there will be a town hall for student feedback.
The seamless transition of ASUCLA's operations to support Bruins calls for an 8-Clap for their quick pivot during the lockdown, while ensuring that these upgrades would provide lasting benefits for the community. Staffing has increased from pandemic levels, and the organization is currently in hiring mode. Abbassi says ASUCLA has learned from this experience and is looking forward to the next challenge, "The road ahead is going to have bumps, but as long as you have your colleagues' support and innovative ideas, you can overcome any challenges."
---