Light is a recurring theme for the University of California. The motto on its shield exclaims "Let There Be Light," a phrase taken from Genesis and symbolizing enlightenment. UCLA's Centennial theme, "Lighting the Way," is a metaphor for UCLA's role in forging a path, based on knowledge and ideas, for the benefit of all.
Monty Minchin '88 and his partners are lighting the way in Nigeria, Africa's most populous country. Where most of us never give the presence of light a second thought, there are large swaths of territory in that West African country where students cannot study after the sun goes down.
That's where Minchin and lifelong friend Larry Thrall come in. The two grew up together, attending the same high school before their paths diverged, with Thrall attending USC and Minchin at UCLA. As a Bruin, he played rugby and majored in economics, then earned his M.Ed. at Pepperdine, became an educator, taught at UCLA Extension, and worked with high school and college students with a desire to support the underserved. Thrall went on to business success, focusing on solar power and alternative energy. Both felt very fortunate for all they had been given and believed it was paramount to give back to those less fortunate.
A few years ago, Thrall's solar business took him to Northern Nigeria. "The country has very unreliable power," says Minchin. "The grid goes down all the time, everyone runs these generators, it's unhealthy and unreliable. So now that solar has gotten to be the price that it is, you're able to do the same thing for much less and in an environmentally sound way."
Minchin was running an online education business and was drawn to the region as well, seeing an opportunity to leverage the work of his friend. If Thrall could provide solar power to an area with little or no power, there would be light.
Thrall and his Nigerian partner,
Pastor Isaac Komolafe
, with some support provided by Minchin, formed
LightBeGlobal.com
– a for-profit, Nigerian company, which seeks to partner with the people of the area, create jobs, raise people up to management positions and, as Minchin puts it, "make this their thing. We're trying to set up a distribution chain to give people an opportunity to have a real job."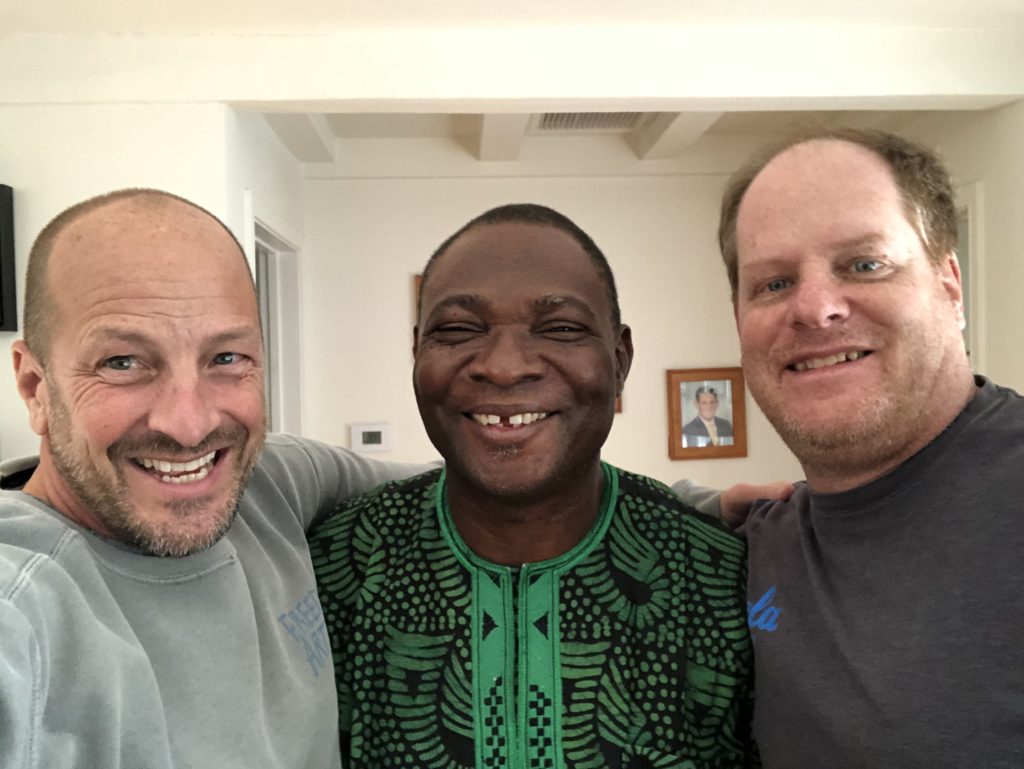 Komolafe had already built wells, farming co-ops, schools and clinics in Northern Nigeria, but he hoped to provide more and better services to those in the community. Many schools had no roofs and dilapidated facilities, used cinderblocks for desks (if they had desks at all), possessed limited supplies and little technology. In addition, many people in those communities were looking for work and for ways to meet their basic needs.
And this was before COVID hit.
When the pandemic reached Nigeria, people were locked in and could not work because of the lack of medical infrastructure. An economy that was already in recession was devastated.
"Over there," Minchin explains, "when they had the lockdowns, it was a lot different than here: they could only go out on certain days — and only to the market — and then they had to go back home. So nobody was working, nobody had money and people were basically starving."
Komolafe reached out to Minchin and Thrall and asked if they could supply food and seeds for rice - which they did. After providing these basic commodities, the three men and others on Komolafe's team designated two cities that could be radically changed with some additional support. One of these was Makurdi in Benue State (Northern Nigeria), a remote area with a population of 350,000. Both farming and water wells had been provided there. The next step was to use solar power to bring light, for the first time, to many in the city and to help fund improved educational facilities, scholarships and supplies.
Minchin was perfectly positioned to help with this aspect of the project. "Since what I've done majority of my life is education and trying to find ways to help in low-income areas, I asked myself, 'what can we do with these schools?' Seventy-five kids in public school classes, sometimes without desks; even some of the private schools don't have very much. It started a whole dialog. We saw that they needed upgrades in structures, but they also need scholarship money, they needed desks and chairs. But we also thought, 'what if we could bring solar in?' Because most of the homes in the rural areas don't have any light, they can't study at night, and they also had no protection from radical groups such as the militant Boko Haram. I started the non-profit
This Little Light, Africa
so that we could raise funds to help out in these three areas – solar, education and farming.
"All of this will directly impact the lives of those in Makurdi, potentially changing the trajectory of generations to come," says Minchin. "A little can go a very long way in Nigeria. We have heard from leaders, farmers and teachers how grateful they are for the support and opportunities that have been provided by it. For these resilient people, there is no other way to move forward. The Nigerians value education very highly; they know it's their way out. The economy is weak, the government corrupt, and they fear attacks from Boko Haram. Their greatest desire is to see a better life for their children and grandchildren.
"Larry had the understanding of solar and I had the desire with respect to education. Isaac said these were the areas that were most in need of help. So we established a 501c3 and started this first campaign. I gave from our family foundation a certain amount to get it going; we've raised about $25,000 during this first phase."
Minchin has been able to involve like-minded people, many of them students or young professionals, in his efforts to address the educational shortcomings so prevalent in much of Nigeria. In their second phase, They're partnering with Biola University for teacher and leadership training, in an effort to incentivize people to be teachers and to improve the instructional capabilities. "It will roll out in Nigeria in March," says Minchin, "then to Rwanda and then across Africa to other educators. We're also hoping to eventually roll it out in Pakistan and India. Many will get this free of charge online; the cost will be subsidized by schools that are able to pay the $25/person cost. We want to show that teaching is a noble profession."
His UCLA connections are playing a part as well. "The rugby community at UCLA is relatively tight and starting to connect more and more between generations," says Minchin. One of his colleagues on the board, James Faccinto '13, joined in the fundraising effort, and one of the players on the team, senior John David Finch, helped in video design and promotion as an intern.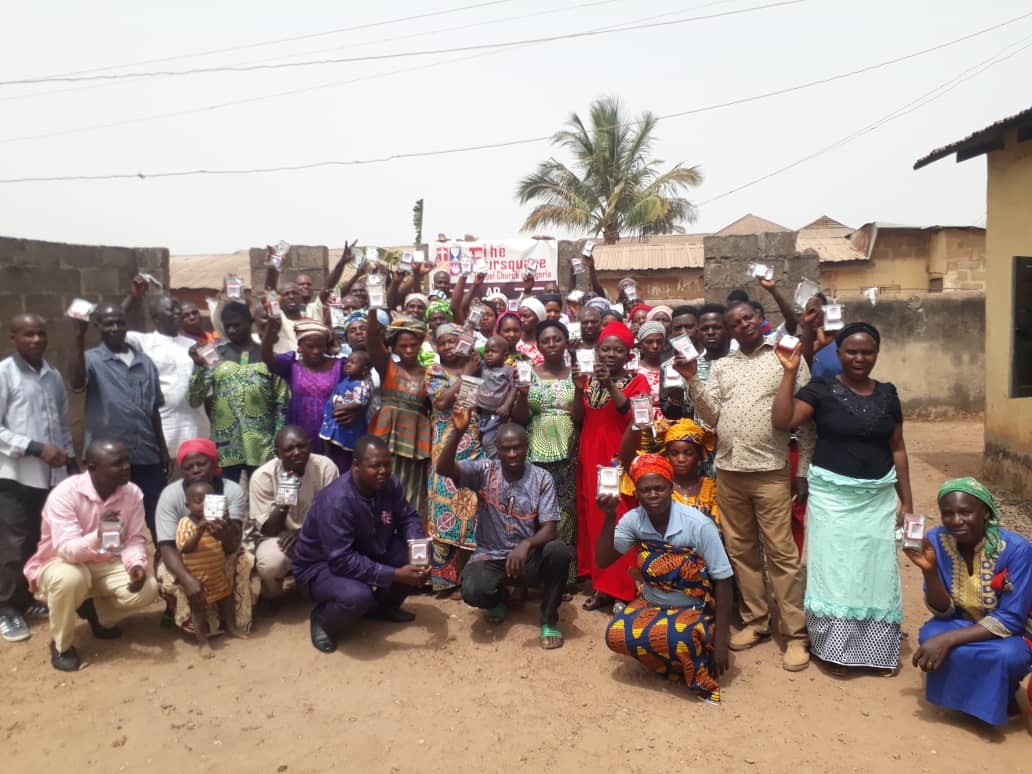 Aside from the initial funding for food and seeds, they have bought more than 1,000 reading lights for children and teachers. A second wave of small solar kits will power lights, a fan and a phone. "Believe it or not," says Minchin, "most people have smartphones, even in these rural areas, but they sometimes have to travel a long distance to charge them. Now they'll be able to charge them much more easily.
"We've also given scholarships to five kids to go to university there, which costs about $1,000 each. It's a huge change in their lives; it's the difference between staying at home without a job and getting a job with the opportunity to move up.
"Another thing we did is, for $1,000, we got a principal of one of the schools a used motorcycle so he can go pick up the study materials, the all-important state tests, and all the other supplies that need to be obtained," says Minchin.
Other than creativity, resources and the desire to help, the biggest key to getting all of this done, Minchin says, is that he and Thrall have someone they trust on the ground — Komolafe. He makes sure the money gets where it's supposed to go. With the human infrastructure in place, this trinity of friends and partners is beginning to bring light to the darkness.
---