UCLA Marching Band Mates Remember the Oscars
On April 14, 1969, the UCLA Marching Band appeared on the Oscars telecast to perform the song "Chitty Chitty Bang Bang." In advance of the 50th anniversary, several band members recall the experience.
Fifty years, that's mind-blowing.
The song, written by the Sherman brothers, the ones who wrote "Mary Poppins" and "It's a Small World," was not a really terrific song.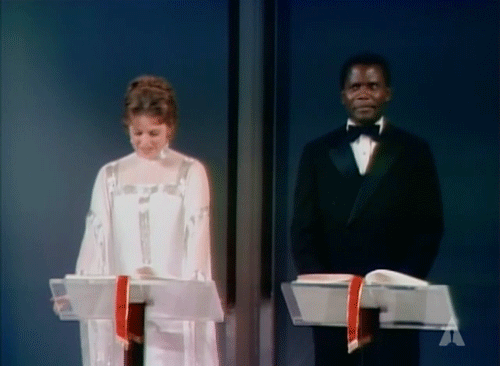 The lyrics — as read by Sidney Poitier and Ingrid Bergman — were God awful. I don't think anybody wanted to put their voice to those lyrics and sing. So they decided to make a production number out of it.
I think I was in graduate school out at Riverside at that point… Kelly James was the director of the marching band… The band program made a change… They had a different system, and it was kind of chaotic. So he called back some recent graduates who knew the old system and some juniors and seniors who knew the old system.
[Clarence Sawhill] said at one of the practices, "Anybody who wants to play for the Academy Awards, show up Tuesday night in Pauley Pavilion."
We did rehearse at Pauley Pavilion a week or two before the event, and the director/choreographer of that particular segment was Gower Champion, a very famous choreographer.
We practiced a couple more times with Paula Kelly, who was the dancer for that number.

I had lots of conversations with Paula Kelly because part of the routine was where she backed up. She started doing — it looked like the backstroke – and she backed her way all through the band, and everybody got out of the way until she got to me. And then she intentionally backed into me. We had to work on that a lot… She was great. She apologized any time the slightest thing went awry. She was worried that she was going to hurt me. But I could see her coming.
At the time, they had it at the Dorothy Chandler Pavilion in Downtown L.A.
We were bused from campus to a side entrance of the Dorothy Chandler Pavilion, I believe on Grand.
We came in uniform. You know, bands are sort of used to changing clothes wherever you can. And the idea of changing clothes on the bus is pretty common.
At that time, the band was all male. Indeed, females didn't join the Marching Band until 1972, and that was because of the Title IX suit that was brought.
When we did the run-through in the Dorothy Chandler, looking out at the seating area, most of the seats had names of people on them.
You just sit in the back and wait all the time.
It was a behind the scenes viewing. It was people shuffling on and off.
Don Rickles was back there. He was probably the rudest comedian that Hollywood ever had. We got to sit down and talk with him.
Slim Pickens, he was back there. He did a lot of cowboy shows. He was the bad guy in "Blazing Saddles."
It was very calm and very professional. I remember standing next to the two actors who were about to go out and model the costumes for "Romeo and Juliet." We were chatting. They were just hired to model the costumes.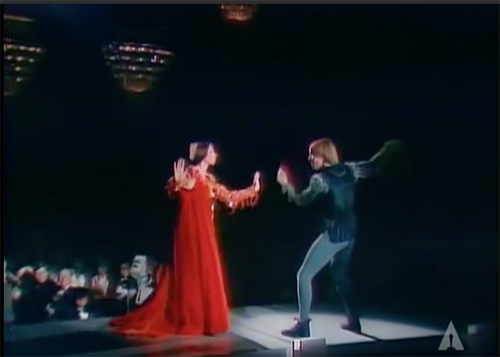 It was thrilling to be there.
I went to Beverly Hills High School, and the graduating class the year before me was Richard Dreyfuss and Rob Reiner and Joey Bishop's son Larry Bishop. So being around celebrities was not an unusual circumstance.
I was more interested in the stage manager and the lighting director because they were busy. They were standing at their consoles and calling the shots… Everyone was very precise and relaxed. It was like a clock backstage.
At the time, I didn't know that we were introduced by Sidney Poitier and Ingrid Bergman.
It started with just the trumpet players playing the melody unaccompanied, and I remember thinking, "Gosh, I hope it's loud enough." There was a moment when nobody knew what we were doing.

I was playing sousaphone in the back row.
I marched but didn't play because it was a union event, and none of us were union members. So we marched and pretended to play while the Academy band played. Except for our bass drummer who was a union member, so he was able to hit the bass drum — I think — at the very beginning when Paula Kelly leaned up against it.
I'm a percussionist, and normally I played snare drum. They picked me to play crash cymbals because there's a part where I crash the cymbals kind of in her face. That was pretty cool.
Our song, "Chitty Chitty Bang Bang," did not win. It was "Windmills of Your Mind," a now very famous song by Michele LeGrande that was, um, really a better song.
I could always say that I played for Henry Mancini. He was the music director for the Academy Awards.
No Academy Awards parties, no Governor's Ball — nothing like that.
After we did our performance, we were excited and thought, "Oh boy, we get to hang out here and have some fun and meet these people". That didn't happen. We didn't have time to bask in the glow. They took us back to campus. So I watched the rest of the evening in the dorm. It was surreal that I was part of that show, and now here I am watching it. At that time, they didn't repeat things. Nobody could record things.
It was very exciting. For a college student to be part of an international televised spectacle like that was amazing. There was palpable excitement among everybody.
It was part of something bigger than we were as a person or a group.