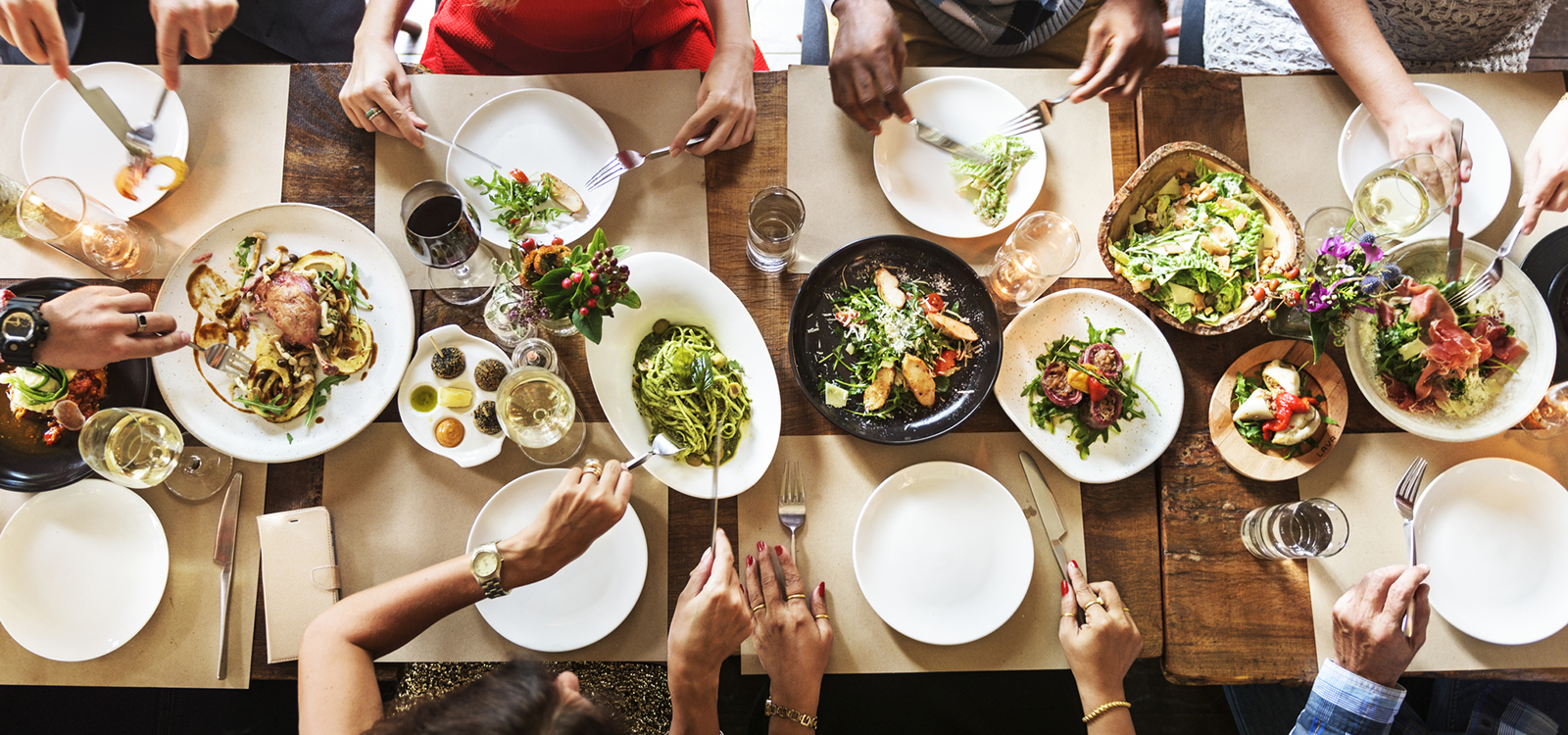 Nestled within the UCLA Meyer and Renee Luskin Hotel and Conference Center, formerly the site of Parking Structure 6, is the Mediterranean-inspired restaurant and lounge bar, Plateia. This upscale casual dining venue boasts an elegant ambiance, where local and visiting Bruins gather for conversations, laughter and to break bread. Plateia, which is ancient Greek for a place to meet, celebrate and feast, prides itself on catering to great minds with great food.
Since opening on Aug. 7, 2016, Plateia follows the Conference Center's parent organization Housing & Hospitality Services' vision statement of Hospitality First! Unlike traditional restaurants where the profitability drives decision-making, Plateia's self-sustaining concept focuses on supporting UCLA's educational goals as well as the Conference Center's service mission with food excellence. Plateia hires students as a way of incorporating the campus community and providing them with training in hospitality service. Plateia also boasts that it is a gratuity-free restaurant — taking pride in directly investing in its team members by paying them a living wage so they aren't dependent upon tips. According to Jason Tingley, Plateia's executive chef, "The value of our cuisine is better perceived when one doesn't have to be concerned with tipping or having an automatic 20% added to the bill."
The Venue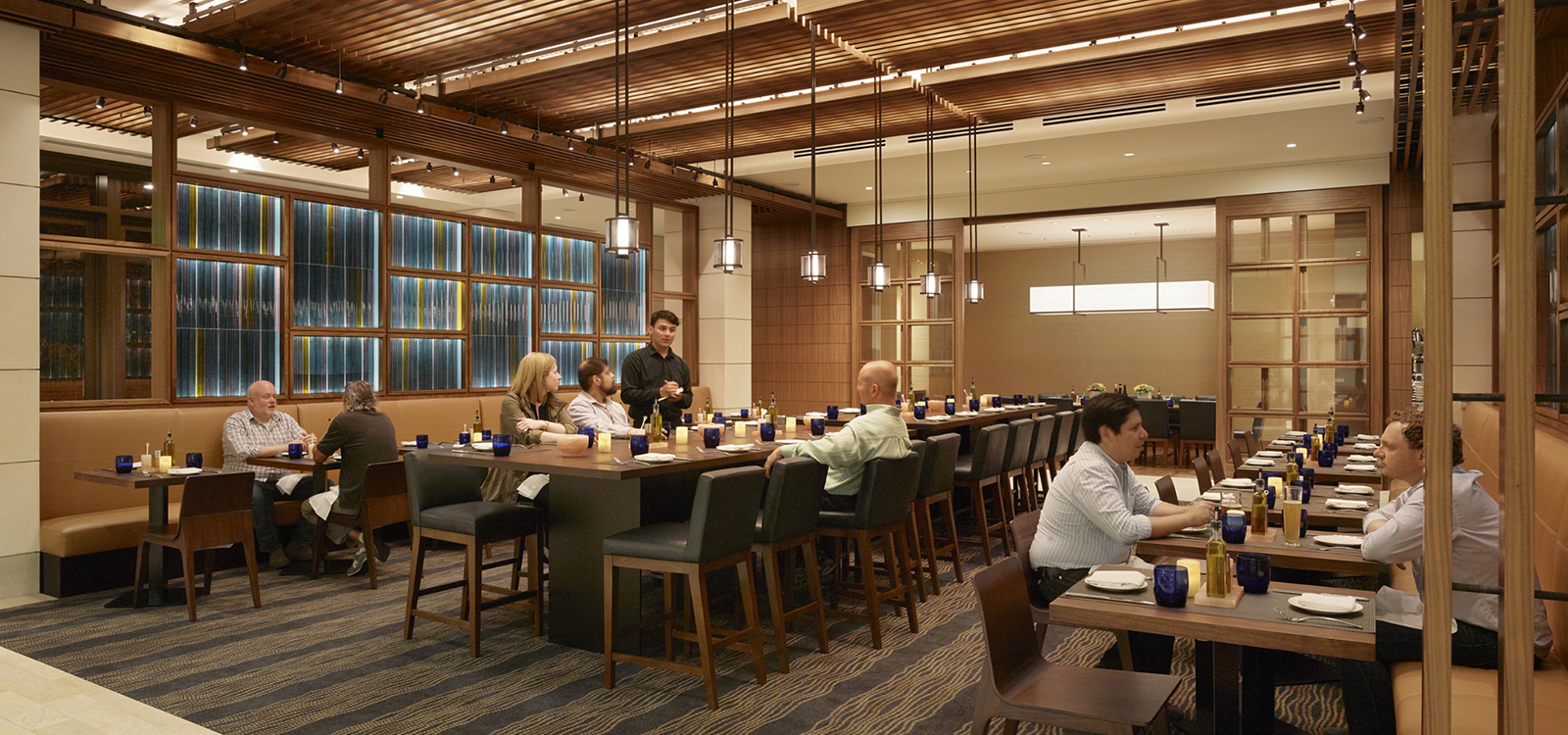 Plateia is unique in other ways. First, it's part of the UCLA Luskin Conference Center, one of the few university hotel and conference centers in the country. While the UCLA Conference Center follows specific guidelines for conferences eligibility, the restaurant welcomes the campus community and general public. In fact, Plateia caters heavily to UCLA staff and faculty as well as alumni and donors, and is the only à la carte, three-meals-a-day venue on campus. As a restaurant for the property, it also serves as a venue for hotel and conference guests which can maximize restaurant occupancy on any given day, especially during breakfast and lunch periods.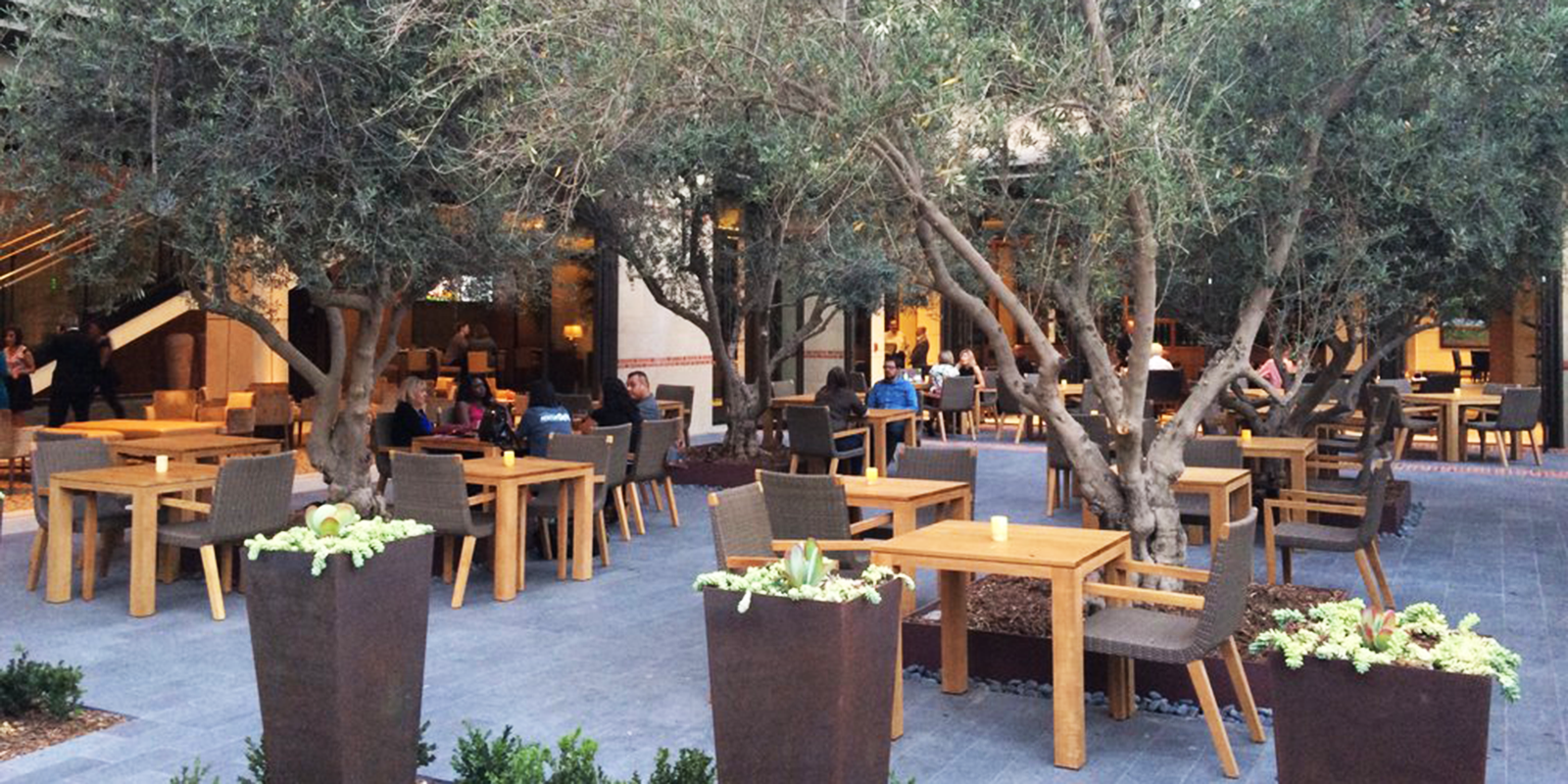 As an alternative to the dining room, the bar/lounge and outside patio serve as an equally relaxing gathering space. With Southern California's Mediterranean climate, along with the grove of olive trees that line the patio, outdoor dining is an attractive setting for guests. At certain times of the year, artists from the Mindful Music program provide beautiful performances to help guests escape to a stress-free and peaceful scene. Additionally, Bruin Insider, the popular radio show and podcast about UCLA athletics, hosts their weekly broadcasts from inside the restaurant.
The Food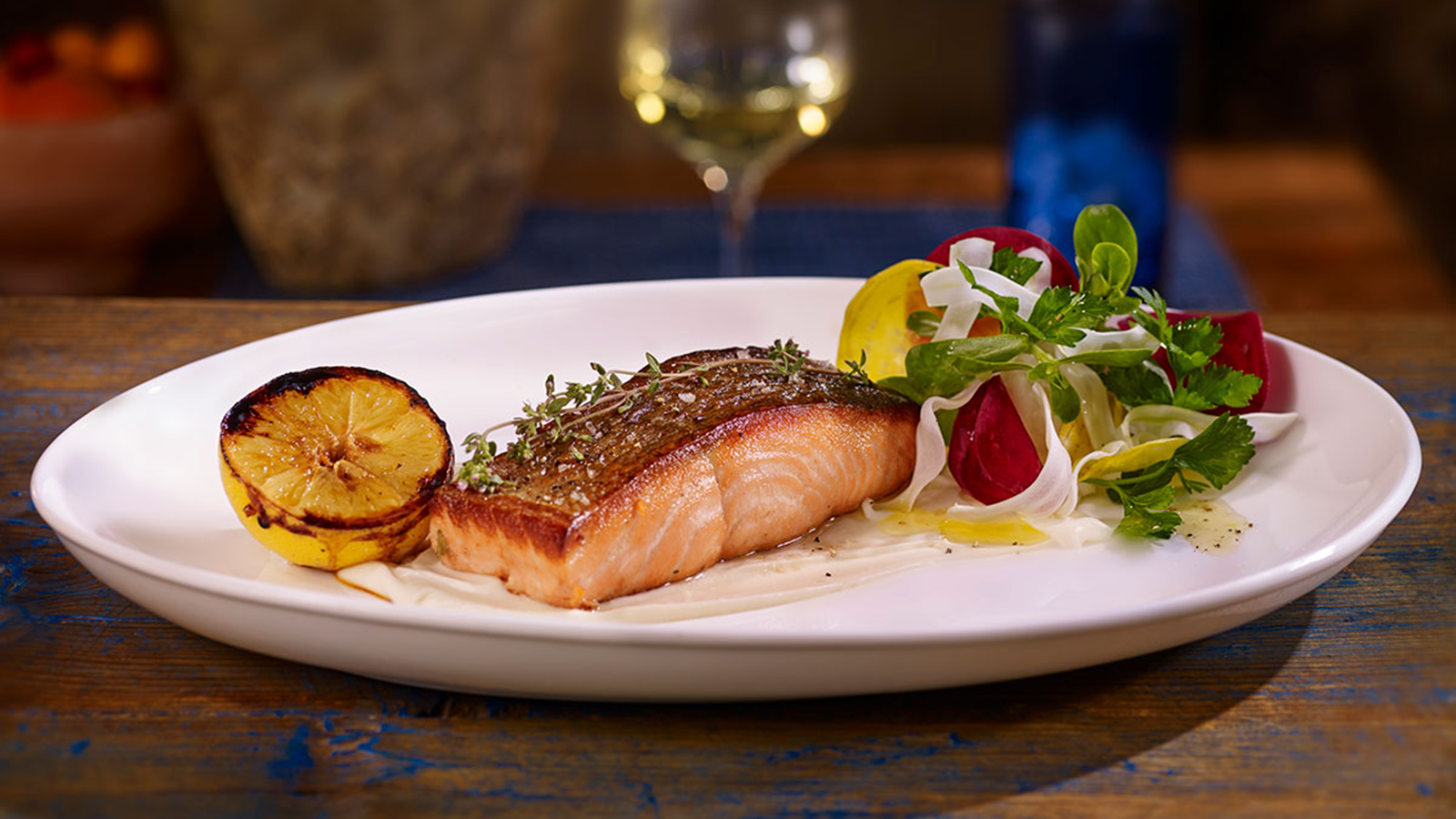 Hands down Plateia's bread and butter is its food. Its small plates, main dishes and desserts are all delightful to the palate and visually attractive in their presentation, while appealing to the health conscious and advocates for sustainably-sourced food. Best of all, its reasonably-priced menu doesn't reflect the overall quality of the food.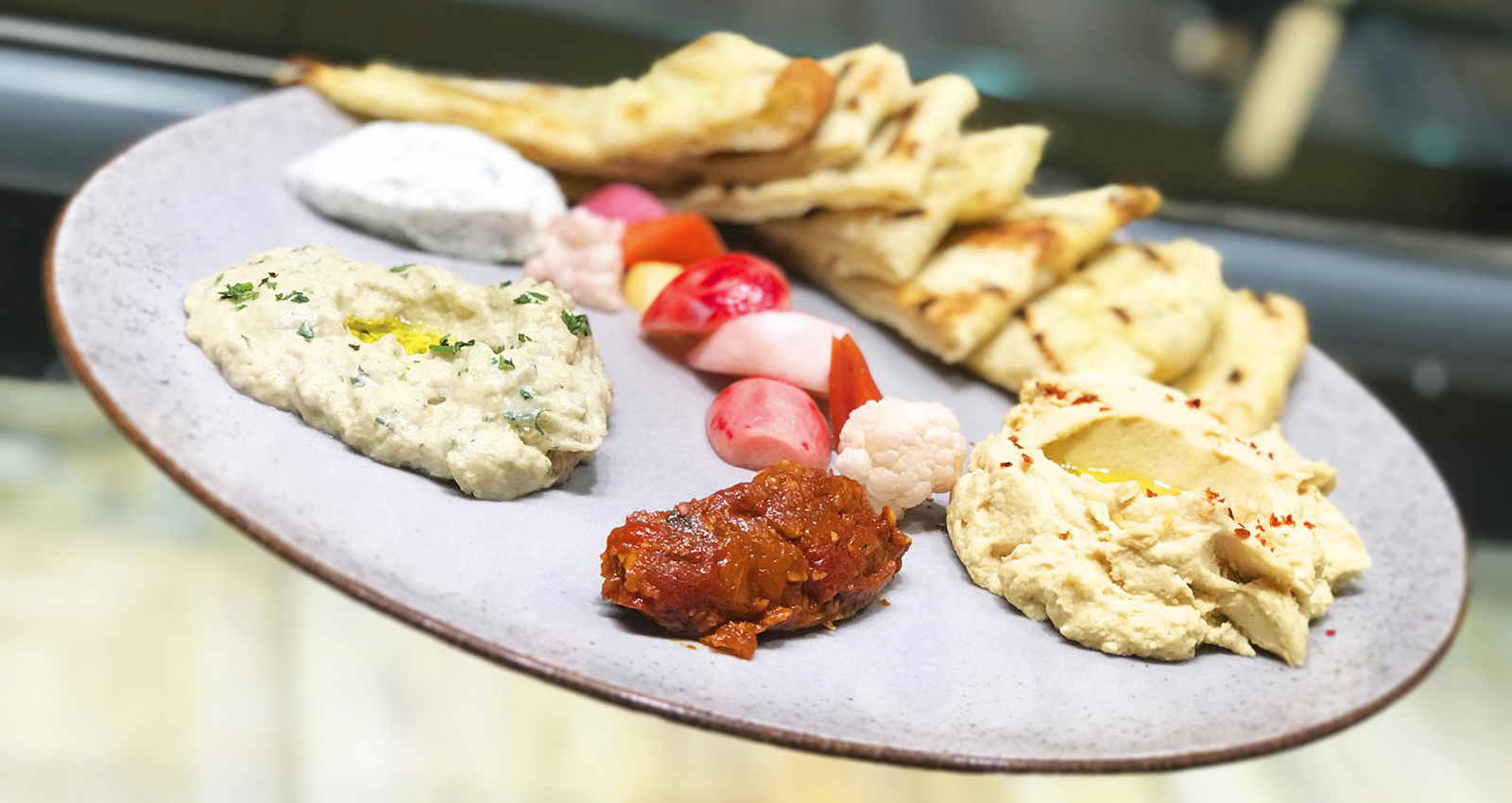 The restaurant offers both seasonal dishes as well as signature dishes that are Plateia favorites. Among them are the Salatim, which has five components consisting of hummus, baba ganoush, labneh, muhammara, pickled vegetables, plus the flat bread made from scratch. Tingley says, "Outside of ketchup and mustard, almost all of our ingredients are made in-house. We go to great lengths to research and vet all our recipes."
Other staples include "The" Burger, "The" Impossible Burger and the Greek Village Salad to name a few. However, a main point of pride is Plateia's innovative food variations. "We're never bored here," Tingley adds. "We're constantly trying to improve the food. We're like mad scientists." Given the frequency of visits from regular clients, the hope is that guests also never get tired with the menu.
In line with the University of California's comprehensive sustainability policy, Plateia strives to source fresh, seasonal ingredients, with a minimum of 20% coming from sustainable, socially responsible and humane sources. Tingley works directly with the owners of Kanaloa Seafood, one of the most sustainable seafood companies in the world, to purchase delicious seafood obtained the right way. For example when these former oceanographers tell him "You can't have swordfish because we're having problems and here are the reasons why," Tingley will buy a different fish.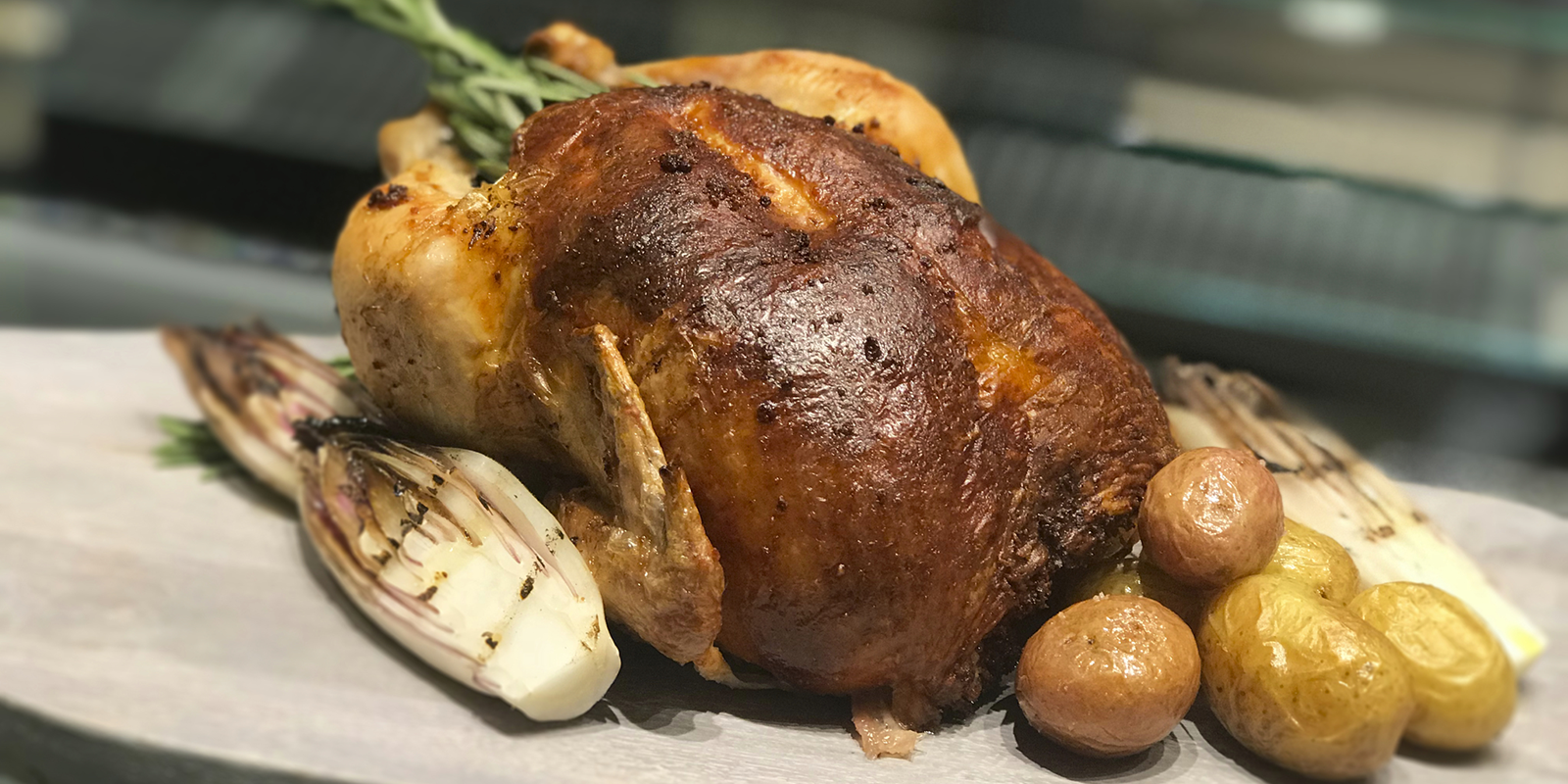 He continues, "Our chicken is the best chicken you can possible have. We use a company called Pasturebird. They have a huge open air property where chickens roam freely and eat whatever comes naturally from the ground, supplemented with an organic feed. They're free from any vaccines, engineered hormones or antibiotics."
As vegan and vegetarian options become more in demand, Plateia offers delectable choices in The Vegan Burger and a variety of salads with cheese substitutes. The popular Vegan Burger is so tasty, Tingley tells the story of an irate guest who thought "they were forced to eat meat after 25 years because it couldn't be possible that this was a meatless burger." It's not called The Impossible Burger™ for nothing.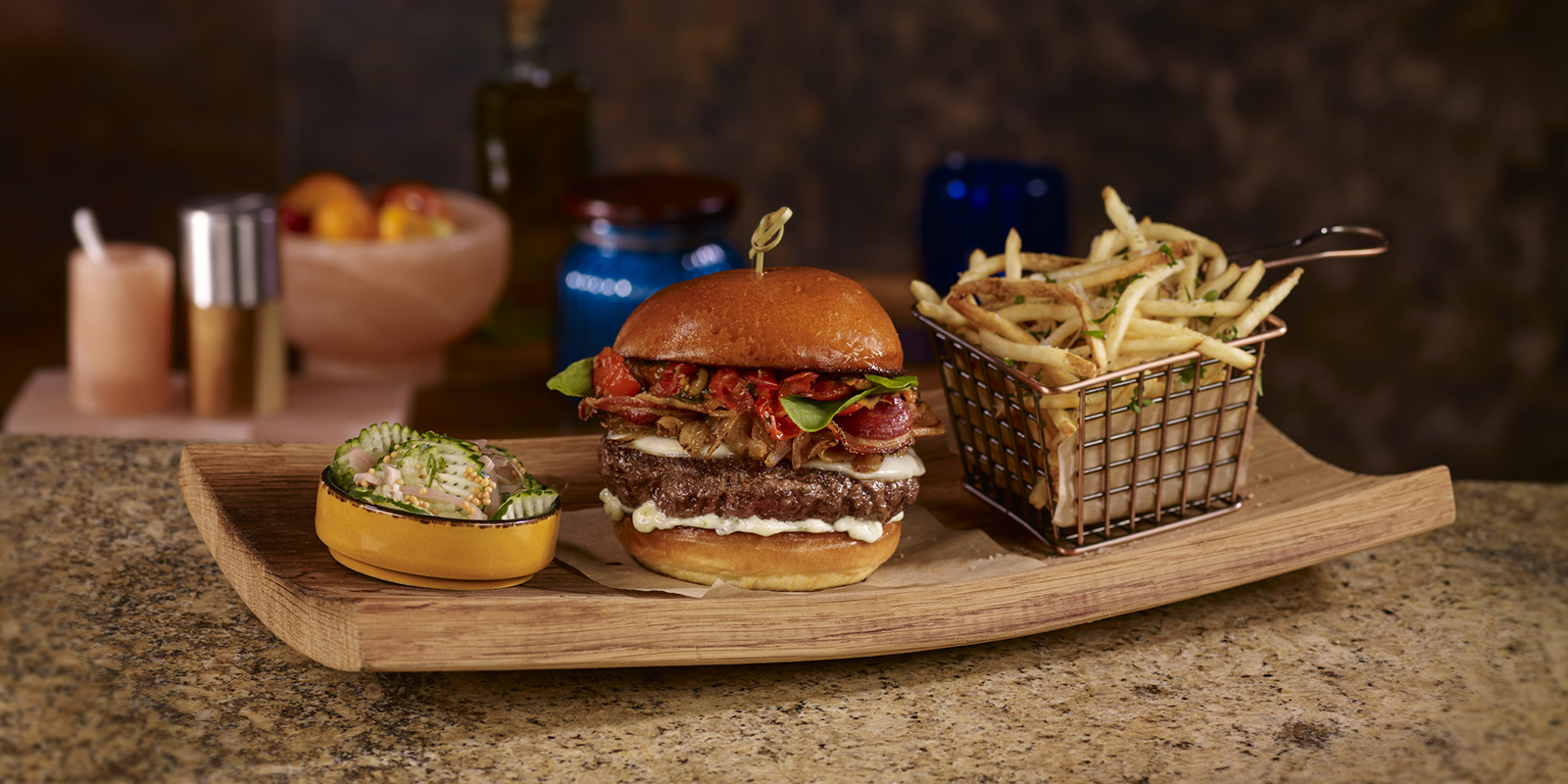 When it comes to the food innovation, Chef Tingley summarizes Plateia's philosophy: "Our belief in the kitchen is if something sells great, then we want to put something on the menu that challenges it. It has to have its worth to be able to stay on the menu. They have to compete just like anything else."
Serving UCLA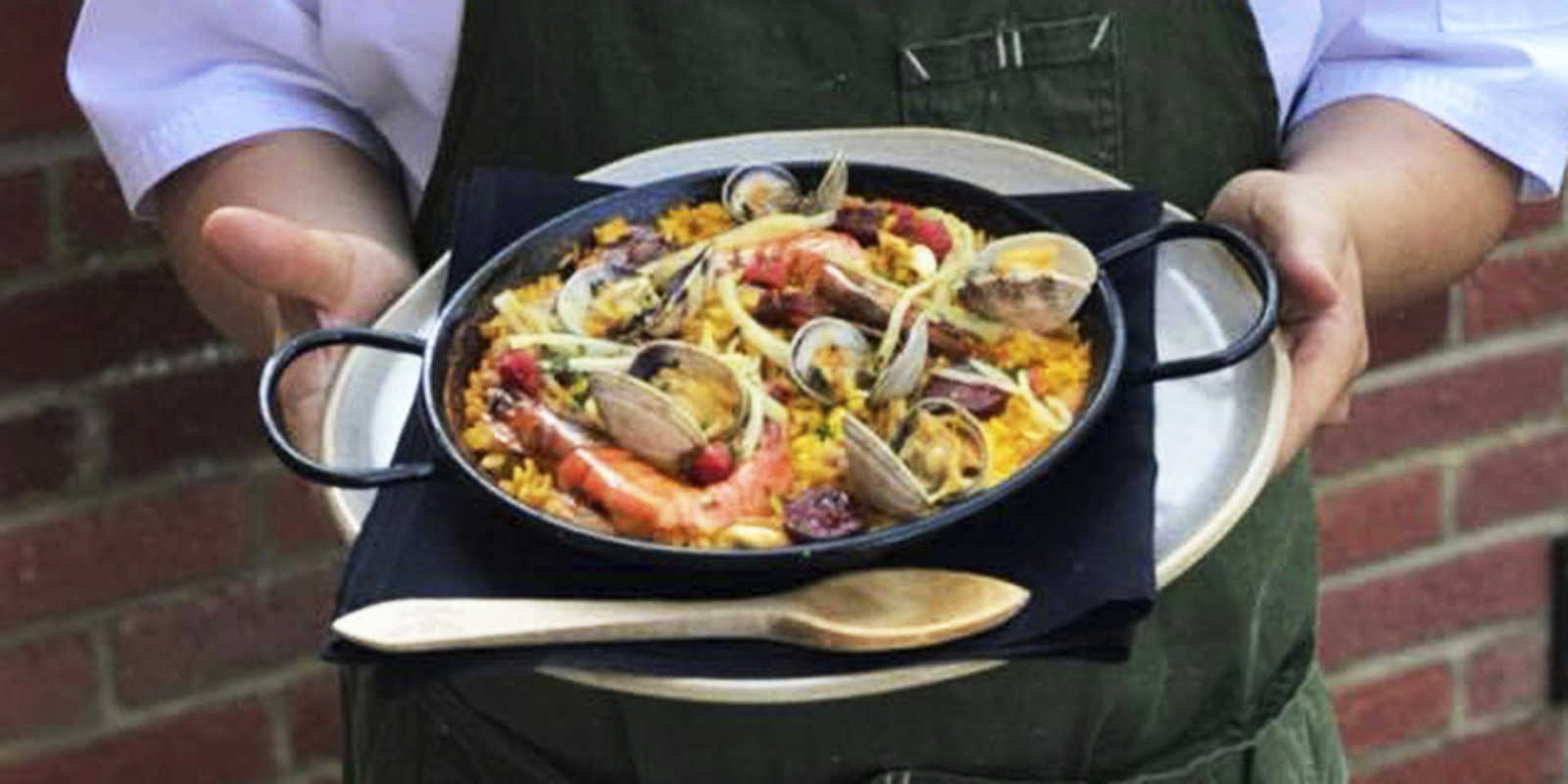 The Luskin Conference Center's Food and Beverage Director, Tony Perone, said it best, "Plateia was built to serve the UCLA community. Whether it's a staff happy hour, a faculty meeting, parents dropping off their children, hospital guests visiting patients, fans watching games or alumni returning to re-explore the campus, this is what we're here for — for hospitality and food."
Tingley concludes, "I see Plateia as a progression of UCLA. As new and modern buildings are being built, we're always striving for excellence. The resident dining halls are rated No. 1 in the nation, where colleges aren't really known for serving quality food. If we can inspire people with the quality of our food — our healthy, sustainably-sourced, delicious food — then we're contributing to a progressive UCLA that's hungry to be on top. I think it's just a really cool place to be."
---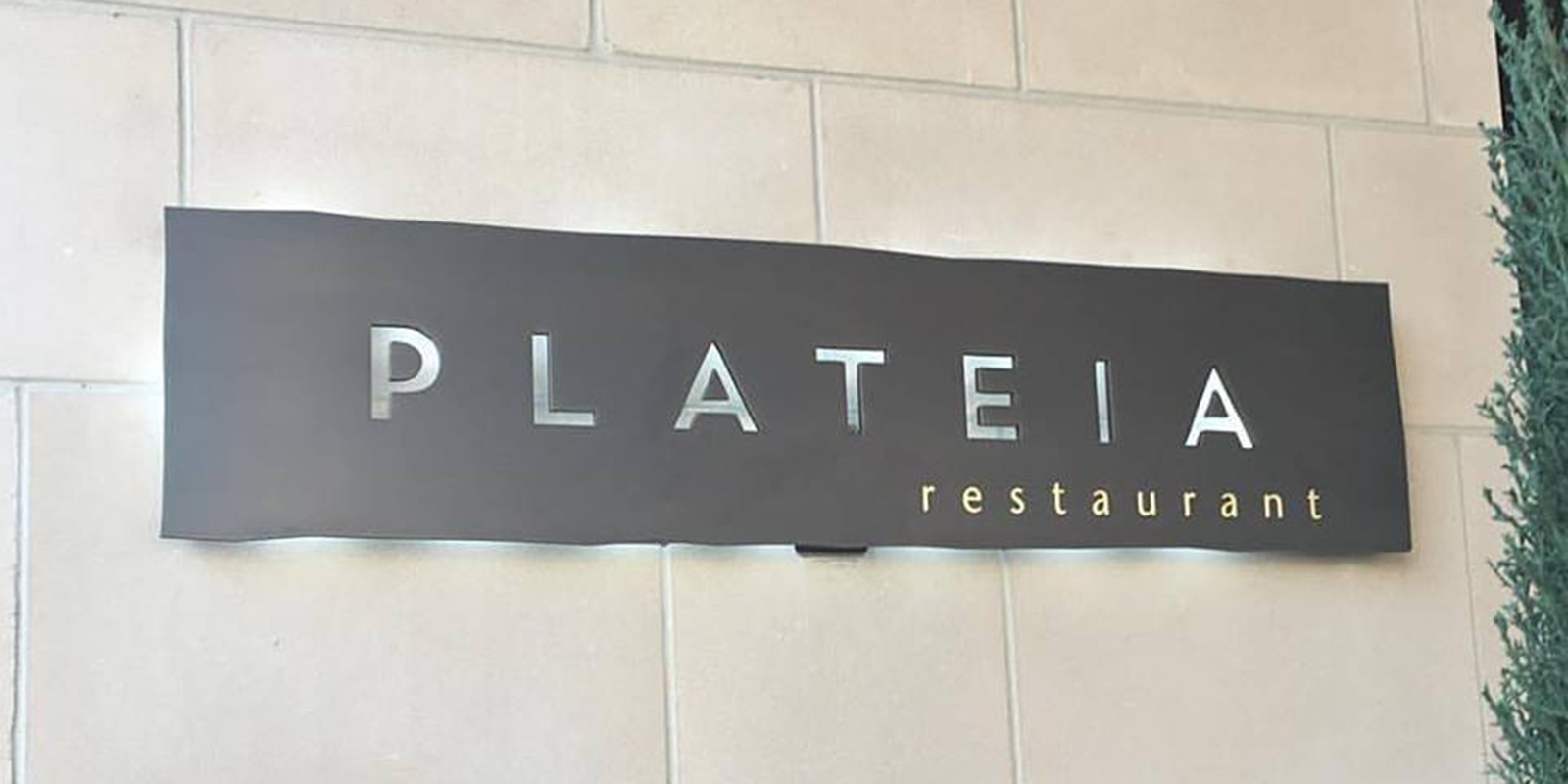 For information or to make reservations for Plateia, visit http://plateiaucla.com.