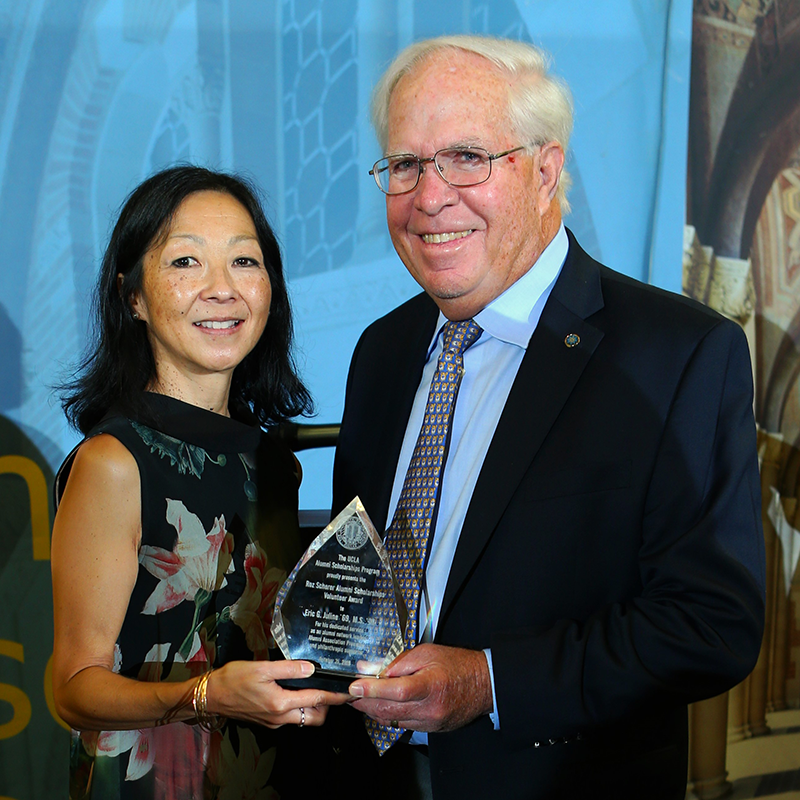 On Oct. 21, 2018, the Roz Scherer Alumni Scholarships Volunteer Award was awarded to a former Alumni Association President, Eric Juline '69, M.S. '70 during the annual Fall Reception at the James West Alumni Center.
Eric Juline's commitment and tireless volunteerism represents the best of UCLA alumni. He served on the Alumni Association Board of Directors for 12 years including as president and treasurer. Juline's advocacy expanded to the UC Board of Regents as an ex officio member. Whichever city he and his beloved wife E. resided, Juline took his dedication to UCLA with him - serving as president of the Bay Area Bruins, an active member of the Fresno and Sacramento Bruins, and finally as president and treasurer for the San Diego Alumni Network. It is of no surprise that his love for blue and gold was passed on to two of his children, Erin '91 and Eric '93.
It was in San Diego that Juline's advocacy for student support through scholarships expanded. Through his sheer determination and effective leadership, he and his peers grew the UCLA Network of San Diego Scholarship Fund to a more than $800,000 endowment. This year the fund is supporting 27 scholars from San Diego County.
Juline has earned the respect, gratitude and admiration of his peers for his steadfast service to raising long-term support for the amazing students we are meeting today. Regarding his own Juline Family Scholarship, he said, "The greatest reward we receive is knowing that we are encouraging highly capable students to excel in their educational endeavors at UCLA."
To support the UCLA Network of San Diego Scholarship Fund or to make a gift in honor of Eric Juline, please visit: http://giving.ucla.edu/SanDiego.
---