FEBRUARY 2018 | SAN DIEGO EDITION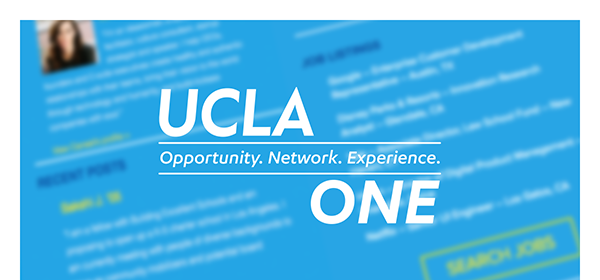 UCLA ONE Offers More Ways to Connect. Did you know that the online forum for Bruins helping Bruins lets you search and message alumni by career field, stage and location? There are also group forums based on industry, job listings posted by alumni and a myriad of Bruin events. Start exploring the number ONE UCLA networking site.

Inspiring Black Bruins
UCLA has a rich history of African Americans who have made significant contributions to UCLA, Los Angeles and society. In the third part of a continuing series, we highlight pioneers through the decades - activists, artists, athletes and astronauts, to name a few - who make us all proud to be Bruins.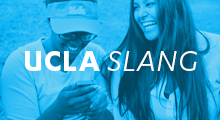 UCLA Slang
To be a True Bruin, you can't just walk the walk - you have to talk the talk. UCLA students are always coming up with new ways to describe the world around them. Can you decode it? Click thru to see what Bruins are saying these days. Email us the UCLA slang you used in your day.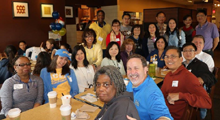 Coffee Socials on Feb. 3
Coffee Social Day is an opportunity for parents and family members of current UCLA students to foster connections with one another on a regional level. As UCLA alumni, you are invited to participate as ambassadors, sharing your knowledge and experiences with Bruin families! No RSVP necessary. Look on the map for a Coffee Social happening near you and join the fun in your blue and gold.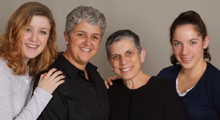 Bruin Valentines
Many amazing things happen at UCLA. For these five couples, perhaps nothing was more amazing than falling in love. Whether it's reuniting with an old college flame decades later or one twin marrying another twin to have a set of twins of their own, read their unique stories of how it all began and where they are today.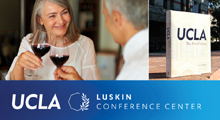 Exclusive Alumni Appreciation Package
Good taste, times two! Book the exclusive Alumni Appreciation Package at the Luskin Conference Center and Hotel and enjoy a three-course dinner at Plateia during your stay, then take home a keepsake copy of "UCLA: The First Century." Call 855-522-8252 for availability.





Happy 150th Birthday University of California - Explore Its Rich History and Achievements



Visionary Alumna Martine Rothblatt '77, M.B.A. '81, J.D. '81 Honored with UCLA Medal



UCLA Alumni Ranks No. 4 in Most Influential Alumni Associations



Alcohol Banned from UCLA In-house Fraternity Parties Indefinitely



Brittany Speer '17 Receives Medal of Courage from UCPD for Helping Vegas Shooting Victims



Norman Pattiz, UC Regent Accused of Sexual Harassment, Resigns



In Memoriam: Longtime Vice Chancellor Elwin 'Sven' Svenson '48, M.Ed. '50, Ed.D. '54 - Read More in Class Notes



UCLA Alumni Board President-Elect Cheryl Lott '01, J.D. '04 Named One of the Most Influential Minority Attorneys in L.A.


Entrepreneur and UCLA Alumni Board Member Ann Wang '13 Explains Mindful Ambition


Looking for a Keynote, Panelist or Facilitator? Find the Right Bruin Through the UCLA Alumni Speaker's Bureau








Join a Free Career Webinar to Refine Your Job Search Skills, Save 25% On Your First Month of Career Coaching



Video - Bruin Career Insights: Bringing Your Full Self to Your Career



Steven Manfro '16 Turned in His UCLA Football Uniform for an LAPD Uniform



Q&A: How Karina Silva '12 Went from UCLA Diver to Camera Operator for "Beauty and the Beast"



Feed Your Love of Learning: Gold, Life and Blue Members Have Free Access to All 10 UC Libraries


Gold, Life and Blue Members Can Access Thousands of Articles and Publications Via the ProQuest Research Library





Come to a Dinner for 12 Strangers and Leave with 12 New Bruin Friends



UCLA Coach Valorie Kondos Field '87 Offers Insights Into the USA Gymnastics Scandal






New Scholarship Endowment at UCLA Law Will Honor Soundgarden Leader Chris Cornell








UCLA Faculty Voice: What Thin People Don't Understand About Dieting



38 Bruins Involved with 22 Projects Shown at Sundance Film Festival



Exhibition of La Raza Photos Documents Chicano Life in L.A. During the 60s and 70s



Once Homeless Angela Sanchez '13, M.Ed. '15 Tells Her Tale in Her Children's Book "Scruffy and the Egg"





PARENT & FAMILY PROGRAMS



Feb. 3, Various Locations | Coffee Social Day



Feb. 15, YouTube Live | Bruin Family Insights: The Best We Could Do - A Common Book Discussion


SAN DIEGO NETWORK



Feb. 3, La Mesa | 2018 Culinary Tour Kick-off Event: "Venice Carnevale"



Feb. 8, San Diego | Young Alumni Lunar New Year Mixer: UCLA and UCSD's School of Global Policy and Strategy


UCLA ALUMNI AFFAIRS



Feb. 15, YouTube Live | "Parenting in the 21st Century" EmPower Hour Series Part 1



Feb. 24, 25, March 3, Various Locations | Attend a Dinner for 12 Strangers





Membership gives you access to UCLA and funds Alumni Association programs for more than 500,000 Bruins worldwide.
---







---
View in browser | Unsubscribe | Tell us what you think
UCLA Alumni Connect, Vol. 17, No. 2, San Diego Edition | Other Editions


UCLA Alumni Association (© 2018) James West Alumni Center, Los Angeles, CA 90095