On July 1, Cheryl Lott became the new president of the UCLA Alumni Association Board of Directors. An experienced business and commercial litigator, she represents corporate clients, banks, mortgage companies and other financial institutions in both state and federal court. Born and raised in L.A., she went to Fairfax High School, graduated UCLA in 2001 with a double-major in political science and African American studies and a minor in Chicano studies, followed by a law degree in 2004. She served as co-chair for the Black Law Students Association, inter-organizational chair for La Raza Law Students Association and managing editor for the Chicano Latino Law Review. Post graduation, Lott became a member of the UCLA School of Law Alumni Board and is a founding member of the UCLA Law Women LEAD Board. She first joined the UCLA Alumni Board of Directors in 2014.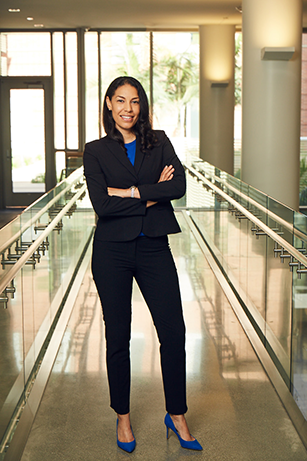 My first year at UCLA in 1996 was during a time of student activism. It was in the wake of the passage of Standing Policy 1 and 2, and Prop. 209, prohibiting the consideration of race, religion, sex, color, ethnicity or national origin as criteria for admission or employment in the University. It was a big learning curve for me understanding the issues that impacted my community.
A life-changing experience happened just before my sophomore year when I was accepted into the UCLA Law Fellows Program. This new program helped underrepresented students like me get the guidance and resources I needed to get into law school. As part of the program, I, in turn, went to high schools with low UC admissions and helped students become UC eligible. I'm so grateful for this experience and their investment in me.
I learned to give back in part because of the Law Fellows Program and also because of my friends who were already active. I became more involved with USAC as a volunteer and later as a General Representative. I worked with the Cultural Affairs Commission on the Jazz Reggae Festival and helped plan many on-campus events. This taught me what it meant to serve my community.
By the time I graduated law school, I was a different person. I was just a kid when I came to UCLA and I left as an adult. Dealing with everyday conflicts on campus and figuring out solutions, as well as learning varying perspectives and life experiences, my time at UCLA taught me to appreciate and learn from differences of opinion.
It is in accepting people for who they are that has prepared me to be a litigator. Since I deal with conflict all the time, I've made it a practice that just because we disagree on certain issues doesn't mean we have to be confrontational and disagree on everything else. It's important to find opportunities to learn from and understand one another. It's when we find our common ground that we can move forward as a community, as a country, as a people.
My involvement as a UCLA volunteer began in law school where I was in leadership positions for the Black Law Students Association and the La Raza Law Students Association. I stayed in touch and continued volunteering even after graduation. I, however, was not connected with the UCLA Alumni Association Board until a colleague from work who was active in the Latino Alumni Association re-introduced me to the UCLA Alumni Board. Volunteering is my way of paying it forward.
My leadership style is one of empowerment and helping others flourish. It's not just about pushing forward my goals, I want to help others find their voice and speak out about what matters to them - then help them implement those ideas. When we're all flourishing, then we're doing more for the Association, more for alumni, more for UCLA.
I'm very proud of the growth of the Career Advisory Committee. When I first joined the board, the groundwork was set for expanding career programming so it served every life stage of a Bruin and reached out to a wider audience. From the development of Bruin Career Insights webinars to the UCLA ONE platform to crafting events that cater to young professionals, middle managers and executives, it's amazing how much it has grown the last few years, and I'm excited to see it continue to grow.
One committee that experienced challenges when it began, as far as building bridges and opening lines of communications among the Networks, was the Diversity Advisory Committee. I watched it grow from its inception to the active, collaborative, fantastic committee that it is today; one that everyone wants to join. I look forward to seeing more growth and rich programming from this group.
A prime goal is the financial health of the organization. At a time of declining state funding and rising tuition costs, it's important that we conserve our resources, not in cutting programming, but in collaborating with campus or corporate partners and making the best use of our limited resources.
The staff and Networks have done a phenomenal job with scholarships. The Alumni Board Scholarship was established less than two years ago as a gap fund because a number of our scholars have unmet need. There were also a number of Networks whose scholarship fundraising, along with the Chancellor's matching, reached endowment status this past year. This really makes a huge difference in the lives of our students.
A new focus for me is getting more representation from South campus on the board. Inclusion is a big part of who I am. Everyone has something to bring to the table. Those who spent a majority of their time on South campus have different experiences than those of us who spent most of our time North, and I believe these differing experiences contribute to a more holistic voice and vision of UCLA.
Different perspectives are important to have when serving all Bruins. What draws someone back to campus may depend on what their experience was like, or how they identify. If an inactive alumnus can see themselves in someone who is involved with UCLA, that may serve as the impetus for participation.
How we respond to campus climate is critical. The Alumni Association is facing increased pressure to respond to controversies that happen on campus or in the world. We must handle those cases with class and grace and with an eye toward how we best serve all alumni.
If there's one thing I want alumni to know, it is that the Alumni Association is here to support you no matter your stage in life. Whether it's bringing you back to campus, or bringing the university to you, we are always here to help you connect with UCLA and your fellow Bruins.
To connect with President Cheryl Lott, visit her on UCLA ONE.
---