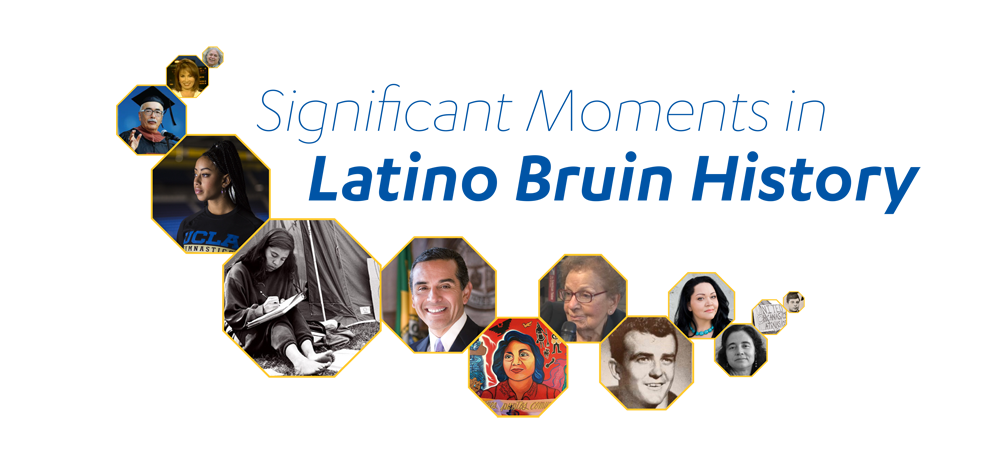 Throughout its first century UCLA has been home base for generations of Latino students pursuing their dreams, building a cultural identity and creating a legacy for future Bruins. In honor of Hispanic Heritage Month, (Sept. 15 - Oct. 15) UCLA celebrates the contributions Latino Bruins have made to the university and the community.
In the 1930s, Latinos in California were often descendants of the former citizens of Mexico or workers who came for the Gold Rush and other economic opportunities. Segregation often led to a small number of Latino Californians with the resources and opportunity to pursue an education beyond eighth grade.
UCLA Latino students of the 1930s and 40s paved the way for the generations that followed. In 1938 they created the first Latino student newspaper "The Mexican Voice," edited by UCLA student Felix Gutierrez '47. In 1942 UCLA students created what is believed to be the first Latino club on a college campus, the Mexican American Movement (MAM), an offshoot of a YMCA of Los Angeles program to create a pathway to higher education for Los Angeles' Latinos.
The civil rights movement of the 1960s brought a wave of political and social activism. UCLA faculty, students, staff and community members campaigned for greater representation on campus, and the establishment of an ethnic studies program. The UCLA Chicano Studies Research Center (CSRC) was founded in 1969 to foster multidisciplinary research efforts, and included a publishing outlet for academics whose work was not accepted by mainstream press.
In 1973, an undergraduate major in Chicano Studies was established, and UCLA students organized Raza Graduation, a ceremony that represented Latino traditions.
The recession of the 1980s led to cuts in funding. During these years due to economic and political events, there was an increase in immigrants from Central and South American countries.
Founded in 1989, the UCLA Latino Alumni Association (ULAA) became the place for Latino alumni to stay connected, get involved and support future generations of Bruins. Acting on its mission to "enrich the lives of Latino alumni and involve them in the exciting future of UCLA" this dedicated group provides opportunities for alumni to stay actively involved in the UCLA community.
In 1993, students and faculty used civil disobedience to advocate for a Chicano Studies department. Six students and faculty members undertook a hunger strike, with hundreds rallying in support. In a compromise agreement UCLA created a center for interdisciplinary instruction.
In 2005, the Chancellor established a department of Chicana and Chicano Studies, renamed the César E. Chávez Department of Chicana and Chicano Studies; an M.A. and Ph.D. graduate program was added in 2010.
From the first known Latino student group of the 1940s, the Mexican American Movement, UCLA is now home to nearly two dozen student organizations and clubs. To name a few: Grupo Folklórico, established in 1966, celebrates Latino heritage; the Society of Latino Engineers and Scientists aims to increase Latino enrollment in engineering and science at four year universities; La Raza Law Students Association helps to meet the needs of the legally underserved, particularly in the Latino/a community; there are also several Greek organizations on campus and many more opportunities to get involved.
We celebrate these students with a look back at some remarkable Bruins, with a legacy of accomplishments, breaking barriers and blazing a path forward.

Tom Fears grew up in Los Angeles. As a high school student he worked as an usher at football games at the Coliseum where he would later play. Fears was born in 1922 in Guadalajara, Mexico where his father met his mother while on a job assignment. Always an athlete, Fears played football for Manual Arts high school and Santa Clara University, leaving when he was drafted into WWII. After the war he attended UCLA, postponing an offer to play for the Rams, then based in Cleveland.
Fears was an offensive and defensive end for two All-America seasons with the Bruins. In 1947 he was the team's MVP. He also worked in movies, including a brief role as a fighter pilot in ''Action in the North Atlantic,'' starring Humphrey Bogart. 
After graduating from UCLA, he joined the Rams. In a 1950 game, he caught 18 passes, a record that stood until 2000, and in 1951 he caught the pass that clinched the Rams only NFL victory that year. He went on to become the first Mexican-American assistant coach, first with the Rams (1960-61) then with the Packers (1962-65), and the first Mexican-American head coach for the New Orleans Saints (1967-70).
Fears has been inducted into the College Football Hall of Fame, and the NFL and National Football Foundation halls of fame. In 1989 he was inducted into the UCLA Athletics Hall of Fame. He was quoted as saying, "If I had to do it all over again, I'd do it the same way."

Grace Montañez Davis grew up in the Los Angeles Lincoln Heights neighborhood, where she remembers her mother always organizing help for people in need. After graduating from Sacred Heart High School she worked in a soap factory. Interested in a career in science, Montañez Davis enrolled at Immaculate Heart College, and then UCLA where she received a degree in microbiology, one of only a few Latinas in higher education at the time.
After graduation she worked in cancer research, but put her career on hold to marry and start a family. While attending UCLA she had became politically active, attending lectures and organizing events. After her divorce, instead of returning to a career in science, the single mother of three worked as a field representative implementing anti-poverty programs. In 1970, she was recruited by Los Angeles Mayor Tom Bradley '41 to join his administration as director of human resources becoming, at the time, the highest-ranking Latina in city government.
Bradley appointed her as deputy mayor in 1975, the first Latina in this position. As deputy mayor she was a community builder and an advocate for women and the homeless. She defended the rights of immigrants and campaigned to create opportunities for Latinos in higher education. At City Hall, Montañez  Davis established the Department of Justice, Department of Aging, an Office of Volunteers and an Office for Youth. In 1989 the UCLA Alumni Association honored her with the UCLA Award for Public Service. She retired in 1990.

Linda Alvarez has credited her tightknit family with giving her the support she needed to thrive. A fifth-generation Californian with Mexican and Chilean heritage, the Los Angeles native attended Venice High and then UCLA. Her love of language and concern for community would lead to a career in journalism.
After graduating from UCLA with a degree in English, she taught high school English and Spanish. She also taught Spanish to Peace Corps volunteers, which inspired Alvarez to travel and live and teach in Venezuela, Mexico, Chicago, Connecticut and at the United Nations Secretariat in New York City.
When she returned to Chicago, in what would be a career changing move, she recorded bilingual announcements for a television station. From this work, she was offered a job as a news reporter, eventually returning to Los Angeles in 1985 to take a job as weekend anchor at KNBC. Within a year, she became the first Latina to anchor a major weekday newscast in Los Angeles. In 2003 she joined KCBS as anchor and special assignment reporter.
Over the course of 34 years in local TV news, 22 in Los Angeles, Alvarez covered natural disasters, historic events and local and national breaking news. In 2003 she spent a month embedded with U.S. forces in the Persian Gulf, she has covered Los Angeles earthquakes and the Seoul Olympics. Her reporting earned Alvarez 12 Emmys, Press Club Honors and eight Golden Mike Awards.
As an active community volunteer, Alvarez has been recognized with the Woman of the Year award from the YWCA of Los Angeles, and awards from the Mexican American Legal Defense and Education Fund (MALDEF) and the Boys and Girls Clubs. In 2006 UCLA Alumni honored her with the UCLA Award for Professional Achievement. Alvarez signed off in 2007.

The son of migrant farm workers, Juan Felipe Herrera was born in Fowler, California. As his parents traveled across California to work, he attended schools from San Francisco to San Diego. A poet, writer and performer, Herrera writes about social, political topics and cultural topics. His poetry often tackles current events, and crosses genres and writing styles.
Herrera was the first Mexican-American to be named United States poet laureate. In his first term as poet laureate in 2015, he traveled across the country sharing poetry and engaging people in writing the epic poem "La Familia."
Honored with a second term in 2016, he spent the year developing methods for teaching poetry, created the illustrated, public poem, "The Technicolor Adventures of Catalina Neon," and established a performance space/classroom at Cal State Fresno.
When he graduated from high school he was among the early recipients of an Educational Opportunity Program (EOP) scholarship to attend UCLA, where he became active in the Chicano Civil Rights movement on campus, and enchanted by experimental theater.
Herrera earned a degree in social anthropology from UCLA, and a master's from Stanford in social anthropology. Spending time in San Francisco's North Beach introduced him to the Beat poets, and changed his path. He later returned to school to earn an M.F.A. from the University of Iowa Writers' Workshop.
Herrera has written more than 30 books, including collections of poetry, short stories, YA novels and children's books. He retired his position as professor of creative writing at UC Riverside. He has won a Guggenheim Fellowship, a National Book Critics Circle Award and a fellowship from the National Endowment for the Arts. He was California's poet laureate from 2012-14.

Antonio Villaraigosa grew up in East Los Angeles, overcoming challenges to become a public servant with a legacy of building coalitions between diverse constituents. He nearly dropped out of high school, but his mother and a concerned teacher encouraged him to stay. He credits this intervention, along with his mother's commitment to hard work, education and social justice as the foundation for his success.
After high school, Villaraigosa enrolled at East Los Angeles College, transferring to UCLA. At UCLA he became active in MEChA, a student organization that uses political involvement and education to create change. He led on-campus demonstrations in support of farmworkers, ethnic studies and increased admission of women and minorities.
Villaraigosa received his law degree from the Peoples College of Law, a school with a commitment to providing underrepresented communities with legal resources. In 1994, after working as a labor organizer, he was elected to the California State Assembly. He served as Democratic leader of the Assembly (1996–98), and the Speaker of the California State Assembly (1998–2000).
Villaraigosa ran for mayor in 2003 and was defeated by fellow Democrat James Hahn. In a 2005 rematch Villaraigosa won, becoming the first Latino to serve as mayor of Los Angeles since Cristobal Aguilar in 1872. He was the 41st mayor of Los Angeles, a position he held until 2013.
As mayor, he focused on making public schools more competitive, improving Los Angeles' public transit system and reducing greenhouse gasses. Villaraigosa has been quoted as saying, "For me, public education really was the great equalizer. That's why I believe education is the civil rights issue of our time." Villaraigosa has remained active in politics and, in November 2016, announced his candidacy for Governor of California in 2018.

Yreina Cervantez is a Chicana artist and activist. Her murals, painting and printmaking blend traditional iconography with contemporary elements. As a child, she felt Latinas were often underrepresented in popular culture; so her work focuses on women, often self-portraits, along with indigenous, political and spiritual iconography.
Inspired by her mom's artistic spirit, she began a career as an artist after graduating with a B.F.A. from UC, Santa Cruz. She worked with UCLA professor Judy Baca on planning and painting her mural "The Great Wall of Los Angeles" and becoming a founding member of Self Help Graphics.
Cervantez received her M.F.A. from UCLA in 1989. Los Angeles is often referred to as the "city of murals." Her thesis project was the mural La Ofrenda, located under a bridge on 2nd and Toluca near downtown Los Angeles, is a painting of Dolores Huerta of the United American Farmworkers Association surrounded by cultural, political and gender iconography. The mural was restored in 2016. 
She has exhibited nationally and internationally, and her work is in the permanent collections of the Smithsonian Museum, The Mexican Museum and the Los Angeles Museum of Contemporary Art. She currently serves as an assistant professor of Chicana/o Studies at California State University, Northridge.

Paul Apodaca, M.A. '95, Ph.D. '99 works to preserve American Indian history and music in California. Born in Los Angeles, with Navajo and Mexican heritage, he graduated from UCLA with an M.A. in American Indian studies and a Ph.D. in folklore and mythology. In 1996 he received the UCLA Alumni Outstanding Graduate Student award.
Apodaca has enjoyed a broad and active career, sharing knowledge as a consultant, editor, panelist and speaker for a variety of colleges and museums. He spent 17 years as the curator of the American Indian and California history collections at the Bowers Museum of Folk Art in Santa Ana. He has been a consultant on Indian culture and imagery for theme parks, movies and television and has contributed his knowledge to numerous projects and scholarly papers.
He has studied the music of California's American Indians in great detail, with a focus on preserving indigenous stories, songs and prayers. Apodaca composed the music for the film "Broken Rainbow," about the history of the Navajo, and was part of the team that won the 1985 Academy Award for Best Documentary Feature.
Apodaca is currently an associate professor of sociology and American studies at Chapman University, specializing in folklore, mythology, American Indian studies and Californian, Southwestern and Mexican culture. 

Directed by Patricia Cardoso, "Real Women Have Curves" tells the story of a first-generation Chicana whose plans to go to college clash with her family's expectations. The film, starring America Ferrera, premiered in 2002 to enthusiastic reviews and gained fame after winning awards at the Sundance Film Festival.
Inspired at a young age by fellow Colombian Gabriel Garcia Marquez, Cardoso started telling stories, often making them into books. These books would later become the inspiration for her films. 
Since there was no film school in Columbia, she studied to become an archaeologist, earning a B.A. in anthropology from Universidad de los Andes. She came to UCLA as a Fulbright Scholar in 1987 to study filmmaking. She believes she brings her anthropology training to her filmmaking through the depth of her characters. 
Cardoso was the first Colombian to receive an Academy Award for her student film "The Water Carrier," and the first Latin American woman to win a Sundance Film Festival Dramatic Audience Award. She is considered the first Latina filmmaker to make a meaningful mark at the American box office.
A writer, director and producer, Cardoso has continued to make films, including the television series "Ro," "Lies in Plain Sight" and "Meddling Mom." In 2017 she was invited to join the directors branch of the Academy of Motion Pictures Arts and Sciences. She currently teaches at USC's School of Cinematic Arts.
The screenplay for Real Women Have Curves was co-written by Josefina López, and is based on her play of the same title. Born in San Luis Potosi, Mexico, López and her family moved to Los Angeles when she was 5. She graduated from the Los Angeles County High School for the Arts and received her B.A. from Columbia College in Chicago and her M.F.A. in screenwriting from the School of Theater, Film and Television at UCLA.
Before attending UCLA, López worked in a sewing factory, an experience that inspired her story. The story also addresses issues of race, perceptions of beauty and identity. She has said, "I want to give voice to those who are afraid to speak out and express their inner truths."
She continues to write plays and screenplays, including "Simply Maria," or the "American Dream, Confessions of Women From East L.A." and "Queen of the Rumba." López founded the venue CASA 0101 Theater to bring live theater to her Boyle Heights neighborhood.
Sophina DeJesus grew up balancing her love of dance, with her drive to pursue gymnastics at an elite level. At UCLA she combined the two, along with her African American and Puerto Rican heritage, creating a viral sensation that's been seen around the world. 
DeJesus started gymnastics training at the age of six. She is also a dancer, especially hip-hop, and has danced and acted professionally. After taking a break from gymnastics to work as an actor and dancer, at age 13 she chose to focus on pursuing a spot on the 2012 Olympics team. Admitted to an Olympic training camp, she was winning competitions and on track with her goals. However, she was sidelined by injury, and had to put her dreams aside. DeJesus enrolled in high school and relaxed her rigorous training schedule, joining her school's dance team and enjoying her teenage years.
Healed from her injury, she was recruited by the UCLA gymnastics team.  She followed in her grandfather's footsteps to UCLA, Webster Moore '73, who was president of UCLA's Afrikan Student Union.
DeJesus trained at UCLA to regain the strength needed to perform a floor routine. She wanted to plan something special for her senior year, so she and her sister developed a hip-hop gymnastics routine, which UCLA gymnastics Coach Kondos Field polished for competition. Performed in February, 2016 the routine, a mix of hip-hop and gymnastics moves, went viral on social media and now has more than 18 million views. DeJesus graduated in 2016 with a degree in sociology. With so much already achieved we're looking forward to seeing what she has planned next.