NOVEMBER 2017 | INTERNATIONAL EDITION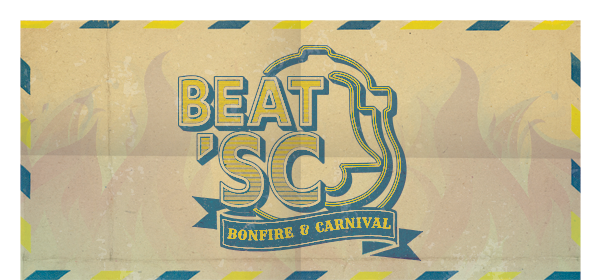 Beat 'SC Bonfire and Rally - Nov. 15, 5:30 p.m. Go back in time at a carnival replete with vintage games and salty snacks. Enjoy some melodious tunes and serious moves from UCLA's a cappella groups and hip hop crews. Cheer your head off for the UCLA Women's Basketball Team—and of course—the football team as they prepare to take on the Trojans on Nov. 18. Watch it live on campus or through the livestream. Sponsored by Wescom Credit Union.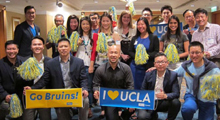 UCLA in Asia
A UCLA delegation of campus leaders, which includes Chancellor Block and The UCLA Foundation Board of Directors, will travel to Beijing, Taipei, Shanghai and Hong Kong for a series of events with complimentary admission. They'll feature expert discussions on health and healing, innovative engineering, the global reach of UCLA Law and a Bruin Bash before the UCLA Men's Basketball game in Shanghai.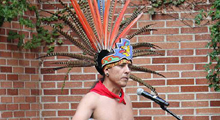 The Making of Indigenous Peoples Day
On Aug. 30, the Los Angeles City Council voted to replace Columbus Day with Indigenous Peoples Day in honor and recognition of the native inhabitants of Los Angeles. Read how UCLA staff, students and alumni played a critical role in this historical achievement.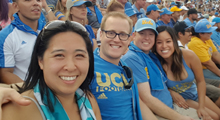 One Unforgettable Game
Like most people who watched UCLA's unbelievable comeback win against Texas A&M in the season opener, Karen Nguyen '08 and John Hatch '75 rode that emotional roller coaster to its exhilarating end. Relive that crazy game through their eyes and the magic of never giving up.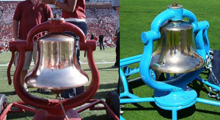 The Bell of the Ball
Besides a National Championship trophy, the Victory Bell is the most coveted prize for any Bruin fan. Because it means victory over our arch-nemesis. But have you ever wondered what this 88-year-old rivalry has meant to the Victory Bell herself? She tells all in this Connect exclusive.









UCLA Raises a Record $650 Million and the Largest Number of Gifts from Young Alumni in 2016-17



Mo Ostin Basketball Center is as Comfortable as It is State of the Art



Christine Simmons '98, President of L.A. Sparks and Alumni Association, to Receive 2017 WISE Los Angeles Women of Inspiration Award





Video - Bruin Career Insights: The Myth of Work-Life Balance




Photos: View Stunning Images from UCLA Alumni Travel's Tour of Iceland



New Exhibits and Endowed Scholarship to Carry on Arthur Ashe's '66 Legacy at UCLA



UCLA Community Provides Long-Distance Assist for Puerto Rico Recovery





Celebrate 50 Years of Good Food and Conversation at Dinners for 12 Strangers by Hosting a Dinner for Local Alumni on Feb. 24, 25 or March 3



Photos: Alumni Networks Partake in Community Beautification Projects for UCLA Volunteer Day





Take a Tour of Nine New Sites and Glimpse the Campus of the Future



Alumna Joanna Jones Makes Broadway Debut, Performs Dual Role in "Hamilton"



Video - Bruin Family Insights: Keeping Up with Bruin Traditions



Conrad Contreras '15 and Mallory Valenzuela '13 Launch Online Platform for Sharing Filipino Experiences





Ring In the Holidays at the UCLA Meyer & Renee Luskin Conference Center and Hotel. Enjoy a Bed & Breakfast Getaway Package Exclusively for Alumni





ALUMNI CAREER PROGRAMS



Nov. 16, YouTube Live | Save the Date - Bruin Career Insights: Be Nimble


BEIJING NETWORK



Nov. 4, Beijing | Impact, Challenges and Hope


HONG KONG NETWORK



Nov. 13, Hong Kong | UCLA in Hong Kong


PARENT AND FAMILY PROGRAMS



Nov. 6, YouTube Live | Bruin Family Insights: Addressing Mental Health & Holistic Wellness with Your Student


SHANGHAI NETWORK



Nov. 11, Shanghai | UCLA Bruin Bash


TAIWAN NETWORK



Nov. 7, Taipei | Innovative Engineering


UK NETWORK



Nov. 14, London | A Conversation on Brexit with Distinguished Parliamentarians




Membership gives you access to UCLA and funds Alumni Association programs for more than 500,000 Bruins worldwide.
---







---
UCLA Alumni Connect, Vol. 16, No. 11, International Edition | Other Editions


UCLA Alumni Association (© 2017) James West Alumni Center, Los Angeles, CA 90095