MAY 2017 | YOUNG ALUMNI EDITION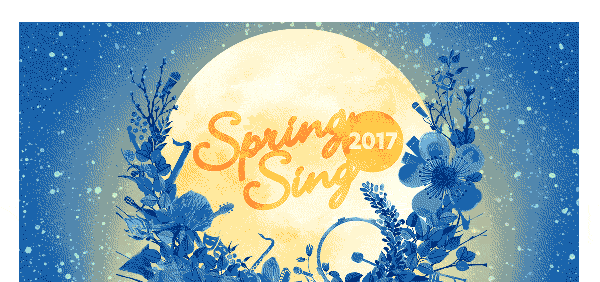 Spring Sing - May 19, Pauley Pavilion. Get your tickets now for UCLA's oldest and greatest musical tradition, Spring Sing! Since 1945 Spring Sing has entertained generations of Bruins and this year is going to be even more spectacular. In addition to the amazing show put on by the soloists, duets, bands, dancers and Company, Ziggy Marley will be accepting the Gershwin Award for Lifetime Musical Achievement.

UCLA Awards 2017
Sponsored by the Alumni Association, UCLA Awards celebrate the very best of UCLA. The following distinguished alumni and friends will be honored at UCLA on June 3: Michelle King '84 (Alumnus of the Year), Ann Meyers Drysdale '79 (Professional Achievement), Chau Le '88 (Community Service), Hon. Ernest Hiroshige '67 (Public Service), Pam Cysner '76 (University Service), Alex Budak '07 (Recent Graduate Achievement), Steve Yu '95, M.B.A. '03 (Volunteer of the Year), Soleil Delgadillo '09 (Young Alumni Volunteer of the Year), UCLA Parents' Council (Network of the Year), and UCLA Mixed Alumni Association (Impact Award).

Asian American Heroes and Pioneer Bruins
The story of UCLA has been written by 100 years of brilliant, diverse and determined students. Between 1919 and 1945 Asian American students at UCLA blazed a trail of achievements, fighting against policies of marginalization and discrimination, even internment. While many details of these individual lives have been lost to history, stories have been recorded of Bruins who created opportunities at UCLA and beyond.

Just Announced: 2018 Travel Tours
UCLA Alumni Travel offers the companionship of fellow alumni, people who share an intellectual curiosity and sense of fun and adventure. You will be inspired by meeting people with different life experiences, invigorated by discussion. Also adding to the experience, top-notch UCLA professors accompany more than half of our tours to share their expertise on topics ranging from the environment and ecology, to archeology and ancient history. Book today!

Working to Close the Gap
Did you know that each year hundreds of UCLA Alumni Scholars are in jeopardy of not graduating due to a financial shortfall averaging $1,500, even after receiving a merit-based scholarship package? The UCLA Alumni Board has established a fund specifically to close this gap. Your gift of any amount can make a significant difference.








Civil Rights Icon Rep. John Lewis Receives the UCLA Medal and Delivers Stirring Account of History



$20 Million Gift Creates Promise Institute for Human Rights at UCLA School of Law, Supported by Proceeds from "The Promise"



UCLA Awards Recipient Anita Ortega '82 To Deliver UCLA College Commencement Address



UCLA Students Participate in March for Science in D.C. and L.A.



View the Inner Workings and Discussions of the UCLA Alumni Association Board of Directors





There's ONE Place to Find Bruins by Career Field, Get Industry-Specific Advice or Share Opportunities











Dodgers Manager Dave Roberts '95 Takes Great Pride in Both UCLA and His Team






Michelle Christie, Ed.D. '13, Founder of No Limits, Recognized for Supporting Students with Hearing Loss





Take Action to Protect Research Funding: Ask Your Members of Congress to Invest in Federal Research





Alumni Association is Hosting the Inaugural Asia Networks Leadership Conference in Hong Kong



Pokemon Go Game Designer Raza Ahmad, M.F.A. '12 Talks About the Creative Process for Augmented Reality Games



James Simenc's '12 Podcast "Digits" Explores Relationship Between Humans and Numbers



Marta Savina '16 Premieres Film on Franca Viola, an Italian Woman Who Refused to Marry Her Rapist



UCLA TFT Alumni Present Social Justice-Themed Short Film Festival





Buy Tickets to Your Favorite Live Events with Official Partner Vivid Seats & Get $20 Off Your Order of $200+



A Blue or Gold Alumni Membership Gift Returns Great Benefits & Re-Invests in UCLA's Future





AMERICAN INDIAN ALUMNI OF UCLA | See All Events



May 5, UCLA | Ms. UCLA Pow Wow


ASIAN PACIFIC ALUMNI OF UCLA | See All Events



May 5, Los Angeles | APA UCLA 30th Anniversary Fundraising Gala


BAY CITIES BRUINS



June 10, Los Angeles | Hollywood Bowl Jazz Festival with Bay Cities Bruins


BLACK ALUMNI ASSOCIATION | See All Events



May 27, UCLA | "Coach Wooden and Me" Reflections and Book Signing By Basketball Legend Kareem Abdul-Jabbar '69


CENTRAL VALLEY NETWORK



May 11, Fresno | Spring Mixer


CONEJO VALLEY NETWORK



May 13, Thousand Oaks | An Evening at the New West Symphony


FACULTY WOMEN'S CLUB



May 16, UCLA | Spring Luncheon


HEALTHY CAMPUS INITIATIVE



May 4, UCLA | Grand Opening of UCLA's New Living Amphitheater


INLAND EMPIRE NETWORK



May 20, Rancho Cucamonga | Quakes Night


LAMBDA (LGBTQ) ALUMNI ASSOCIATION | See All Events



May 13, Los Angeles | Lavender Grad Brunch


LOS ANGELES DOWNTOWN NETWORK



May 18, Los Angeles | New Member Welcome


LOS ANGELES WESTSIDE NETWORK



May 23, UCLA | Open Board Meeting


MIXED ALUMNI ASSOCIATION



May 20, UCLA | Mixed Heritage Conference


ORANGE COUNTY NETWORK | See All Events



May 13, Irvine | Second Harvest Food Bank of Orange County for the National Association of Letter Carriers (NALC) Food Drive


PILIPINO ALUMNI ASSOCIATION



May 27, UCLA | Samahang Pilipino Culture Night: Alumni Pre-Show Reception


ROSE BOWL BRUINS



May 6, Arcadia | Rose Bowl Bruins' Annual Day at the Races


SACRAMENTO NETWORK | See All Events



May 6, Davis | Shrem Museum of Art Guided Tour


SAN FERNANDO VALLEY NETWORK



May 20, Chatsworth | Operation Gratitude


SAN FRANCISCO BAY AREA NETWORK | See All Events



May 20, San Francisco | Habitat for Humanity


THE AFFILIATES OF UCLA



May 17, UCLA | Joint Luncheon with Speaker


UCLA ALUMNI AFFAIRS



May 2, UCLA | UCLA Alumni Teacher Appreciation Reception



May 10, UCLA | From Megaphone to Microphone: A Conversation with Councilmember Paul Koretz '79



May 11, UCLA | Social Justice at Work



May 13, UCLA | Bruin Day Alumni Association Open House



May 15, UCLA | I Heart UCLA Week



May 25, UCLA | UCLA Undocumented Alumni Support Network Meeting



June 9, UCLA | UCLA Social Enterprise Academy Symposium and Final Showcase






View this email in your browser.
UCLA Alumni Connect, Vol. 16, No. 5, Young Alumni Edition | Other Editions
UCLA Alumni Affairs, James West Alumni Center, Los Angeles, CA 90095
©2017 UCLA Alumni Affairs