UCLA's location on the Pacific Rim makes it a gateway for cross-cultural exchange with the university's global community. Led by UCLA Foundation Board Chair Shirley Wang '90, a UCLA delegation including Chancellor Gene Block, Mrs. Carol Block, Vice Provost C. Cindy Fan and members of The UCLA Foundation Board of Directors embarked on a four-city tour of Asia to strengthen relationships among alumni and supporters abroad.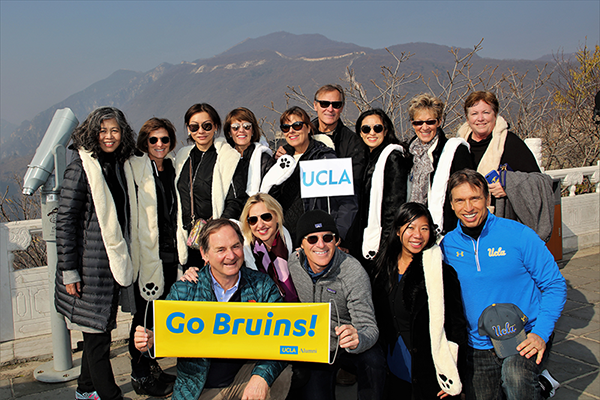 "I think our presence in Asia showed fellow Bruins and leaders abroad our good will and commitment to make a difference," says Wang. The first Asian-American woman to lead The UCLA Foundation, Wang's visionary leadership set the tone for the productive tour. She continues, "We hoped to connect, inspire and engage UCLA's world community, and feature the potential of the region and the opportunities ahead for UCLA. What I love about UCLA is it keeps moving forward and Bruin supporters all over the world help make this growth happen."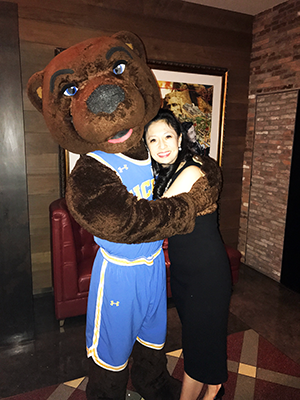 At each city, the delegation's itinerary included engaging alumni and Bruin families, opportunities to further partnerships with corporate and government leadership, outreach to UCLA philanthropists, and cultural exchanges and dialogue. Volunteer leaders representing the UCLA Alumni Board, alumni networks, Global Advisory Board and the Asia Advisory Council supported numerous events including a scholarship support dinner, alumni reception celebrating UCLA's new collaboration with Under Armour, Bruin Bash pregame alumni event and the UCLA Men's Basketball victory over Georgia Tech at the season opener in Shanghai.
C. Cindy Fan, vice provost of UCLA International Studies and Global Engagement, and campus leaders from the health sciences to law to engineering, further enabled UCLA's impact to advance in the region. Alumni and Bruin parents attended "Impact, Challenges, Hope: UCLA's Role in Transforming Health Care in China" in Beijing, hosted by board member David Ackert '77, J.D., M.B.A. '82 and featuring Dr. Jonathan Flint, Depression Grand Challenge, and Dr. Zunyou Wu, adjunct professor in the UCLA Fielding School of Public Health Department of Epidemiology and chief epidemiologist for China's Center for Disease Control. At the Beijing Children's Hospital Group, the board reinforced the partnership between UCLA Mattel Children's Hospital, the BCHG and the Futang Research Center of Pediatric Development, showcasing the university and the UCLA Center for World Health's role as a global leader committed to improving healthcare around the world. Beijing was also the backdrop for Chancellor Block's keynote speech about higher education as an engine of international understanding at the opening ceremony of the Beijing Forum for scholars, statesmen and diplomats from around the world. Important discussions with China's Vice Minister of Education and the Minister of Health and Family Planning Commission resulted in intentions to pursue shared goals and objectives.
At every event, fellow alumni expressed appreciation for the chance to greet one another, share feedback and deepen connections with the campus. At gatherings such as the meeting hosted by Lenovo's chairman and CEO Yuanqing Yang, and the Taiwan Semiconductor Manufacturing Company meeting hosted by founder, chairman and CEO Morris Chang, board members bolstered UCLA's relationships with corporate leaders, especially with several alumni among TSMC's executives. Board member and Global Advisory Board member Maggie Tsai '83 hosted board members and community and business leaders for a dinner program in Taipei showcasing the significance of arts in public spaces. Ken Wu '99, Asia Advisory Council member, hosted a discussion in Shanghai on partnership opportunities for the advancement of UCLA.
In Hong Kong, Board Chair Wang joined a conversation with fellow Bruins hosted by UCLA School of Law alumnus David Zeiden '98, J.D., COO & General Counsel Asia for Oz Management, on growing UCLA's impact and reach in the region. Alumni and Bruin families gathered for thought-provoking events including "Innovative Engineering" in Taipei featuring Jayathi Murthy, Ronald & Valerie Sugar Dean of the Henry Samueli School of Engineering & Applied Science. In Hong Kong, the alumni event showcased Jennifer Mnookin, dean of UCLA School of Law and David G. Price and Dallas P. Price Professor of Law and UCLA's global impact in the environment and business law, human rights, technology and education. Dean Teri Schwartz, of the UCLA School of Theater, Film and Television, Dean Wayne Smutz, from Continuing Education and UCLA Extension, and Dean Victoria Sork, from the Life Sciences Division in the UCLA College, engaged alumni and supporters and advanced university initiatives throughout activities on the itinerary and beyond.
With Vice President Chen of Taiwan, the delegation shared thoughts about supporting students from Taiwan attending UCLA as well as UCLA alumni living in Taiwan.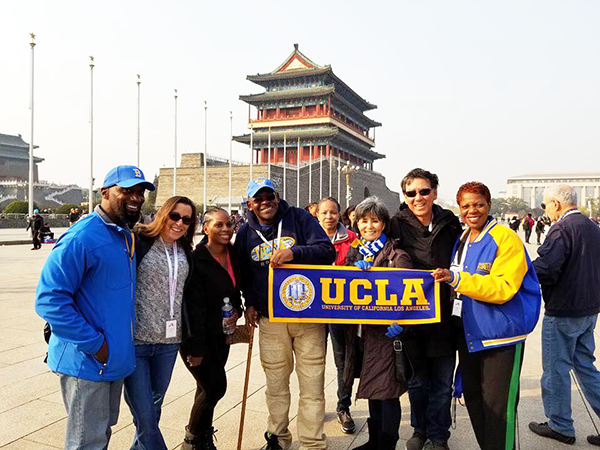 The UCLA Black Alumni Association (UBAA) also planned an alumni trip to China to coincide with the basketball game. Tour leader Benny Blaydes '78 says, "People recognize UCLA. We brought the UCLA banner and wore UCLA gear. We met Bruins who are living in China, there's a great network of people living there." Wherever they travel, UBAA tour groups make it a tradition to volunteer. Blaydes continues: "We had a great time at the Bruin Bash and the game, and a highlight of the trip was visiting an elementary school in Suzhou and delivering school supplies and coats for children in need. Taking time to volunteer gives us a better sense of other countries; doing something charitable lets us interact and meet with regular people."
The delegation returned to Los Angeles having strengthened bonds with Bruins in Asia and furthering opportunities for UCLA to grow its impact and partnerships. UCLA Foundation Board Chair-Elect John Mapes '90 says, "The Foundation Board trip to China was very important and successful. Core to UCLA's mission is creating and applying knowledge for the betterment of our global society. Given the importance that China plays on the global stage, it is critical that UCLA consistently collaborate and connect in meaningful ways. Our trip made it very clear to our partners how important China is to UCLA's mission and community."
---