Many kids grow up listening to their parents talk about their college days. It's expected that someday they will make college memories of their own. But many others will be the first in their families to go to college. As UCLA senior Choukri Wyatt says, "I wasn't the first one in my family to decide to go to college, I was the first one who had the opportunity."
As a public university, UCLA is committed to educating a diverse student body that reflects the multitude of socio-economic, ethnic, geographic and cultural backgrounds of Californians. "The hallmark of UCLA is excellence, and you can't have excellence without equity," says Youlonda Copeland-Morgan, vice provost of Enrollment Management at UCLA.
Attending college wasn't part of the plan for Reina Flores. Part of a close-knit family in South Central L.A., her mom was a refugee from El Salvador's civil war. Her dad was deported when Flores was 2. Her mom worked in the Attendance Office at University High School, and her co-workers became Flores' mentors. "They were the only adults in my life with a college education. They played an instrumental role in my decision to go to college."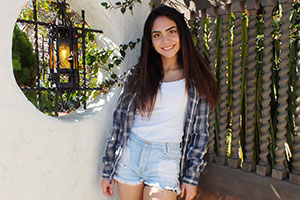 Flores' mom supported her as much as possible, "When we talk about it, it's usually just me talking to her. She can't really give me her experience." Flores was in the School for Advanced Studies (SAS) program, and found ways to get extra help and advice, dropping by the college counselor's office during free periods at school. She was accepted to UCLA on a full-ride scholarship and will start this fall. Flores says her mom is "really excited. When I got the scholarship she started crying, she was so emotional and happy. She's really proud, she always tells me that."
Approximately 9,000 undergraduates, both freshman and transfer students, entered UCLA in 2015. Of these students, 34% (2,942) were first-generation: 29% freshman and 42% transfers. Most first-generation freshman, and about half of transfers, live on campus. In all, 95% (2,797) receive some financial aid, with an average gift of $22,000. 72% (2,110) are Pell Grant recipients.
Patricia A. Turner, senior dean of the college of UCLA College of Letters and Science and vice provost & dean of undergraduate education, says, "At UCLA our students may not have anyone at home who went to college, but they come here and they meet other students like themselves, I think that contributes to a sense of belonging."
Ruthie Retana '94 grew up in a Spanish-speaking home in Norwalk, Calif. Even as a first grader, she knew her parents left Nicaragua so she and her brother would have the opportunity for a great education. "They instilled in me education was the ticket. They wanted to give us the opportunities that they never had." Her parents made room for a quiet study space, with a timer on the TV that turned it off after 30 minutes.
With straight A's in high school, she was admitted to UCLA. The summer before college, she attended the UCLA Freshman Summer Program (FSP). She made enduring friendships with students who shared similar backgrounds, and created a built-in support system. FSP was also her introduction to the history of discrimination, and allowed her to contextualize her experience in a different way. "I never saw racism blatantly until I heard about it, read about it and saw films about it that summer." Retana thrived at UCLA, an honors student she studied abroad in Spain, danced salsa with Unicombo - UCLatina, winners of the 1991 Spring Sing UCLA Affiliates Award for Best Production and was one of Glamour Magazine's Top Ten College women. Winner of the Outstanding Senior Award, at graduation she participated in three ceremonies: Commencement, Raza Graduation and was the commencement speaker for the Communication Studies ceremony. Retana went on to receive a master's degree at Harvard Divinity School. Now, a director of marketing and communications at Rio Hondo College, and a member of the UCLA Alumni Board of Directors, she advocates for equal and affordable education for all. Her parents' lessons guided her, "I asked myself, if my parents came from one of the most impoverished countries in the world with just $80 in their pockets, then what can I fear? I've held that in me."
Children are more likely to go to college if their parents have a college degree. While 82% of the children of college graduates enroll in college, a 2001 study by the National Center for Education Statistics found that only 54% of the children of high school graduates, and 36% of children whose parents have less than a high school education, go on to higher education.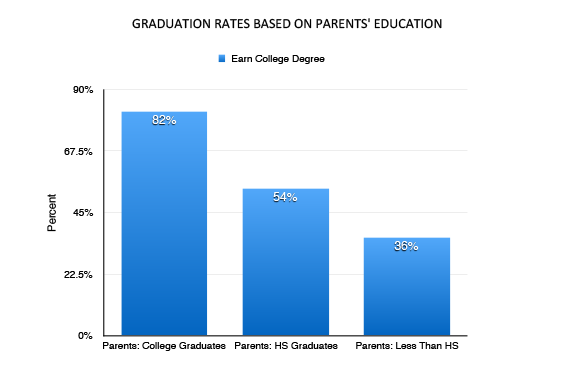 Even when the opportunity to go to college exists, many students still face obstacles. Often first-generation students need to work to help support their family, or care for younger siblings. They may have been given limited information about college application and costs, or attended schools with fewer resources and less access to higher level math, science and AP courses. While 30% of all the nation's college students are first-generation, 24% are both first-generation and low-income.
In elementary school Paja Thao saw how a lack of resources, money and education contributed to her family's struggles. Her parents came to California's Central Valley from Thailand, where they had been displaced by the Vietnam War. She felt her family expected her to marry young and start a family. Inspired by an older sister who attended UC San Diego, Thao says, "I worked hard so I could make my life better."
Her transition to UCLA had been difficult. She missed her family, especially the cousins she helped care for, and her first semester grades, Thao admitted, weren't good. Joining the Association of Hmong Students gave her some of the comforts of home. The group hosts visiting Hmong high school students, and Thao liked being a role model, especially for other girls. The staff at her job at Community Programs Office (CPO) provided academic support. "I've been signing up for tutoring. I've realized there are a lot of resources on campus, you just have to reach out and find it." Now starting her second year, she is determined to graduate. "Coming to UCLA made me aware there are so many more opportunities and plans you can make."
First-generation students need advocates who believe in their academic potential. Vice Provost Copeland-Morgan, a first-generation student herself, wants to make students, and their parents, partners in their preparation for college. She says, "Students rise to the level of expectation, so it's critically important that we put the high expectation out there."
Outreach programs help UCLA reach underrepresented students and provide them with access to previously unavailable resources. Dean & Vice Provost Turner, who was a first-generation student when she attended college says, "Current UCLA students are going back to their communities as mentors. Students, faculty and guidance counselors see these students making it at UCLA, and that has a positive effect."
UCLA is also finding new ways to work with the community to combat lack of equity, in what Copeland-Morgan calls "intrusive recruiting." The university has been building alliances with community stakeholders: corporations, school districts, policy makers and leaders. This leads to more first-generation students who are prepared to compete for a spot at UCLA.
Other UCLA programs reach out directly to students. The Vice Provost Initiative for Pre-College Scholars (VIPS) provides counseling, mentoring, leadership, academic advising and summer programs. UCLA's BruinCorps program sends current UCLA students into the community as mentors in a college-preparedness program. The University of California's Early Academic Outreach Program (EAOP) prepares California students to apply to competitive colleges.

UCLA senior Choukri Wyatt grew up in Inglewood, Calif. She says, "My mom has always been smart, but she didn't have anyone pushing her to go to college. So she pushed me." Wyatt never imagined being accepted at UCLA, "I didn't expect to hit the jackpot." The transition was not easy, arriving on campus, she felt unprepared and like an outsider. Newfound freedom led to time wasted on boyfriends and parties, and she eventually decided to take time off.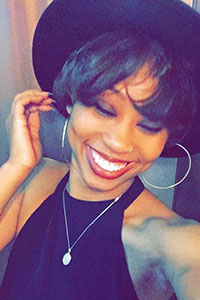 Wyatt re-enrolled through the Bruin Readmission Program (BRP). She says, "A lot of kids don't come back. They don't feel like they fit in, they don't feel like they have what it takes. I've struggled my whole life. I've been homeless, I've been hungry, I don't want to go back there. I would have been a wasted talent if I didn't make it to college." BRP also helped her find academic support. "They opened up my eyes to how to get help. If you don't ask, it's going to be a no anyway, so you might as well ask." A political science major, with a minor in African American Studies, she wants to attend Law School and eventually be a community activist. "I don't want to think about just myself. If other people had done that, then black people still wouldn't be admitted to college."
First Lady Michelle Obama and U.S. Supreme Court Justice Sonia Sotomayor have talked about the isolation they felt as first-generation students. As part of the "I'm First" storytelling project, Mrs. Obama said about her experience at Princeton, "When I got to campus as a freshman, I'll admit I was a little overwhelmed. I didn't know how to choose my classes or find the right classrooms. I didn't even know how to furnish my own dorm room."
A 2008 Pell Institute study found that while 24% of undergrads are low-income, first-generation students, only 11 percent (4.5 million) earned a bachelor's degree after six years. Over half of first-generation students who dropped out did so in their first year. On average nationally, 64% of first-generation students at private universities graduated in four years, and only 37% at public universities.
In 2015, graduation rates for first-generation UCLA students were high: 70% of freshman graduated in four years, and 90% in six. For first-generation transfer students, 64% graduated in four years, and 93% in six.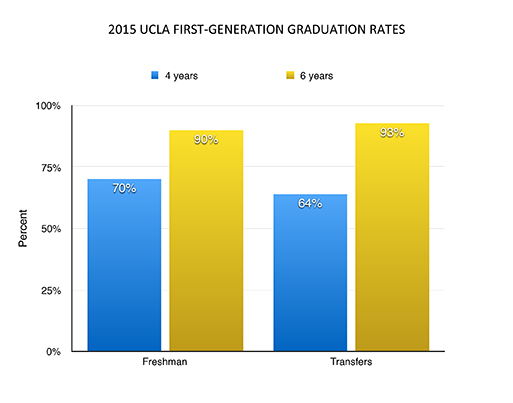 For many first-generation students, while they excelled in high school, many find they are not prepared for the academic rigor of UCLA. Once enrolled, they are unable or uncertain how to find or ask for help. As Dean & Vice Provost Turner explains, "First-generation students are often very independent. They've gotten into UCLA against sometimes staggering odds. De-stigmatizing asking for help is a big thing."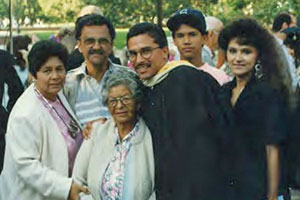 Paco Retana '87, M.S.W. '90 grew up in the working class neighborhood of Pico Rivera, Calif. His dad was from Costa Rica and his mom was from Mexico. His parents believed strongly in the power of education. In middle school he was put in a program for "at risk" youth, where he experienced what he calls a "gentle paradigm shift." He loved baseball, and as early as high school knew he wanted to work in the mental health field. Accepted to UCLA, he would go out on deliveries with his dad, who owned a furniture upholstery business and taught him the value of hard work. His father would tell his clients that his son was going to UCLA. During an era of affirmative action, Retana sensed their skepticism when they asked, "How did you get in to UCLA?" He says, "I'll never forget that, it made me feel like I wasn't worthy, I wasn't smart enough. That was a powerful hurdle I had to overcome."
His first two-and-a-half years were a struggle academically, and mid-way through the third year, he withdrew from UCLA. A combination of AAP resources, friends and mentors convinced him to stay. He wanted to be involved in activism on campus over apartheid and other social issues. He says, "I didn't want to be a statistic. I began to transform my identity and feel like a Bruin." He went on to graduate school at the School of Social Welfare, now the Luskin School of Public Affairs. "Undergrad gave me the confidence and ability to be in the mindset of other scholars. Graduate school opened my world and showed me I can really make an impact by embracing my values and advocating for marginalized communities."

UCLA provides services for students in need of counseling and tutoring. Jaime Balboa, assistant vice provost for summer sessions, communications & external partnerships says, "There's an awareness of the diversity of students we work for. In our conversations with them we become aware of their specific needs, and we help align our strategies to ensure their success."
One of UCLA's hallmark programs is the Academic Advancement Program (AAP). AAP has provided guidance and support for more than 40 years as the nation's largest university-based, student diversity program. Dean & Vice Provost Turner says, "For students whose social and economic backgrounds suggest that UCLA may be a tough place, AAP provides academic, cultural, sometimes economic and social safety nets through counseling and peer learning sessions." AAP freshman and transfer students are invited to a summer program that introduces UCLA college life, familiarizes them with campus and serves to build community.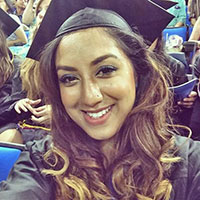 Aliza Nawaz '14 was born and raised in Corona, Calif. but she spent three years in her parents' homeland of Pakistan, where she attended middle and high school. When she returned to Los Angeles, her graduation was delayed because her credits wouldn't transfer from Pakistan. She missed the UC application deadline and attended community college where she used the time to prepare to apply to UCLA, her dream school. She says, "People who can't afford to take it for granted are the ones who work really hard to make it happen."
Nawaz' parents gave her emotional support, but they couldn't give her the "informational support" she needed. When she transferred to UCLA she struggled to adjust, "It's hard because you don't have a role model, so you really have to make your own path." A political science major, she found support when she started a philanthropy internship and joined the Regents Scholars Society. Nawaz believes these relationships made a difference in her success. "I met people who helped me find my career path and did whatever they could to ensure that I could move forward."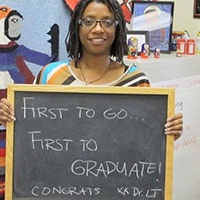 As director of First Year Experience at UCLA, La'Tonya Rease Miles, M.A. '99, Ph.D. '04 creates opportunities for new students on campus. She draws on her experience as a first-generation student, and the isolation she felt not knowing that there were others like her. "First-generation students may feel guilty being away from family and they might feel like they don't belong. It would be great to have a welcome event for our first-generation students with alumni, students, faculty and staff who can share their stories. The game is really hearing someone say, 'I made it, and you're going to make it too.'"
Rease Miles also wants first-generation students to have a full college experience. "First-generation families know UCLA's academic reputation, but may not know about other opportunities like office hours, study-abroad and tailgate parties. If we focus on how successful students thrive on campus, we see why we should reach out to first-generation students."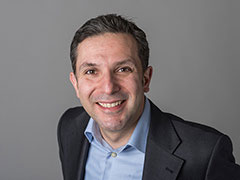 John Arboleda '96 graduated from high school without a plan, "I'm not saying that first-generation students are uniquely different, we just have a different experience." The youngest of four, his parents came to Southeast L.A. from Colombia. He graduated from high school, and enrolled in Cerritos College. Around this time, his father lost his job and he could see how his father's lack of education limited his options. This motivated him to pursue a college degree. At a college fair he met Alfred Herrera who encouraged him to apply to UCLA and pursue his interest in Latin American Studies. "The thing that helped me move beyond is that I was always challenging myself to go after things I wanted, but didn't think I could do."
Working and commuting to UCLA to attend classes, Arboleda felt isolated, "I felt I didn't belong, I felt inferior." Staff at the Academic Advancement Placement Program (AAP) helped connect him to resources. He began to share his story with other first-generation students. "UCLA opened up my eyes to the possibilities. I was surrounded by exceptional people. And after a while, I discovered I belonged here too."
Now living in Barcelona, John founded a global consulting firm, NOYO (NotOnYourOwn) Global Engagement, and serves as a UCLA Alumni Association board member. He advocates for creating opportunities for social mobility. He says, "It's one thing to get into college, you're dealing with survival. We have to ask, how do students excel so that when they graduate they are equal to everyone else? Empower them so they can feel confident and take charge."
The first-generation experience at UCLA is not unique to that of other institutions of higher learning. What is special, however, is that UCLA graduates more than 90% of its first-generation students; thanks in part to a commitment by staff, faculty, students and alumni in fostering a supportive environment of success, and each student's pursuit of the True Bruin value of excellence.