SEPTEMBER 2016 | SAN FRANCISCO BAY AREA EDITION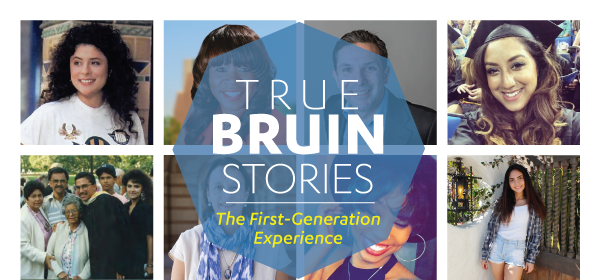 The First-Generation Experience. Approximately one-third of UCLA students are the first in their families to attend college, most of whom come from underrepresented minority groups and underserved communities. Yet, more than 90% attain their degree from UCLA. These are stories about overcoming the odds, and how the university prioritizes the success of first-generation Bruins.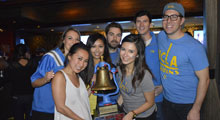 More Than a Game, It's a Bruin Watch Party
All across the country, Bruin fans will gather in neighborhood bars, restaurants and homes to watch UCLA Football take on Texas A&M this Saturday. But as four Bruins from Long Beach, Sacramento, Chicago and Washington, D.C. will attest, the experience is so much more than just watching the game. Find a Watch Party near you.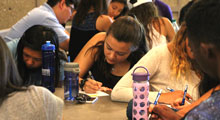 Note to My Future Bruin Self
During Summer Orientation, UCLA's incoming students were asked to write letters to themselves answering the question: "What impact do I want to make on the Bruin family?" with the intent of re-reading these letters when they graduate. Their responses will make you proud to be a Bruin.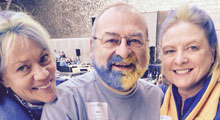 Photos: Good Times at Bruin Bash
Whether home or away, come to the ultimate pregame party complete with a sumptuous buffet, refreshing beverages, games for all ages, entertaining Spirit Squad and UCLA Marching Band performances, big screen TVs, a DJ, unlimited Bruin spirit, and a chance to high-five Coach Mora and the football team. The first Bash just sold out so reserve your spot for upcoming games.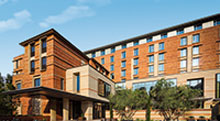 Stay and Play at UCLA
A new campus destination—the UCLA Meyer and Renee Luskin Conference Center—beckons you to come stay and play! We invite you to take advantage of the special guest room rate exclusively for members of the UCLA Alumni Association.





UCLA Ranked Second Best U.S. Public University, 12th Overall in the World



UCLA Law Students Win Clemency for Man Serving Life Sentence for Nonviolent Drug Offense






UCLA Athletes, Coaches Deliver Strong Performances at Rio Olympics






L.A. Lakers and UCLA Health Announce New Partnership and Naming Rights for New Training Facility



Shirley Malcom, M.S. '67 Receives the University's Highest Honor. Read More in Class Notes





Photos: Bruin Olympians Share Their Rio Memories on Social Media



Rachel Sumekh '12 and Two Friends Founded Swipe Out Hunger to Help Feed the Hungry While Cutting Food Waste



Scientist Names New Species of Fish to Honor Late UCLA Alumna Kristina Louie, Ph.D. '03



Former UCLA Athletes Give Back to Community, Mentor Young Children



Two Alumni Create Instagram-Famous Corgi Through His Adventures at UCLA





Whether Near or Far, You Have Something Valuable to Offer a UCLA Student as an Alumni Mentor





Experience Life on Campus with Your Bruin at Bruin Family Weekend - Oct. 21-23



Classmates May Sun '76 and Richard Wyatt '78 Featured for Their Works of Art in L.A. Metro Stations






UCLA Anderson Economist Ed Leamer on Why He's Running for Vice President



Angel Blue, M.A. '08 Reaches Greater Operatic Highs with Support of Family, Mentors



Jessica Lim '11, Recently Crowned Miss Asian America, Promotes Awareness





Save on Your Electric Bills and Get a $500 Mail-in Rebate When You Choose SunPower® Home Solar



Member Perk: Take More Than One Course at UCLA Extension and You Can Save More Than the Cost of a Blue Membership; Online Classes Available



Receive 20% Off Your Child's Membership for the Bruin Kids Club Presented by UCLA Health





SAN FRANCISCO BAY AREA NETWORK



Sept. 3, San Francisco, Walnut Creek, Sunnyvale | Bay Area Bruins UCLA at Texas A&M Watch Party



Sept. 8, San Francisco | California Academy of Sciences: Nightlife



Sept. 9, Mountain View | Silicon Valley Cup of Java Networking Event



Sept. 10, San Mateo | Bay Area Bruins Planning Meeting



Sept. 10, San Mateo | New Bruin Send-off Celebration



Sept. 10, San Francisco, Walnut Creek, Palo Alto | Bay Area Bruins UCLA vs. UNLV Watch Party



Sept. 17, San Francisco, Walnut Creek, Sunnyvale | Bay Area Bruins UCLA at BYU Watch Party



Sept. 18, Danville | Bowling with Bruins



Sept. 23, San Francisco | San Francisco Cup of Java Networking Event



Sept. 28, Palo Alto | Eighth Annual UCLA Cornell Mixer in Palo Alto



Oct. 14, Mountain View | Silicon Valley Cup of Java Networking Event






View this email in your browser.
UCLA Alumni Connect, Vol. 15, No. 9, San Francisco Bay Area Edition | Other Editions
UCLA Alumni Affairs, James West Alumni Center, Los Angeles, CA 90095
©2016 UCLA Alumni Affairs