NOVEMBER 2016 | NATIONAL EDITION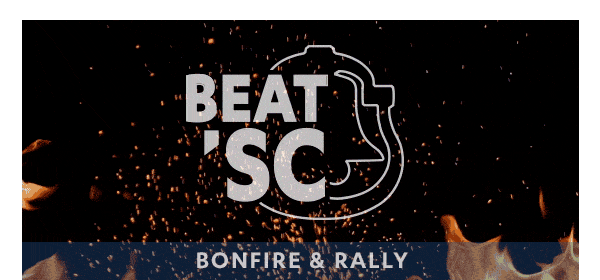 Watch the Beat 'SC Bonfire and Rally Livestream, Nov. 17, 6 p.m. PST . There's nothing like it. The revelry. The unity. The Bruin faithful gathered en masse to celebrate our Bruinhood, and rally our football team towards one ultimate goal: Beat 'SC! This night promises to entertain. From the sounds of UCLA's talented a cappella groups to the dance euphoria when the football team takes the stage, we Bruins know how to get fired up for the big game. Watch it all unfold live online and re-ignite your Bruin Spirit wherever you may be. Sponsored by Wescom Credit Union.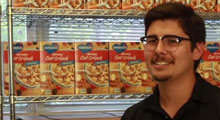 Unwrapping Food Insecurity at UCLA
The idiom starving student is all too real in the UC system. A recent study found that 40% of students are food insecure, meaning they lack reliable access to affordable, nutritious food. Read the stories of students who rely on UCLA's Food Closet for their daily sustenance, the selfless staff and volunteers who are working hard to meet these students' basic needs, and how you can be part of the solution to curb Bruin hunger.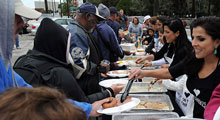 Grateful Bruins Pay it Forward on Thanksgiving
Understanding that the holiday is more than turkey, football and a kickoff to a season of year-ending celebrations, Bruin acts of kindness set the table for a community of hope.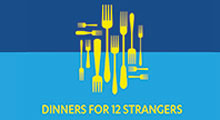 Host a Dinner for 12 Strangers
Simple gatherings around a dinner table can create magical moments of friendship. Host a dinner for fellow Bruins in your area to recreate the spirit of Westwood. Sign up today!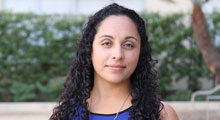 Welcome Week Wisdom from Alumni
The tradition of Bruins helping Bruins was on display during Welcome Week as alumni returned to campus to speak to students from diverse backgrounds. Their message: make the most out of your Bruin experience and we'll be here to support you throughout your journey.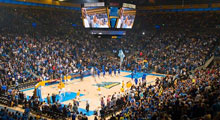 Exclusive Ticket Offer from New Partner Vivid Seats
Vivid Seats is proud to be the official ticket marketplace of the UCLA Alumni Association. Vivid Seats is recommended for securely buying tickets to Bruin events on the road and in the Los Angeles area. Visit vividseats.com/uclaalumni today and take $20 off your order of $200 or more!








UCLA Ranked No. 10 in the World by U.S. News and World Report



In Response to Tragic Shooting, Recommendations of the UCLA Campus Safety Task Force



Professor J. Fraser Stoddart Wins 2016 Nobel Prize in Chemistry



$30 Million Gift to UCLA Health Sciences Will Support Division of Digestive Diseases and Other Top Initiatives





Combine the Latest Online Tools with Personalized 1:1 Career Coaching to Jumpstart Your Career with InsideTrack



More Than 10,000 Bruins are Already Using UCLA ONE to Search Jobs, Seek Advice and Meet Other Bruins - What Are You Waiting For?





Staff Spotlight: Richard Benbow, Senior Executive Director of Government & Community Relations



Photos: Now in its 80th Year, Alumni Scholarships Hosted a Reception for its Students and Donors



Alumni Brothers Share a Taste of Home Through Family Business, Pinches Tacos



Video: UCLA Marching Band Appear on Ellen in Support of Mark Harmon Week











Pokemon Go Creative Designer and Alumnus, Raza Ahmad, Talks Future of Augmented Reality






Restaurant Owner, Michael Consbruck, Gets Into Pairing Wine with Edible Bugs Trend



Energy Upgrade California is a Statewide Initiative Helping Californians Save Energy. Learn Cost Efficient Ways to Reduce Your Carbon Footprint





Save On Your Electric Bills and Get a $500 Mail-in Rebate When You Choose SunPower Home Solar



Use Promo Code HOLIDAY for an Exclusive Holiday Rate of $139 Per Night at the New UCLA Luskin Conference Center (Restrictions Apply)



Select "UCLA Alumni Association" When Making Purchases on Amazon Smile and They Will Donate 0.5% of Eligible Purchases to the Alumni Association





GAME WATCH PARTIES


See All | Atlanta, Austin, Bakersfield, Boston, Chicago, Frisco (TX), Kansas City, Las Vegas, Minneapolis-St. Paul, Modesto, Monterey, New York, Oak Park (IL), Omaha, Portland, Reno/Tahoe, Sacramento, Scottsdale, Washington, D.C.


AUSTIN NETWORK



Nov. 9, Austin | Pints and Pizza Planning Meeting


LAS VEGAS NETWORK



Nov. 5, Las Vegas | Volunteer with Miracle League



Dec. 11, Private Residence | Book Club Meeting


NEW YORK TRI–STATE NETWORK



Nov. 22, Private Residence | Book Club Meeting



Nov. 4, New York | Pac-12 Wine Dinner



Dec. 15, Private Residence | Book Club Meeting



Nov. 12, New York | Game Watch: UCLA vs. Oregon State


RENO/TAHOE NETWORK



Nov. 13, Virginia City | Virginia City Tour


SACRAMENTO NETWORK



Nov. 20, Private Residence | Book Club Meeting


SEATTLE NETWORK



Nov. 10, Seattle | Happy Hour at Fremont Brewing



Nov. 12, Seattle | Board Game Afternoon


UCLA ARMY ROTC



Nov. 10, UCLA | UCLA Veterans Day Ceremony Featuring Johnnie Ashe


WASHINGTON, D.C. AREA NETWORK



Nov. 2, Washington, D.C. | Career and Networking Night






View this email in your browser.
UCLA Alumni Connect, Vol. 15, No. 11, National Edition | Other Editions
UCLA Alumni Affairs, James West Alumni Center, Los Angeles, CA 90095
©2016 UCLA Alumni Affairs