MAY 2016 | NATIONAL EDITION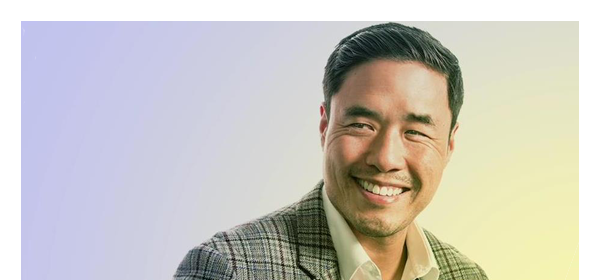 UCLA Awards Honor Impactful Alumni. On Saturday, May 7, 300 members of the Bruin community gathered in front of Royce Hall to pay tribute to nine alumni who were bestowed various UCLA Awards. From breakthrough actors to social and criminal justice advocates to passionate UCLA volunteers, the night was dedicated to celebrating the best of UCLA through the achievements of these alumni. Watch the videos highlighting their impact.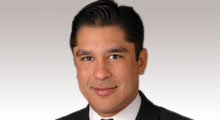 A President's Farewell Reflection
Nearing the end of his two-year term, UCLA Alumni Association Board of Directors President Albert Lemus '91 takes a look back at the growth trajectory of alumni engagement during his tenure. He is most proud of the successes through the expansion of alumni networks, increased event participation and outreach via new technologies.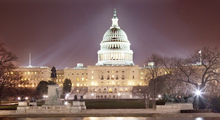 UCLA Day in D.C. Reception
Join D.C. alumni, Congressional staff members and UCLA advocates in town from Los Angeles for a reception on Captiol Hill on May 17, 6-8 p.m. Find out about UCLA's advocacy efforts in the nation's capital. RSVP required.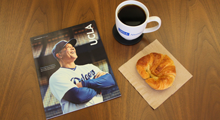 Membership Has Its Privileges
In case you weren't aware of it, your time at UCLA has earned you an automatic membership to the UCLA Alumni Association. So what do you get as a member of your alma mater? We've compiled a list of some unique offerings reserved for members only.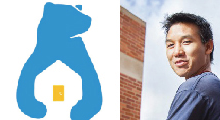 Bruin Homeless Shelter Gets Off the Ground
Earlier this year, Louis Tse, M.S. '14 was featured in the L.A. Times as a UCLA doctoral candidate living out of his car, all in the name of preparing to launch Bruin Shelter. Set to open this fall, the shelter will be the second student-run homeless shelter in the country and the only youth shelter on L.A.'s Westside. Tse explains how this will all work and how alumni can help.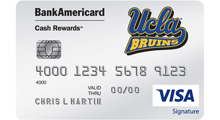 Show Your Pride
Get a $100 cash rewards bonus offer with the only UCLA Alumni Association credit card. Earn more cash back for the things you buy most. You can earn 1% cash back everywhere, every time; 2% cash back at grocery stores and 3% cash back on gas up to $1,500 in grocery/gas quarterly spending. Learn more!





Times Higher Education Global Reputation Survey Places UCLA No. 2 Among U.S. Public Universities



UCLA Alumni Association Surpasses Goal in First Crowdfunding Campaign



Laurence Fink '74, M.B.A. '76, Head of BlackRock, to Deliver UCLA College Commencement Address



UC Admits Significantly More California Freshman, Makes Gains in Diversity



UCLA Athletics Receives $5 Million Donation for Soccer Venue





Webinar: Tune In for Alumni Career Chats and Learn How to Unlock the Full Potential of LinkedIn and UCLA ONE - May 31



Explore Alumni Career Initiatives and Understand What Resources are Available to You








More Than 5,000 Newly Admitted Prospective Students Visited UCLA for a Sneak Peek at Life as a Bruin



I Heart UCLA Week Kicks Off a Week-Long Celebration of the Best of UCLA, Join in the Fun



Supervisors Hire Debra Duardo '94, M.A. '96, Ph.D. '13, an Ex-Dropout to Lead L.A. County Education Office. More Alumni Updates in Class Notes



Chinyere Nnadi, '03, Co-Founder of Sustainability International, Uses New Technology for Niger Delta Cleanup








Help Welcome New Incoming Transfer Bruins by Writing an Alumni Letter








Music Grad Jake Heggie '84, M.A. '05 Finds His Niche as an Opera Composer





BALTIMORE NETWORK



May 22, Baltimore | Baltimore Bruins Spring Picnic


BOSTON NETWORK



May 14, Boston | Annual Pac-12 of Boston Pub Crawl




May 31, Boston | Secrets of the UCLA Library Presentation


CHANNEL ISLANDS NETWORK



May 21, Ventura | International Dinner at Himalaya


INLAND EMPIRE NETWORK



May 16, Riverside | Cultural Night with IE Bruins


LAS VEGAS NETWORK



May 19, Las Vegas | Board Meeting




June 2, The Ridges | Annual Alumni Network Update and Celebration


NEW YORK TRI–STATE NETWORK



Every Saturday, New York | PAC-12 Pick-Up Softball at Central Park


OREGON AND SOUTHWEST WASHINGTON NETWORK



May 19, Portland | UCLA Bruins Happy Hour


RENO/TAHOE NETWORK



May 14, Reno | Reno/Tahoe Bruins General Meeting


SACRAMENTO NETWORK



May 15, TBD | Sacramento Bruins Book Club: "Between The World And Me"


UCLA LAMBDA ALUMNI ASSOCIATION



May 16, New York | Music Talks, Princeton BTGALA and Yale GALA Present an LGBTQ Soiree


WASHINGTON, D.C. AREA NETWORK



May 14, Washington, DC | D.C. Pac-12 Night with the Nationals






View this email in your browser.
UCLA Alumni Connect, Vol. 15, No. 5, National Edition | Other Editions
UCLA Alumni Affairs, James West Alumni Center, Los Angeles, CA 90095
©2016 UCLA Alumni Affairs