MARCH 2016 | INTERNATIONAL EDITION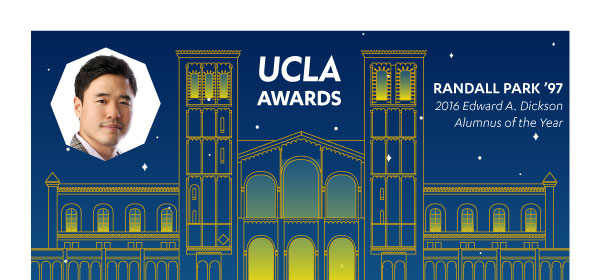 Announcing your 2016 UCLA Awards recipients. The Edward A. Dickson Alumnus of the Year award goes to actor Randall Park '97, best known for his role in ABC's hit comedy "Fresh Off the Boat." Other Award honorees include Stewart Kwoh '70, J.D. '74, social justice advocate; Linda Burnes Bolton, M.S.N. '72, M.P.H. '76, Dr.P.H. '88, nursing leader; Kevin Gilligan '90, crime-fighting attorney; Daryl Johnson '70, university service; D'Artagnan Scorza '07, Ph.D. '13, community organizer; Ed Lew, J.D. '98, Asian Pacific Alumni Network president; Angel Fulgencio '14, dedicated volunteer; and Gold Shield Alumnae for supporting Alumni Scholarships for generations. Save the date for May 7 when we'll celebrate all our distinguished awardees.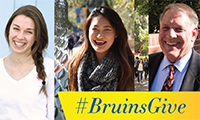 Giving Campaign to Spark a Brighter Future
The UCLA Alumni Spark Campaign is a UCLA online crowdfunding platform aimed at raising 1,500 gifts totaling $250,000 for student scholarships in March. Scholarships are vital in providing a quality education for deserving students. You are that spark! Make a tax-deductible donation and help turn their dreams into reality. No amount is too small. Log in through your Facebook, LinkedIn or email accounts.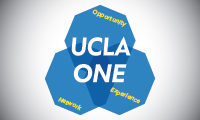 Out of Many, We Are UCLA ONE
Your new online community has launched and is ready for you to begin taking advantage of all it has to offer. Find an Opportunity that suits you. Network with alumni who share your interests. Leverage the Experience within the vast Bruin community. The possibilities are endless for sharing and acquiring valuable knowledge and resources. Thousands of Bruins are already on board. Join for free today and begin building your community!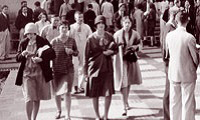 Influential Women in UCLA History
Since UCLA's inception, strong women have been pillars of inspiration. From the first woman dean, to a visionary admission director, to an alumnae organization who's been a bedrock of support for generations of students, here's a sampling of some of the most influential Bruin women who helped build UCLA.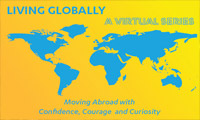 Living Globally
If you've contemplated moving abroad to pursue a job, experience a different culture or seek adventure, tune into Living Globally, a virtual learning series lead by fellow Bruins who share their first-hand experiences, tips and insights for living and working internationally.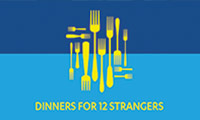 Dinners for 12 Strangers
For 47 years, alumni have opened their homes to Bruins for a nice meal and lively conversation. Take part in this tradition if you live in one of these cities around the world: Mexico City (March 4), Madrid (March 5), Shanghai (March 6), Manchester, England (March 6).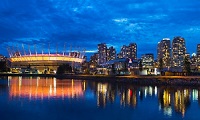 Alumni Networking in Vancouver
Come discover the UCLA community in Vancouver. Join Anderson Vancouver Alumni and the UCLA Alumni Vancouver Network on March 9 at the Steel Toad Brewery, a modern bistro in a stunning space with creative gastropub fare. This is the perfect way to spend your evening, with great Bruin company and great food!






UCLA Team Travels to Uganda to Treat Patients with Obstetric Fistula



UC Expands Recruiting Efforts Targeting Black and Latino Students



Channing Dungey '91 New Head of ABC, the First African American to Lead a Major TV Network



UCLA Library Releases Rare Audio Interview of "To Kill a Mockingbird" Author Harper Lee in 1964



Daily Bruin Wins Award for California's Best College Newspaper



From Recent Career Advancements to Remembering Dearly Departed Bruins, Read and Post Your Own Class Notes



Start Your Morning with UCLA News Headlines Delivered Straight to Your Inbox, Subscribe for Free










Photos: On Jan. 30, More Than 600 UCLA Parents and Family Members Attended Coffee Socials in Over 40 Cities Around the World



How UCLA Swimmer Karen Moe '76, M.A. '78 Turned the Tide for Women's Sports



How Lincoln High Teacher Anthony Yom, M.Ed. '09 Gets All His Students to Pass the AP Calculus Exam








Audio: An Interview with Erica Lindbeck '14, the New Voice for Hello Barbie



Alumnus Andrew Rosenstein Illuminates Stories of Holocaust Survivors with Documentary "Light Out of Darkness"





BRAZIL NETWORK



March 3, São Paulo | Monthly Networking Lunch


MADRID NETWORK



March 5, Madrid | Come Out to Lunch for 12 Strangers in Madrid


MEXICO NETWORK



March 4, Mexico City | Dinner for 12 Strangers in Mexico City


SHANGHAI NETWORK



March 6, Shanghai | Dinner for 12 Strangers in Shanghai


SWEDEN NETWORK



March 12, Stockholm | Inaugural Meet-n-Greet


UK NETWORK



March 6, Manchester | Dinner for 12 Strangers in Manchester, England



March 12, London | UC Alumni UK Black Tie Charity Gala


VANCOUVER NETWORK



March 9, Vancouver | An Evening of Alumni Networking






View this email in your browser.
UCLA Alumni Connect, Vol. 15, No. 3, International Edition | Other Editions
UCLA Alumni Affairs, James West Alumni Center, Los Angeles, CA 90095
©2016 UCLA Alumni Affairs