JUNE 2016 | SAN DIEGO EDITION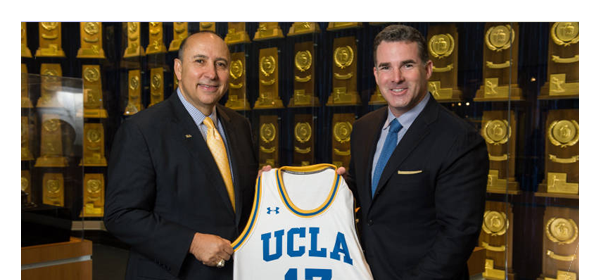 UCLA Athletics breaks another record. UCLA and Under Armour announced a 15-year agreement for $280 million, the biggest in NCAA history. As part of the partnership, which commences July 1, 2017, Under Armour will exclusively design and supply the footwear, apparel and equipment for training and game-day uniforms for UCLA's varsity athletic teams.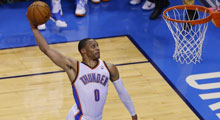 Video: Bruins in Basketball
UCLA's storied basketball program has produced many professional greats even to this day. In fact, UCLA has a former player on both teams playing in the NBA Finals. Watch this jaw-dropping highlight reel of Bruins in the NBA and WNBA.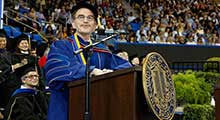 Six UCLA Commencement Quotes
With commencement ceremonies underway, there will be no shortage of inspirational words shared by accomplished dignitaries to send off the graduating class of 2016. Here's a look back at some of UCLA's commencement speakers and the inspiring words of wisdom they bestowed upon us.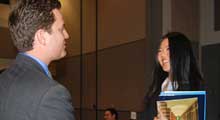 Alumni Career Initiatives
Whether you're looking for work or seeking ways to grow professionally, your Alumni Association is here to help. Explore the resources listed on the Alumni Career Initiatives pages and take advantage of the opportunities to learn, get involved and advance your career.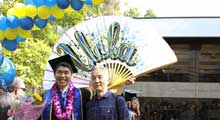 Grad Central
On the day of Commencement, grads and their families are invited to Grad Central for Diddy Riese cookies and a photo op with Joe and Josie Bruin. If you're coming to campus on June 10, stop by the James West Alumni Center to celebrate your grad's induction into the rank of alumni.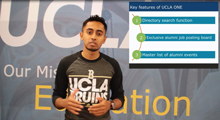 Video: UCLA ONE Tutorial
Learn how to navigate through UCLA's online professional network, UCLA ONE. Starting with registration, Sahil Punamia '13 will guide you through Alumni Directory search, job board listings and alumni events.






UCLA Campus Locked Down After Active Shooter Bruin Alert, Two Dead in Murder-Suicide | Read Continuing Coverage



Shooting Victim William Klug, M.S. '99, Engineering Professor Whose Research Crossed Disciplines






Olympic Champion and Torch-Bearer Rafer Johnson '59 Receives the UCLA Medal



Math Professor Will Conley, Ph.D. '10 Receives My Last Lecture Award



UCLA Honors Former Association President and Alumnus of the Year, Jim Collins '50 and His Wife Carol





Webinar: Successfully Launch and Advance Your Career - Get Inside Secrets from Job Seekers, Recruiters and Executives - June 28





Hundreds of Students Impress Alumni at Undergraduate Research Week



UCLA Alumni Travelers Have Rare Opportunity to See Total Solar Eclipse Next Summer





UCLA Researcher Chronicles Freshmen for 50 Years and How They've Reflected Social Change



Blueprint Magazine's Third Issue Addresses the "Existential Crisis Confronting the World"




Liberty Mutual Has Partnered with the Alumni Association to Offer You Exclusive Savings on Quality Auto and Home Insurance. Call 1-888-379-2530 or Visit Liberty Mutual for a Free Quote





BRUIN PROFESSIONALS NETWORK



June, All Chapters | Network Meetings


SAN DIEGO NETWORK



June 13, Encinitas | Culinary Tour at Bentley's Steak and Chop House



June 20, San Diego | Holiday Bowl with Pac-12/Big Ten Golf Tournament






View this email in your browser.
UCLA Alumni Connect, Vol. 15, No. 6, San Diego Edition | Other Editions
UCLA Alumni Affairs, James West Alumni Center, Los Angeles, CA 90095
©2016 UCLA Alumni Affairs