APRIL 2016 | YOUNG ALUMNI EDITION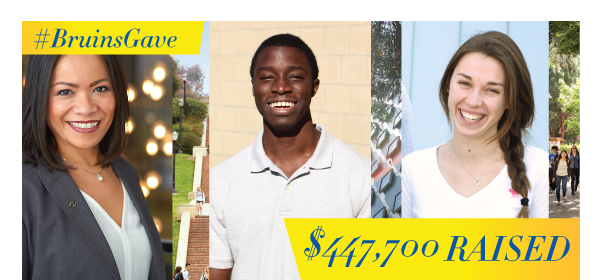 Spark Campaign Exceeds Its Goal. March was a banner month for alumni giving. With the goal of raising a quarter million dollars for Alumni Scholarships, the UCLA crowdfunder, known as Spark, powered by 17 UCLA Alumni groups, brought in more than $447,700. Thank you to the dedicated volunteers and the 838 generous donors, of gifts both large and small, who rallied to make education at UCLA a priority. Congratulations!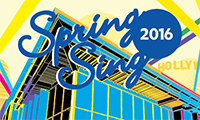 Spring Sing Returns to Rock Pauley May 21
This will be an unforgettable night of amazing student performances in song, dance and comedy. A tradition dating back to 1945, Spring Sing packs in Pauley with a parade of celebrity judges, a musical legend honored and UCLA's most talented on full display. Get your alumni presale tickets April 19-20 using this password: 19LAUC19.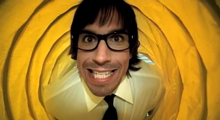 Bruins in Music Video
Jim Morrison '65, John Williams '53, Sara Bareilles '03, the list goes on and on. They're Bruins whose music has captivated the hearts and ears of many. Watch this compilation of musical Bruins, spanning generations and genres, selected for their variety and contemporary relevance.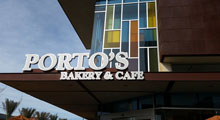 There's No Business Like the Family Business
Porto's Bakery in Los Angeles and Netsol Technologies in Pakistan - two family businesses on opposite ends of the world - both thriving in their own markets, and both finding a common destination at UCLA Anderson's Steinbeck Family Business Seminar. Read about the impact these businesses are having in their communities and the influence this seminar has had on their leadership.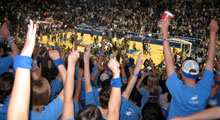 Return to Glory: Commemorating the 10th Anniversary of UCLA's Road to the Finals
As the nation prepares for Final Four weekend, a former Daily Bruin beat writer for the 2005-06 UCLA Men's Basketball team takes us down memory lane, exactly 10 years ago, to our road to the championship game. With courtside seats and behind-the-scenes press access, he recaptures the sentiment of Bruin fans everywhere during that season of glory.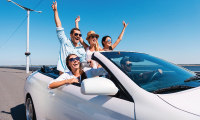 Take Your Bruin Pride On A Ride
Great news! We have added even more benefits for UCLA alumni. You can now get low rate auto financing, thanks to University Credit Union, our new preferred auto lender. For each auto financed, University Credit Union will make a donation back to the UCLA Alumni Association.





UCLA Graduate Schools, Programs Score Highly in U.S. News and World Report Rankings



BlackRock Chairman Laurence Fink '74, M.B.A. '76 Receives UCLA's Highest Honor






UCLA to Honor Alumni Whose Achievements and Contributions Have Impacted Society or the University - May 7



Estate of Irmgard and David '49 Dobrow Leaves $11.7 Million to Music School



March Centennial Campaign Newsletter: Stories of Alumni Giving from Law to Marketing to Music



Stephanie Wong '14 Won the Miss Chinatown USA 2016 Pageant. Read More Alumni News in Class Notes





YouTube CEO Susan Wojcicki, M.B.A. '98 Talks About Being a Visionary, Entrepreneur and a Woman in Tech



Alumni Use Creativity to Reel in Opportunities in Film Industry



T.K. Pillan, M.B.A. '96, Co-Founder of Veggie Grill, Shares Some Lessons About Starting a Business



Got a Question for Alumni in Your Industry? Ask Away in UCLA ONE





Spring Sing Company Alumni Make the Music Video 'Swipe (The Tinder Song)'



As UCLA Prepares to Award Scholarships, to New Students Meet Our 2016 Alumni Scholars



UCLA's All-Time Steal Leader and the Dodger's First Minority Manager, Dave Roberts '95, is Coming Home



Exuberant Students Newly Admitted to UCLA Light Up Social Media



I'm from USC. He's from UCLA. Could Trash Talk Lead to Love?





Share Your Expertise and See Students in Action During Undergraduate Research Week - May 23-27, UCLA



UCLA Health Volunteers Needed for Various Positions at the Medical Centers in Westwood and Santa Monica



Offer Tips for Success at Transfer Alumni Networking Night - April 13



Support Veterans by Participating for Free in the 5th Annual Run as One 5K - April 16, West L.A.





Improve Your Quality of Life and Health. Join Arianna Huffington and the UCLA Healthy Campus Initiative to Get a Better Night's Sleep
















Bruin Woods Week 10: Aug. 27-Sept. 23 End of Summer Exclusive. No Lottery to Win, No Waiting List to Climb





BRUIN PROFESSIONALS NETWORK



April, All Chapters | Network Meetings


CHANNEL ISLANDS NETWORK



April 23, Ventura | General Meeting


CONEJO VALLEY NETWORK



April 20, Westlake Village | Spring Mixer


LAKE ARROWHEAD AREA NETWORK



April 3, Lake Arrowhead | UCLA Alumni Mountain Bruins Gala


LOS ANGELES SOUTHEAST NETWORK



April 23, La Habra Heights | Hike Powder Canyon



April 24, Cerritos | Book Club: Managing Oneself


LOS ANGELES WESTSIDE NETWORK



April 16, Santa Monica | Nothin' But Sand Beach Clean-up


ORANGE COUNTY NETWORK



April 9, Irvine | Second Harvest Food Bank Volunteer Day



April 13, Irvine | Network Meeeting



April 24, RSVP For Details | Book Club: The Road to Character



May 11, Irvine | Network Meeting


ROSE BOWL BRUINS



April 16, Pasadena | Metro Art Tour



May 7, Arcadia | Annual Day at the Races


SACRAMENTO NETWORK



April 7, Sacramento | Sacramento Bruins Spring Mixer - Wine Tasting



April 17, RSVP For Details | Book Club: Mycroft Holmes


SAN DIEGO NETWORK



April 7, Carlsbad | Culinary Tour at Karl Strauss Brewing Company



April 26, San Diego | Holiday Bowl Happy Hour with Pac-12/Big Ten Alumni



May 14-15, San Diego | Holiday Bowl with Pac-12/Big Ten Alumni Clubs 3-on-3 Basketball Tournament


SAN FERNANDO VALLEY NETWORK



May 12, Woodland Hills | General Meeting with CA State Assembly Member Matt Dababneh '04


SAN FRANCISCO BAY AREA NETWORK



April 8, Mountain View | Cup of Java @ Silicon Valley



April 16, Half Moon Bay | Earth Day Beach Restoration Project with the Bay Area Bruins



April 22, San Francisco | Cup of Java - San Francisco Monthly Networking Event



May 7, San Francisco | Bruins at the Ballpark



May 13, Mountain View | Cup of Java @ Silicon Valley



May 14, RSVP For Details | Planning Meeting


UCLA ALUMNI AFFAIRS



April 2, Los Angeles | Dance Marathon Alumni Reception



April 28, Redding | All-UC alumni reception in Redding featuring UC President Janet Napolitano


UCLA MIXED ALUMNI ASSOCIATION



April 30, Los Angeles | 4th Annual Mixed Heritage Conference






View this email in your browser.
UCLA Alumni Connect, Vol. 15, No. 4, Young Alumni Edition | Other Editions
UCLA Alumni Affairs, James West Alumni Center, Los Angeles, CA 90095
©2016 UCLA Alumni Affairs