APRIL 2016 | NATIONAL EDITION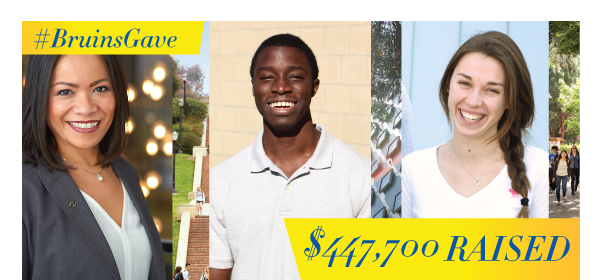 Spark Campaign Exceeds Its Goal. March was a banner month for alumni giving. With the goal of raising a quarter million dollars for Alumni Scholarships, the UCLA crowdfunder, known as Spark, powered by 17 UCLA Alumni groups, brought in more than $447,700. Thank you to the dedicated volunteers and the 838 generous donors, of gifts both large and small, who rallied to make education at UCLA a priority. Congratulations!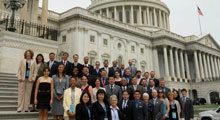 UCLA Day in D.C. Reception
Please join D.C. alumni, Congressional staff members and UCLA advocates in town from Los Angeles for a reception on the Hill on May 17, 6-8 p.m. Find out about UCLA's advocacy efforts in the nation's capital. RSVP required.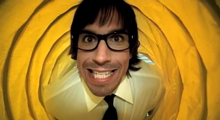 Bruins in Music Video
Jim Morrison '65, John Williams '53, Sara Bareilles '03, the list goes on and on. They're Bruins whose music has captivated the hearts and ears of many. Watch this compilation of musical Bruins, spanning generations and genres, selected for their variety and contemporary relevance.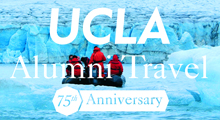 Celebrating 75 Years of Alumni Travel
Founded in 1941, UCLA Alumni Travel is the second oldest program in the Alumni Association and one of the largest travel programs in the country. From solar eclipse viewings and expeditions to Antarctica, to offering one of the earliest educational trips to Cuba, UCLA Alumni Travel is a pioneer leading the industry and will continue to fill bucket lists for generations to come.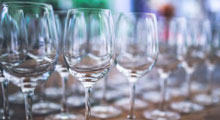 Sacramento Bruins Spring Mixer and Wine Tasting - April 7
Enjoy a unique wine tasting experience at Insight Coffee Roasters Southside, featuring five delightful varietals from Bailarin Cellars, both Bruin-owned businesses. Share in good conversations while savoring fine wines paired with delicious hors d'oeuvres. Guests also receive a 10% discount off wine purchased that day.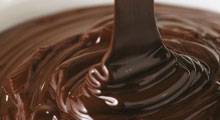 Tour Theo Chocolate with Seattle Bruins - April 23
Do you like chocolate? Of course you do! Learn how Theo Chocolate is responsibly produced and taste some of its delicious chocolate products with fellow Bruins.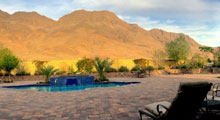 Las Vegas Bruins Summer Kick-off Pool Party - May 1
Bring your family and friends for a fun-filled day by the pool hosted at the home of UCLA alumni Anat Levy, J.D. '86 and Steve Tobenkin '79, M.B.A. '91 in Sunrise Mountain. There'll be a catered barbecue lunch, plenty of games and a lifeguard on duty.





UCLA Graduate Schools, Programs Score Highly in U.S. News and World Report Rankings



BlackRock Chairman Laurence Fink '74, M.B.A. '76 Receives UCLA's Highest Honor






UCLA to Honor Alumni Whose Achievements and Contributions Have Impacted Society or the University - May 7



Estate of Irmgard and David '49 Dobrow Leaves $11.7 Million to Music School



March Centennial Campaign Newsletter: Stories of Alumni Giving from Law to Marketing to Music



Stephanie Wong '14 Won the Miss Chinatown USA 2016 Pageant. Read More Alumni News in Class Notes





YouTube CEO Susan Wojcicki, M.B.A. '98 Talks About Being a Visionary, Entrepreneur and a Woman in Tech



Alumni Use Creativity to Reel in Opportunities in Film Industry



T.K. Pillan, M.B.A. '96, Co-Founder of Veggie Grill, Shares Some Lessons About Starting a Business



Got a Question for Alumni in Your Industry? Ask Away in UCLA ONE





Former Daily Bruin Beat Writer Reflects Back to 10 Years Ago on Our Road to the National Championship Game



As UCLA Prepares to Award Scholarships to New Students, Meet Our 2016 Alumni Scholars



UCLA's All-Time Steal Leader and the Dodger's First Minority Manager, Dave Roberts '95, is Coming Home



Exuberant Students Newly Admitted to UCLA Light Up Social Media



I'm from USC. He's from UCLA. Could Trash Talk Lead to Love?









Bruin Woods Week 10: Aug. 27-Sept. 23 End of Summer Exclusive. No Lottery to Win, No Waiting List to Climb.





ATLANTA NETWORK



April 9, Duluth | Pac-12 Fan Appreciation Day with the Atlanta Gladiators


BOSTON NETWORK



May 14, Boston | Save the Date: Pac-12 Pub Crawl


LAKE ARROWHEAD AREA NETWORK



April 3, Lake Arrowhead | UCLA Alumni Mountain Bruins Gala


LAS VEGAS NETWORK



April 9, Las Vegas | Disney's Beauty and the Beast at The Smith Center



April 10, Las Vegas | Sunday Brunch



May 1, RSVP For Details | Summer Kick-off Pool Party


NEW YORK TRI–STATE NETWORK



April 28, TBD | Book Club: "Modern Romance"


RENO/TAHOE NETWORK



April 9, Reno | Saturday Brunch


SACRAMENTO NETWORK



April 7, Sacramento | Sacramento Bruins Spring Mixer - Wine Tasting



April 17, RSVP For Details | Book Club: "Mycroft Holmes"


SEATTLE NETWORK



April 23, Seattle | Tour Theo Chocolate


UCLA ALUMNI AFFAIRS



April 28, Redding | All-UC Alumni Reception in Redding Featuring UC President Janet Napolitano


WASHINGTON, D.C. AREA NETWORK



April 10, Silver Spring | DC Bruins Brunch - Dim Sum Edition



April 27, Washington, D.C. | All-UC Alumni Spring Mixer



May 14, Washington, D.C. | DC Pac-12 Night with the Nationals



May 17, Washington, D.C. | UCLA Day in D.C. Reception






View this email in your browser.
UCLA Alumni Connect, Vol. 15, No. 4, National Edition | Other Editions
UCLA Alumni Affairs, James West Alumni Center, Los Angeles, CA 90095
©2016 UCLA Alumni Affairs