APRIL 2016 | INTERNATIONAL EDITION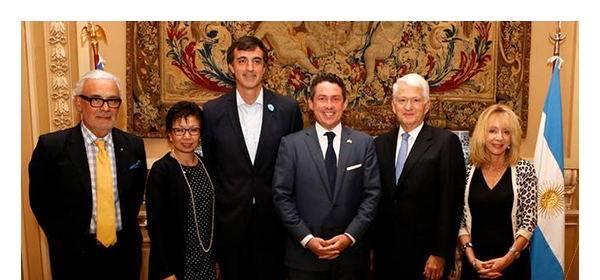 Photos: UCLA Receptions in South America. Chancellor Block and a UCLA delegation, including vice provost for International Studies and Global Engagement Cindy Fan, dean of the Anderson School of Management Judy Olian and dean of the Graduate School of Education and Information Studies Marcelo Suárez-Orozco, met with local alumni and friends at three receptions held in South America during the week of March 14: Bogotá (March 14), Santiago (March 16) and Buenos Aires (March 17).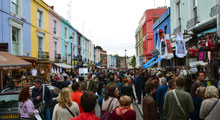 UK Network Tours the Portobello Market - April 16
Explore the Portobello Market in West London, one of the most famous street markets in the world! It's packed with antiques, fresh produce, fashion and food stalls. After the market adventure, head to a local pub for a quick pint with fellow Bruins. There's no better way to spend a Saturday.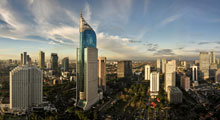 Opportunties and Challenges of Family Businesses in Indonesia - April 30
Thinking of creating your own business or continuing the legacy of the family business? Hear from Cynthia Wihardja '96 and a panel of business owners who will provide insightful information on all the aspects of managing and growing a successful business for generations to come. They will share the challenges along the way and the successes they've realized.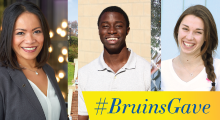 Spark Campaign Exceeds Its Goal
March was a banner month for alumni giving. With the goal of raising a quarter million dollars for Alumni Scholarships, the UCLA crowdfunder, known as Spark, powered by 17 UCLA Alumni groups, brought in more than $447,700. Thank you to the dedicated volunteers and the 838 generous donors, of gifts both large and small, who rallied to make education at UCLA a priority. Congratulations!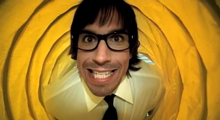 Bruins in Music Video
Jim Morrison '65, John Williams '53, Sara Bareilles '03, the list goes on and on. They're Bruins whose music has captivated the hearts and ears of many. Watch this compilation of musical Bruins, spanning generations and genres, selected for their variety and contemporary relevance.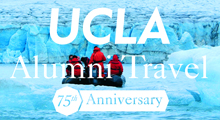 Celebrating 75 Years of Alumni Travel
Founded in 1941, UCLA Alumni Travel is the second oldest program in the Alumni Association and one of the largest travel programs in the country. From solar eclipse viewings and expeditions to Antarctica, to offering one of the earliest educational trips to Cuba, UCLA Alumni Travel is a pioneer leading the industry and will continue to fill bucket lists for generations to come.





UCLA Graduate Schools, Programs Score Highly in U.S. News and World Report Rankings



BlackRock Chairman Laurence Fink '74, M.B.A. '76 Receives UCLA's Highest Honor






UCLA to Honor Alumni Whose Achievements and Contributions Have Impacted Society or the University - May 7



Estate of Irmgard and David '49 Dobrow Leaves $11.7 Million to Music School



March Centennial Campaign Newsletter: Stories of Alumni Giving from Law to Marketing to Music



Stephanie Wong '14 Won the Miss Chinatown USA 2016 Pageant. Read More Alumni News in Class Notes





YouTube CEO Susan Wojcicki, M.B.A. '98 Talks About Being a Visionary, Entrepreneur and a Woman in Tech



T.K. Pillan, M.B.A. '96, Co-Founder of Veggie Grill, Shares Some Lessons About Starting a Business



Got a Question for Alumni in Your Industry? Ask Away in UCLA ONE





Former Daily Bruin Beat Writer Reflects Back to 10 Years Ago on Our Road to the National Championship Game



As UCLA Prepares to Award Scholarships to New Students, Meet Our 2016 Alumni Scholars



UCLA's All-Time Steal Leader and the Dodger's First Minority Manager, Dave Roberts '95, is Coming Home



Exuberant Students Newly Admitted to UCLA Light Up Social Media



I'm from USC. He's from UCLA. Could Trash Talk Lead to Love?










BRAZIL NETWORK



April 7, São Paulo | Monthly Meet-Up Networking Lunch


INDONESIA NETWORK



April 30, Kuningan | Opportunties and Challenges of Family Businesses


SINGAPORE NETWORK



May 7, Singapore | Portobello Market Trip


UK NETWORK



April 16, London W11 1LA | Portobello Market Trip






View this email in your browser.
UCLA Alumni Connect, Vol. 15, No. 4, International Edition | Other Editions
UCLA Alumni Affairs, James West Alumni Center, Los Angeles, CA 90095
©2016 UCLA Alumni Affairs