APRIL 2016 | SAN FRANCISCO BAY AREA EDITION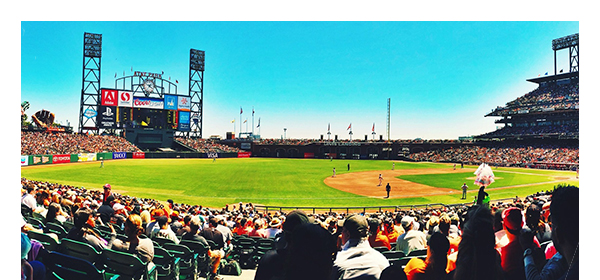 Join the Bay Area Bruins at the Ballpark. Come see former Bruin Brandon Crawford and the San Francisco Giants play the Colorado Rockies on Saturday, May 7 at AT&T Park. The first 40,000 fans will receive either a Silver Slugger or Gold Glove Brandon Crawford bobblehead!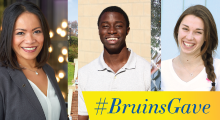 Spark Campaign Exceeds Its Goal
March was a banner month for alumni giving. With the goal of raising a quarter million dollars for Alumni Scholarships, the UCLA crowdfunder, known as Spark, powered by 17 UCLA Alumni groups, brought in more than $447,700. Thank you to the dedicated volunteers and the 838 generous donors, of gifts both large and small, who rallied to make education at UCLA a priority. Congratulations!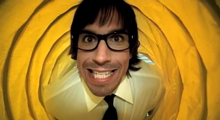 Bruins in Music Video
Jim Morrison '65, John Williams '53, Sara Bareilles '03, the list goes on and on. They're Bruins whose music has captivated the hearts and ears of many. Watch this compilation of musical Bruins, spanning generations and genres, selected for their variety and contemporary relevance.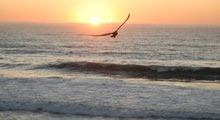 Earth Day Beach Restoration Project - April 16
Join fellow UCLA alumni and friends at Half Moon Bay State Beach for a morning beach restoration project in celebration of Earth Day. They will remove non-native and invasive plants, enhance landscaping around the parking lot and campsite, and construct animal-proof trash enclosures.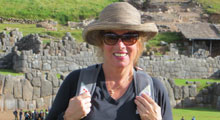 Volunteer Spotlight: Lynn Dines '78 - A Journey of Giving Back
Lynn Dines lives life with no regrets. Well traveled and adventurous, she's a believer in giving back and helping others at every turn. Why else would she join the Peace Corps at the age of 51? She's also served UCLA in many capacities: Alumni Association board, Gold Shield Alumnae president and one of the creators of Interview With a Bruin.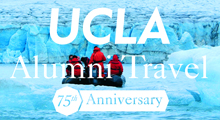 Celebrating 75 Years of Alumni Travel
Founded in 1941, UCLA Alumni Travel is the second oldest program in the Alumni Association and one of the largest travel programs in the country. From solar eclipse viewings and expeditions to Antarctica, to offering one of the earliest educational trips to Cuba, UCLA Alumni Travel is a pioneer leading the industry and will continue to fill bucket lists for generations to come.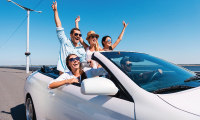 Take Your Bruin Pride On A Ride
Great news! We have added even more benefits for UCLA alumni. You can now get low rate auto financing, thanks to University Credit Union, our new preferred auto lender. For each auto financed, University Credit Union will make a donation back to the UCLA Alumni Association.





UCLA Graduate Schools, Programs Score Highly in U.S. News and World Report Rankings



BlackRock Chairman Laurence Fink '74, M.B.A. '76 Receives UCLA's Highest Honor






UCLA to Honor Alumni Whose Achievements and Contributions Have Impacted Society or the University - May 7



Estate of Irmgard and David '49 Dobrow Leaves $11.7 Million to Music School



March Centennial Campaign Newsletter: Stories of Alumni Giving from Law to Marketing to Music



Stephanie Wong '14 Won the Miss Chinatown USA 2016 Pageant. Read More Alumni News in Class Notes





YouTube CEO Susan Wojcicki, M.B.A. '98 Talks About Being a Visionary, Entrepreneur and a Woman in Tech



Alumni Use Creativity to Reel in Opportunities in Film Industry



T.K. Pillan, M.B.A. '96, Co-Founder of Veggie Grill, Shares Some Lessons About Starting a Business



Got a Question for Alumni in Your Industry? Ask Away in UCLA ONE





Former Daily Bruin Beat Writer Reflects Back to 10 Years Ago on Our Road to the National Championship Game



As UCLA Prepares to Award Scholarships to New Students, Meet Our 2016 Alumni Scholars



UCLA's All-Time Steal Leader and the Dodger's First Minority Manager, Dave Roberts '95, is Coming Home



Exuberant Students Newly Admitted to UCLA Light Up Social Media



I'm from USC. He's from UCLA. Could Trash Talk Lead to Love?









Bruin Woods Week 10: Aug. 27-Sept. 23 End of Summer Exclusive. No Lottery to Win, No Waiting List to Climb.





SACRAMENTO NETWORK



April 7, Sacramento | Sacramento Bruins Spring Mixer - Wine Tasting



April 17, RSVP For Details | Book Club: Mycroft Holmes


SAN FRANCISCO BAY AREA NETWORK



April 8, Mountain View | Cup of Java @ Silicon Valley



April 16, Half Moon Bay | Earth Day Beach Restoration Project with the Bay Area Bruins



April 22, San Francisco | Cup of Java @ San Francisco Monthly Networking Event



May 7, San Francisco | Bruins at the Ballpark



May 13, Mountain View | Cup of Java @ Silicon Valley



May 14, RSVP For Details | Planning Meeting


UCLA ALUMNI AFFAIRS



April 28, Redding | All-UC alumni reception in Redding featuring UC President Janet Napolitano






View this email in your browser.
UCLA Alumni Connect, Vol. 15, No. 4, Bay Area Edition | Other Editions
UCLA Alumni Affairs, James West Alumni Center, Los Angeles, CA 90095
©2016 UCLA Alumni Affairs