OCTOBER 2015 | YOUNG ALUMNI EDITION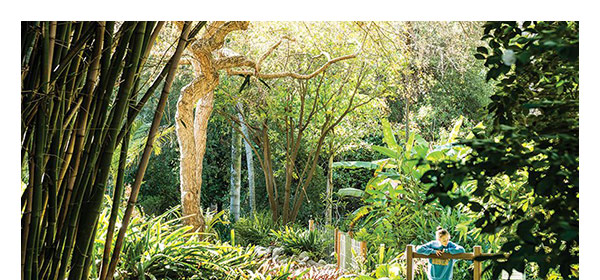 Welcome to the City. From museum tours and recreational excursions to cultural festivals and unique dining experiences, Welcome to the City has something for everyone. Find an event happening near you and enjoy it with folks who share your Bruin pride. Events are happening in Crenshaw, Downey, Downtown, Little Tokyo, Marina del Rey, Miracle Mile, Pasadena, Sacramento, San Francisco, San Luis Obispo, Santa Cruz Island, Silver Lake, Topanga, Ventura, West Hollywood and Westwood.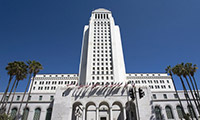 More Than a House of Cards: A Bruin Look Into Careers in Politics
Save the Date: Nov. 12, 7 p.m., Grammy Museum.
Alumni panelists offer insights on the spectrum of careers in or around politics. Indicate your interest to be notified when registration opens.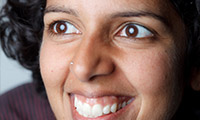 The "F" Word You Should Say Loudly and Often
Google manager, Anna Davda '01, M.A. '05, says finding fulfillment in your work is no easy task, but it's possible through periodic reflection on what you truly value at each stage of your life. She outlines four easy steps to "Intentify" your career.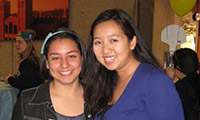 Bruins Helping Bruins
The UCLA Alumni Mentor Program enables you to share your professional and personal experience with current UCLA students. The expertise you hold has the power to help students prepare for a successful future. Local and non-local alumni are welcome. Apply using a new and improved process, UCLA ONE, by Oct. 16.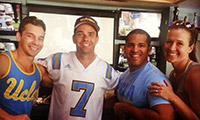 Game Watch Parties
What better way to cheer on our #7 ranked UCLA Football team than with fellow Bruin fans! Join in the fun at a TV watch party near you. Agoura Hills, Bakersfield, Camarillo, Corona, Downey, Fresno, Huntington Beach, Los Altos, Napa, Palm Desert, Palo Alto, Pasadena, Pismo Beach, Sacramento, San Diego, San Francisco, Sherman Oaks, Torrance, Victorville, Walnut Creek, West L.A. and Whittier.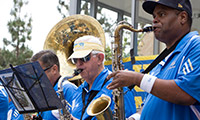 Alumni Band Celebrates 40 Years of Music and Bruin Pride
Follow the UCLA Alumni Band as they strike up the "Sons of Westwood" through the early years at the Coliseum to the streets of Shanghai. Hear about how the band creates a Bruin family through music.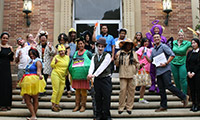 Halloween Bruin-Style
From theme parties to monster sales to trick-or-treating at the Mattel Children's Hospital, Halloween hijinks have always been a part of the Bruin tradition. Take a look back in time at how the holiday has been celebrated by the UCLA community.





UCLA is No. 2 Among Public Universities and No. 23 Overall in U.S. News and World Report






A Revitalization Effort Launches Three New Networks in the South Bay Stretching from Marina Del Rey to Long Beach



Centennial Campaign Newsletter: Inspiring Stories About How Donors and Alumni are Helping Bruins Make the World Better



UCLA International Institute Opens Center for the Study of International Migration






UCLA Ranks No. 5 in National Survey of Universities' Economic Diversity





"One Little Spark!" - A Conversation Among Disney Imagineers Marty Sklar '56, Dave Crawford '95 and Eddie Soto - Oct. 21, UCLA



Video: Market Share - Learn from Marketing and Advertising Alumni Professionals





Any UCLA Sports Fan Could Accidentally End a Student Athlete's Career. Click to Avoid the Pitfalls in Less Than a Minute.



You Can't Go Wrong at a Bruin Bash Pregame Party: Food and Fun with Fellow Bruins



Come One, Come All: UCLA at Stanford TV Game Watch Party - Oct. 15, Rose Bowl Pavilion Seating, Catered by Wolfgang Puck, Full No-Host Bar



Homecoming Weekend Features Alumni Pregame Dinner on Oct. 30 and UCLA Football vs. Colorado on Oct. 31



Alumni Share UCLA Experiences with Incoming Students at New Bruin Send-Offs



Come to the 8th Annual UCLA Dribble for the Cure and Help Fight Pediatric Cancer - Oct. 11, UCLA





Help a Student Improve Their Interviewing Skills - Nov. 18, UCLA



More than 7,000 Bruins Help Across Los Angeles for UCLA Volunteer Day





A Bruin's Guide to the Season's Best in UCLA Arts and Culture, Entertainment and Sports



Author Roxane Gay Discusses Common Book "Bad Feminist" at Royce Hall






Jeffrey Vinokur, M.S. '13 Found a Way to Combine His Two Loves: Chemistry and Hip-Hop





ANDERSON NETWORK



Oct. 5, San Diego | Worldwide Welcome Week: Insights Into Consumer Intelligence



Oct. 6, Anaheim | Worldwide Welcome Week - The California Lifestyle: Business Inspired by the Golden State



Oct. 15, San Francisco | Worldwide Welcome Week - Stormy Weather: Navigating the Financial Markets


ASIAN PACIFIC ALUMNI NETWORK



Oct. 19, UCLA | General Membership Meeting Featuring Mike Fong '99


BLACK ALUMNI NETWORK



Oct. 6, UCLA | UCLA Black Convocation



Oct. 9-11, UCLA | Ghost In The House: The Life and Times of Jack Johnson


CONEJO VALLEY NETWORK



Oct. 8, Thousand Oaks | Conejo Valley Network's Oktoberfest


FACULTY WOMEN'S CLUB



Oct. 20, UCLA | Faculty Women's Club Luncheon


LAMBDA (LGBTQ) ALUMNI ASSOCIATION



Oct. 9, UCLA | Lambda and LGBTCRC Resource Fair


LAW ALUMNI NETWORK



Oct. 16, UCLA | Critical Race Studies - Race and Resistance: Against Police Violence


LOS ANGELES DOWNTOWN NETWORK



Oct. 6, Los Angeles | Monthly Meeting


ORANGE COUNTY NETWORK



Oct. 6, Irvine | College Fair Training - Orange County



Oct. 13, Tustin | Young Alumni Happy Hour



Oct. 14, Newport Beach | Network Meeting



Oct. 31, Irvine | Volunteer at Second Harvest Food Bank



Nov. 11, Newport Beach | Network Meeting


SAN DIEGO NETWORK



Oct. 4, San Diego | Beach Cleanup


SAN FRANCISCO BAY AREA NETWORK



Oct. 9, Mountain View | Cup of Java @ Silicon Valley



Oct. 15, Stanford | Bruin Bash @ Stanford



Oct. 23, San Francisco | Cup of Java Networking Event


UCLA ALUMNI AFFAIRS



Oct. 15, Long Beach | Long Beach Area Alumni Network Kickoff Party



Oct. 22, Pasadena | Bruin Bash @ the Rose Bowl - California



Oct. 31, Pasadena | Bruin Bash @ the Rose Bowl - Colorado



Nov. 14, Pasadena | Bruin Bash @ the Rose Bowl - Washington State



UCLA Alumni Connect, Vol. 14, No. 10, Young Alumni Edition | Other Editions
UCLA Alumni Affairs, James West Alumni Center, Los Angeles, CA 90095

©2015 UCLA Alumni Affairs