OCTOBER 2015 | NATIONAL EDITION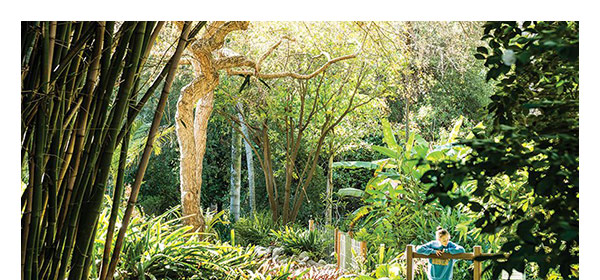 Welcome to the City. From museum tours and recreational excursions to cultural festivals and unique dining experiences, Welcome to the City has something for everyone. Find an event happening near you and enjoy it with folks who share your Bruin pride. Events are happening in Boston, Dallas-Fort Worth, Houston, Las Vegas, Minneapolis, Portland, Sacramento, San Luis Obispo and Seattle.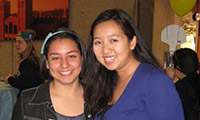 Bruins Helping Bruins
The UCLA Alumni Mentor Program enables you to share your professional and personal experience with current UCLA students. The expertise you hold has the power to help students prepare for a successful future. Local and non-local alumni are welcome. Apply using a new and improved process, UCLA ONE, by Oct. 16.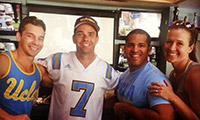 Game Watch Parties
What better way to cheer on our #7 ranked UCLA Football team than with fellow Bruin fans! Join in the fun at a TV watch party near you. Parties are happening in Atlanta, Austin, Bakersfield, Boston, Chicago, Dallas, Denver, Fresno, Kauai, Honolulu, Houston, Las Vegas, New York, Philadelphia, Portland Reno/Tahoe, Sacramento, Seattle, Spokane, Tempe and Washington, D.C.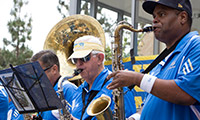 Alumni Band Celebrates 40 Years of Music and Bruin Pride
Follow the UCLA Alumni Band as they strike up the "Sons of Westwood" through the early years at the Coliseum to the streets of Shanghai. Hear about how the band creates a Bruin family through music.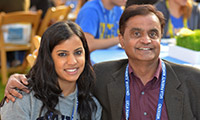 Don't Miss UCLA Parents' Weekend, Oct. 30-Nov. 1
Seize the opportunity to spend three extraordinary days on campus with your Bruin. Join us for an exclusive breakfast with Chancellor Gene Block for alumni parents and their UCLA undergraduates on Friday, Oct. 30, from 8-9:30 a.m. on the Ahmanson Terrace at Royce Hall. Register today!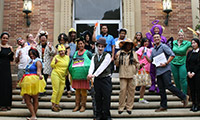 Halloween Bruin-Style
From theme parties to monster sales to trick-or-treating at the Mattel Children's Hospital, Halloween hijinks have always been a part of the Bruin tradition. Take a look back in time at how the holiday has been celebrated by the UCLA community.





UCLA is No. 2 Among Public Universities and No. 23 Overall in U.S. News and World Report






Centennial Campaign Newsletter: Inspiring Stories About How Donors and Alumni are Helping Bruins Make the World Better



UCLA International Institute Opens Center for the Study of International Migration






UCLA Ranks No. 5 in National Survey of Universities' Economic Diversity





Video: Market Share - Learn from Marketing and Advertising Alumni Professionals





Any UCLA Sports Fan Could Accidentally End a Student Athlete's Career. Click to Avoid the Pitfalls in Less Than a Minute.



Homecoming Weekend Features Alumni Pregame Dinner on Oct. 30 and UCLA Football vs. Colorado on Oct. 31



Alumni Share UCLA Experiences with Incoming Students at New Bruin Send-Offs



Parent Volunteers Help Families Make Smooth Transition to UCLA





More than 7,000 Bruins Help Across Los Angeles for UCLA Volunteer Day





Video: UCLA Alumni Travellers Experience Italy's Amalfi Coast






Jeffrey Vinokur, M.S. '13 Found a Way to Combine His Two Loves: Chemistry and Hip-Hop





ANDERSON NETWORK



Oct. 7, Chicago | Worldwide Welcome Week - MillerCoors: Refreshing America



Oct. 8, Brooklyn | Worldwide Welcome Week: Behind-the-Scenes at Kings County Distillery



Oct. 13, Seattle | Worldwide Welcome Week: The Future of Retail


BLACK ALUMNI NETWORK



Oct. 9-11, UCLA | Ghost In The House: The Life and Times of Jack Johnson


CALIFORNIA CENTRAL COAST NETWORK



Oct. 18, San Luis Obispo | Central Coast Bruins Walking Tour of San Luis Obispo


DALLAS-FORT WORTH NETWORK



Oct. 25, Irving | Welcome to the City: Brunch with Bruins


HOUSTON NETWORK



Oct. 11, Houston | Welcome to the City: The Original Jersey Boy - Frank Sinatra, Big Band to Vegas


INLAND EMPIRE (CA) NETWORK



Oct. 11, Corona | Game Watch: UCLA Football vs. Stanford


LAS VEGAS NETWORK



Oct. 6, Las Vegas | Board Meeting


MINNEAPOLIS-ST. PAUL NETWORK



Oct. 10, Minneapolis | Welcome to the City: Surly Brewing Company Tour


NEW YORK TRI–STATE NETWORK



Oct. 23, New York | Pac-12 New York Alumni Fall Wine Tasting Dinner


OREGON NETWORK



Oct. 19, Portland | Board Meeting



Oct. 20, Portland | Happy Hour


RENO/TAHOE NETWORK



Oct. 7, Reno | Board Meeting


SEATTLE NETWORK



Oct. 24, Seattle | Redhook Brewery and Pub Tour


WASHINGTON, D.C. AREA NETWORK



Oct. 4, Poolesville | Apple Picking and Pumpkin Patch



Oct. 10, Chantilly | National Air and Space Museum Udvar-Hazy Tour



Oct. 11, Washington, D.C. | 2015 Pac-12 D.C. Alumni Bar Crawl



Oct. 17, Washington, D.C. | Welcome to the City: Washington National Cathedral Tour



Oct. 19, Washington, D.C. | Board Meeting



Oct. 20, 6 p.m., Washington, D.C. (918 F. Street, NW) | Meet UCLA Chancelor Block



UCLA Alumni Connect, Vol. 14, No. 10, National Edition | Other Editions
UCLA Alumni Affairs, James West Alumni Center, Los Angeles, CA 90095

©2015 UCLA Alumni Affairs