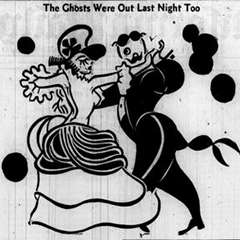 1938
No matter when you graduated, chances are you have great memories of your Halloween at UCLA. With events happening across campus - theme parties, scary movies, costume contests and more – there's something spooky for everyone.
With Homecoming weekend usually falling at the same time as Halloween, the childhood favorite has some serious competition on the Bruin calendar. In fact, this year the big game will be on Oct. 31, and spirits of ghouls and goblins will make way for Bruin spirit. Still, generations of Bruins have found a way to enjoy Homecoming and not miss out on tricks and treats too. And of course, what Halloween would be complete without a little mischief?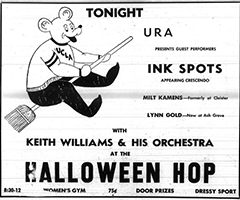 1959
In the university's early days, students took a break from their studies to celebrate Halloween with co-ed get-togethers and dances. A 1929 California Daily Bruin headline read, "Students Arrange Many Hallowe'en Parties: Mid-Terms Fail to Scare Collegians Into Study." The paper went on to describe the scene on campus that year. "Hallowe'en, that popular event of childhood, seems to still hold its mysterious allure. Doomed to scholarly dignity most of the time, the more frivolous element are planning to 'act their age' and 'express themselves' to their hearts content by masquerading as ghosts and soaping windows, ringing door bells and creating general havoc without reprimand."

1960
Balls, dances, get-togethers took place across campus during the 1930s, 40s and 50s. Bruins celebrated at parties like the Halloween Hop. This festive event took place in the Women's Gym with live music and Halloween theme dances like the "Jack o Lantern Jig" and the "Goblin Gallop."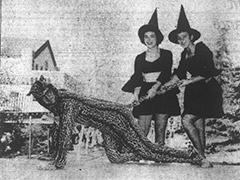 1960
In the 1960s, UCLA students went to the Halloween Howl on the Hill and the Halloween Hop, among other events. To promote their Halloween dance, a group of pranksters let mice lose in Sproul cafeteria. According to the October 1960 edition of the Daily Bruin, "The little red-eyed fur-balls, looking more frightened than the girls they were making hysterical, appeared to be some foreboding invitation to the all-dorm street dance which was held later that night." And from the following day's headlines "Sproul Hall Halloween Celebration Explodes Into Tumultuous Uproar," the party was shut down after coed trick-or-treaters "armed with pumpkins, water and aerosol shaving cream cans, turned the hall's men's wing into a water soaked battleground."
Though times had changed, in the 1970s Bruins kept a sense of humor about the holiday.
| | |
| --- | --- |
| | |
| 1975 | 1982 |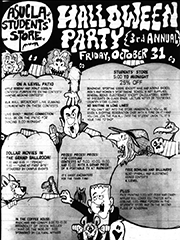 1980
Getting in the spirit of the holiday, Associated Students UCLA (ASUCLA) started a pumpkin carving competition in 1978, a tradition that's still going strong nearly 40 years later. ASUCLA staff members design and create elaborately carved pumpkins that go on display in Ackerman Union, adding to the festive spirit of the holiday.
1978 was also the year of the first ASUCLA party and Student Store sale. Students celebrated Halloween with disco dancing, pumpkin carving, live performances and a costume contest. Nearly 3,000 students showed up for the sale and party. In 1979 the second sale was even bigger and better, and an annual event was born.

2014
The first All Hill Halloween took place in 1986 when local schoolchildren were brought to the UCLA dorms for a safe and fun night of trick-or-treating. Since then, thousands of costumed kids have made the trek to UCLA, and Bruins have joined in the fun by dressing in costume and handing out candy. Sadly, this tradition is currently on-hiatus because of all the construction in recent years.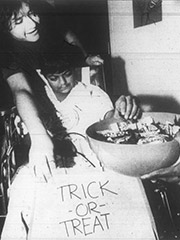 1992
Young patients at Mattel Children's Hospital UCLA don't miss the chance to trick-or-treat, as visitors, including UCLA faculty, staff and students, bring the holiday to them. This tradition began in the late 1980s and has been a way to make sure these children don't miss out on the fun of Halloween.
Never ones to miss a good party, especially one with snacks, UCLA staff join in the Halloween fun by dressing up in costume. UCLA's Staff Assembly hosts a costume contest for staff members, encouraging everyone to channel their inner witch, black cat, or superhero.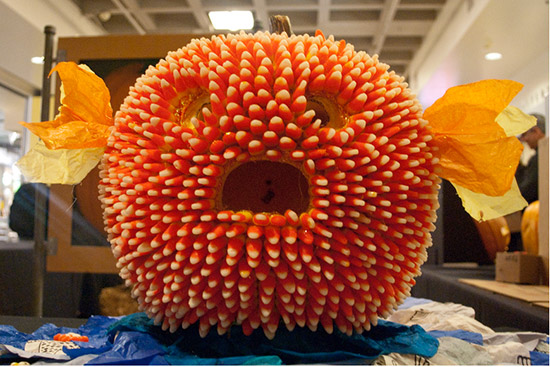 2011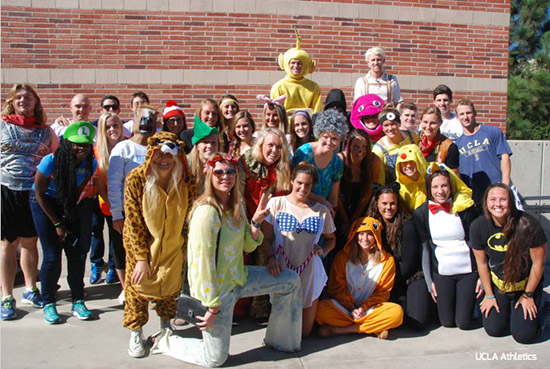 2013
We'd love to see your Halloween photos and traditions from when you were a student at UCLA! Please send them to community@alumni.ucla.edu.
Happy Halloween!