The UCLA Alumni Band started off this season on a high note. The band celebrated its 40 year anniversary by honoring its founding members and recognizing that UCLA spirit is about family, music and pride, as much as it is about tradition.
The band's pride in UCLA is almost tangible. In a football game against USC, when asked not to bring their instruments into the stands, members brought in kazoos instead, "We played our fight songs, and even did a pretty good rendition of the 1812 overture using trash can lids for the cannon!" related percussionist Carmen Rexach '75. "We are really not just an alumni band, we are a Bruin family. Many of us have known each other for 40 years, some longer because they were band friends when they were students."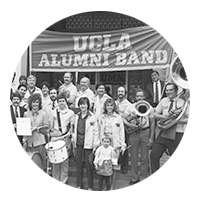 The band was formed in 1976 when the UCLA Athletic Department, partnered with the marching band, approached a group of recent graduates and sports enthusiasts to support the new alumni section that was being developed in the L.A. Coliseum. Interest in the band grew and the founding members quickly found themselves performing pregame concerts.
From the start, the founding members created an inclusive environment, inviting family members and spouses into the fold. The band grew quickly and went from playing their instruments at the Coliseum and hosting pot luck tailgate parties to marching in the Doo Dah and Marina Del Rey Parades. Despite the growth and change over the years, the heart of the band remains the same explained Rexach, "We have grown from the original group of former band members to a group of sports fans and musicians whose commonality is a love of music, a love of sports and a love of UCLA."
The alumni band has always been open to all UCLA alumni that can play a band instrument. Membership is not restricted to former UCLA band members or other performing groups in the music departments. Joel Fierberg '82, the musical director, has a key role in bringing together players of different ability to form the band's cohesive sound. "If you play a band instrument and are a UCLA alumnus, you are welcome to join us. It makes it fun; we get people from all sorts of communities and stages of life. It's a really diverse group," related Fierberg.
From the tried and true classics like "Sons of Westwood" to top 40 hits like "Shake It Off," the alumni band can bring energy and excitement to a crowd and a renewed respect for the soundtrack that represents all generations of the UCLA community. "Our members, depending on what years they were in the band, will recognize certain numbers in our repertory. It is a chance to play old familiar tunes and learn some new tunes. We play all the school fight songs going all the way back to the formation of the university," said Fierberg, who oversees the music selection as well as conducts the band and organizes game day operations.
The band held its annual preseason rehearsal this past August. Band members new and old filled the home of former president and trombone player Ed Hirsch '61 for the day long event that resembled a family reunion as much as a band practice. True to the pot luck tradition started in the early years, Hirsh's kitchen was filled with salads, sides and desserts and the grill prepped for the afternoon's festivities.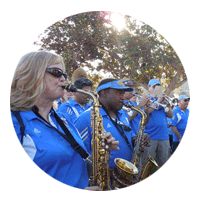 The rehearsal kicked off the band's performance season and was an opportunity for members to reconnect with friends, brush up on the UCLA classics and learn new material. While there is only one formal rehearsal each year, Hirsch has faith in the process and encourages musicians of any level to get involved. "Each football game is a rehearsal on top of the one yearly rehearsal. We get better as time progresses."
This season, the band will be playing for two hours before each football home game at the Rose Bowl in the fan zone, followed by a 30 minute set in the Court of Champions before kickoff. They can also be found at UCLA Women's Gymnastics meets and various events on and off campus. "We have endless enthusiasm. We do 25 performances a year right now for whoever's asks us on campus and you never know what opportunities are going to come. We hope to continue to grow we hope that people who are graduating and have been in the marching band who enjoyed their experience want to continue a little more informally," said Fierberg. In recent years, their love for UCLA brought them oversees to Shanghai, China to represent the school at an international tourism festival.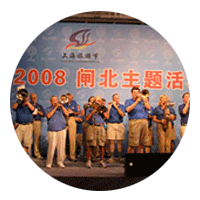 This "rag tag" group of musicians came together because of common interests in UCLA and playing music, but has stayed together for the fun, the friendship, some might say, the food but most importantly, the family. "When I think of how things were when we first started and how the entire tailgate thing has evolved into such an incredible event, it stands to reason that our band will be shaped by the demands these changes bring. However, as long as there are Bruin fans who love music and love sports, I think we will have an alumni band," said Rexach, "the alumni band will continue to be a family event and this will also continue to help us bring more young future Bruins into the fold."
Over the last 40 years, the band has grown and changed to meet the needs of its members and the school but at its core, the mission is still the same explained Hirsch, "We wouldn't be doing this if we didn't like it or want to be involved with UCLA. But we all do it because we love the school and we love to play."