NOVEMBER 2015 | YOUNG ALUMNI EDITION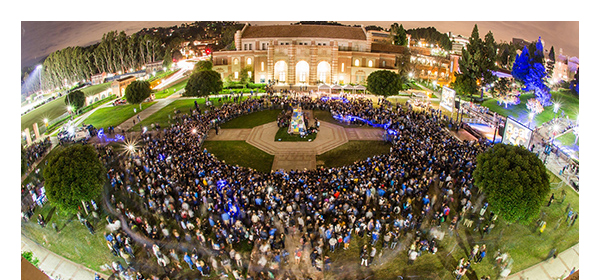 Beat 'SC Bonfire and Rally Livestream - Nov. 24. Let's make it four in a row! Join in the revelry and excitement of this annual tradition as the Bruin Spirit is out in full force. The night will feature amazing student performances, a championship tribute, celebrity guests (like India Carney '15), and the always-entertaining UCLA Football team. Visiting alumni receive front-stage VIP seating. Or enjoy the show online via livestream beginning at 7 p.m. PST.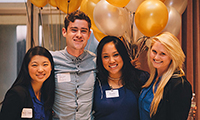 Young Alumni Resource Page
Here's a one-stop-shop for all-things pertaining to young alumni. This new page includes upcoming and past events, relevant articles and opportunities to get involved. Check it out and save it as a favorite.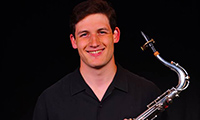 Cruisin' to the Music
Being an entertainer on a cruise ship can be a sweet gig. See the world, sleep in, start work at 5 p.m. But as Matthew Gafney '14 describes, it comes at a cost that you may not have realized: months at sea, detachment from loved ones and a craving to play from the heart.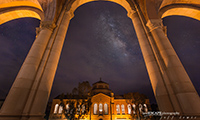 More than a "House of Cards": Affecting Change through Civic Engagement & Politics – Nov. 12, L.A.
Interested in engaging in the political process, supporting a specific cause, or advocating for higher ed.? Hear from Bruins who currently hold public office, and advisors to top politicians like Hillary Clinton and Gov. Schwarzenegger, to learn how they work to affect change. Food provided. RSVP today.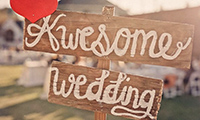 Engaged and Inspired: Your Bruin Guide to Wedding Planning - Dec. 6, UCLA
Save the date for the big day. No, not your wedding day, but the day where you can learn from Bruin experts about the best ideas, resources and strategies to help plan your big day, or that of someone you care about. Get insights on wedding planning and meet Bruin vendors with great deals. Look for an upcoming email with more details.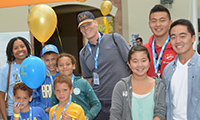 2016 Preview: UCLA Awards and Alumni Day
This spring, the annual UCLA Awards gala will honor the best of UCLA alumni, including our most dedicated volunteers. Nominate an outstanding Bruin for one of the award categories. UCLA Alumni Day is moving to the fall and will feature many exciting events including the relocation of Founders' Rock.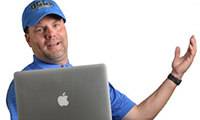 Apple Education Pricing Now Open to UCLA Alumni
Save up to $200 at the UCLA Computer Store with Education Pricing on MacBook, MacBook Pro, MacBook Air, iMac and iPad. Shop online and receive free delivery. This exclusive offer is available only at the UCLA Store and uclastore.com.





UCLA Ranked No. 8 in the World by U.S. News and World Report



More Bruins Connect with UCLA Through Alumni Networks, Membership









UCLA Blueprint Fall Issue - Rich and Poor: Inequality and Society



Madame Vice Chancellor Louise Richardson, M.A. '80 Shatters the Glass Ceiling at Oxford



UCLA Researchers Design AirForU App that Checks Your Local Air Quality



UCLA Social Enterprise Academy, Facilitating Local Nonprofit Ventures, Receives $100,000 Gift
















Black Convocation Speaker Christine Simmons '98 Urges Students to Embrace Perseverance, Diversity and Empowerment



Twenty 'Big Bang' Scholarship Recipients Meet the Cast and Crew of the Show






Donate or Register for the We Run the City 5K and Help Beat 'SC - Nov. 22, Exposition Park








Host a Dinner for 12 Strangers and Enjoy an Experience Like No Other





Cuban Travel Study Program Breaks Down Student, Alumni Misconceptions



UCLA and XPrize Launch a New Initiative: FUTURIZE X 'The Future of Mankind in Space' - Nov. 6



J. Daniel Johnson '69 Returns to Campbell Hall 46 Years After Black Panther Shooting



Cinematographer, Dean Cundey '68, Discusses Success of 'Back to the Future' Series



Q&A: UCLA Alumni Reflect on Armenian Genocide Through Film '1915'







Liberty Mutual has Partnered with Your Alumni Association to Offer You Exclusive Savings on Quality Auto and Home Insurance. Call 1-888-379-2530 or Visit Liberty Mutual to Get a Free Quote.





AMERICAN INDIAN ALUMNI OF UCLA



Nov. 13, UCLA | American Indian Fashion Show



Nov. 14, Pasadena | American Indian Alumni Tailgate


ASIAN PACIFIC ALUMNI OF UCLA



Nov. 3, UCLA | APA UCLA Board Meeting



Nov. 25, Los Angeles | APA UCLA Rivalry Mixer with USC Asian Pacific Alumni Association


BLACK ALUMNI ASSOCIATION



Nov. 7, UCLA | Application Workshop



Nov. 14, Los Angeles | Board Meeting


BEACHSIDE BRUINS NETWORK



Nov. 12, Long Beach | Beachside Bruins General Meeting


CHANNEL ISLANDS NETWORK



Nov. 10, Oxnard | Happy Hour


LAMBDA (LGBTQ) ALUMNI ASSOCIATION



Nov. 10, UCLA | UCLA Lambda Alumni Scholarship Reception


LATINO ALUMNI ASSOCIATION



Nov. 14, Pasadena | UCLA Latino Alumni Association Tailgate


LOS ANGELES DOWNTOWN NETWORK



Nov. 3, Los Angeles | Board Meeting


LOS ANGELES SOUTHEAST NETWORK



Nov. 19, Whittier | Save the Date: Southeast L.A. at Bizarra Capital


ORANGE COUNTY NETWORK



Nov. 11, Newport Beach | Network Meeting



Nov. 14, Irvine | OC Bruins Hike @ Bommer Canyon



Nov. 21, Irvine | Volunteer at Second Harvest Food Bank



Nov. 21, Costa Mesa | Young Alumni Game Watch: UCLA vs. Utah


PILIPINO ALUMNI ASSOCIATION



Nov. 7, Los Angeles | Welcome to the City: Festival of Philippine Arts and Culture


ROSE BOWL BRUINS



Nov. 23, Pasadena | UCLA vs. USC Rivalry Week Challenge


SACRAMENTO COUNTY NETWORK



Nov. 8, Sacramento | Welcome to the City: Farm-to-Fork Lunch and Crocker Art Museum


SAN DIEGO NETWORK



Nov. 12, Del Mar | Culinary Tour - Il Fornaio


SAN FRANCISCO BAY AREA NETWORK



Nov. 13, Mountain View | Cup of Java @ Silicon Valley



Dec. 4, San Francisco | San Francisco Cup of Java



Dec. 11, Mountain View | Cup of Java @ Silicon Valley


UCLA THEATER, FILM AND TELEVISION



Nov. 14, UCLA | Los Angeles International Culture Film Festival


UCLA ALUMNI ASSOCIATION



Nov. 14, Pasadena | Bruin Bash @ the Rose Bowl - Washington State



Nov. 28, Los Angeles | Bruin Bash @ USC



UCLA Alumni Connect, Vol. 14, No. 11, Young Alumni Edition | Other Editions
UCLA Alumni Affairs, James West Alumni Center, Los Angeles, CA 90095

©2015 UCLA Alumni Affairs