A Tough Act to Follow: Dr. G. Jennifer Wilson to Retire
By Jennifer Lindholm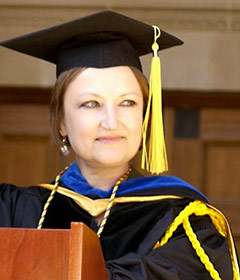 At the end of this academic year, Dr. G. Jennifer Wilson, assistant vice provost for Honors, will be retiring after 35 years of service to UCLA. Dr. Wilson came to UCLA in the fall of 1980 and taught in the nascent Honors Program, established in 1979. She was appointed assistant dean in 1984 and has held major leadership roles in Honors ever since. Wilson has received many accolades for her work, including awards for teaching, advocacy of writing in the curriculum, and contributions to the special series of courses called the Honors Collegium. Current dean and vice provost for undergraduate education Patricia Turner remarks, "With her distinctive and appealing British accent, Jennifer has a way of saying 'our honors students,' with a singular force that conveys the depth of her commitment to providing them with a rigorous and rewarding honors curriculum."
Colleagues laud Wilson's verve and talent, capacity to facilitate creativity and excellence in undergraduate education, and deeply felt commitment to students, noting that her kindness, patience and continual positivity provide daily inspiration. Students recall Wilson's unwavering support as a blessing to anyone who had the opportunity to learn from her, describing her further as a champion for student success who bestowed incredible wisdom and enlightenment that will continue to resonate in our academic and personal lives. Asked to reflect on her work, Dr. Wilson shared:
Professor Mark Morris (physics and astronomy) once taught a course in the Honors Collegium on the origins of the universe called 'We are Stardust.' When people ask me what I do, I tell them that I deal in stardust. Truly, in Honors at UCLA, I have had the most imaginative and inspired leaders in my deans, the most talented and committed colleagues in my counselors and staff, the most intelligent and pedagogically inquisitive faculty and the most extraordinary students. I like to remind my students, as they go on to be professors and lawyers and doctors and leaders and artists and parents themselves, that education is the business of passing on civilization to the next generation. I have the extraordinary satisfaction of committed service because I know that I have touched thousands of lives; but I say that with humility, because my students and faculty and staff at UCLA have also deeply touched me and I can thrill in the joy of our symbiosis: the pleasure of team work; the passing on of knowledge; the aspiration to wisdom; the great good humor of a job well done.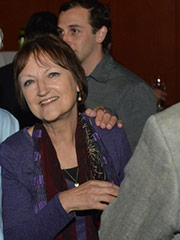 To be sure, it is hard to imagine the UCLA Honors Program without Jennifer Wilson at the helm. She is, indeed, one of the gems of UCLA and a tough act to follow! Her contributions have been broad and deep, and she will be greatly missed. On the occasion of her retirement, and to honor her professional legacy and personal contributions, the UCLA Division of Undergraduate Education has established the G. Jennifer Wilson Fund for Teaching Excellence and Innovation in the Honors Curriculum.