MARCH 2015 | YOUNG ALUMNI EDITION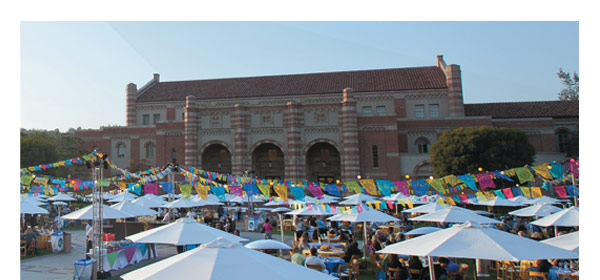 Save the Date May 16 for UCLA Alumni Day. Come share good times and great memories with fellow Bruins. Network with other alumni. Tour campus VIP-style including the Hill and Acosta Center. Celebrate UCLA Awards winners. Gather together for dinner at Wilson Plaza and stay for Spring Sing. Keep an eye out for your official invitation.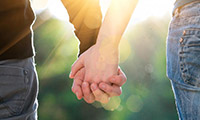 Love Wise: The Science Behind Thriving Relationships - March 18, UCLA
Two experts from the Relationship Institute at UCLA will explain their scientific findings on how to make love last. Both dynamic and entertaining, they'll present research that can be put into practical use, whether you're single or a couple, helping you create relationships that are strong and fulfilling.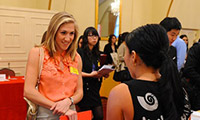 Recruit L.A. Career Expo - March 19, Los Angeles
Meet and network with dozens of L.A.'s leading employers at an exclusive event for UCLA alumni and other elite universities. Whether you're looking for work at your career stage, exploring options for a second career or just open to networking, all the best opportunities will be present. Also receive a complimentary headshot.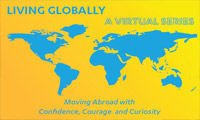 Living Globally II - Once I Arrive
Join UCLA Alumni online at 11 a.m. PST, March 19, as we pick up where Part One of the Living Globally virtual series ended about moving abroad. Three Bruins share their first-hand experiences, tips and insights to make your transition smooth and avoid costly or embarrassing mistakes.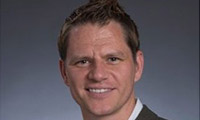 Advancing the Career Center and Your Career
Wesley Thorne, the new executive director of the UCLA Career Center, is excited about the future of the organization. "Everyone has a vested interest in seeing the Career Center succeed, because that means alumni are finding quality jobs and driving up the value of a UCLA degree."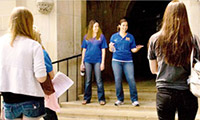 Off the Record: Overheard on a Campus Tour
This time of year is peak season for campus tours of the most applied-to university in the nation. Each tour guide adds a unique charm to their tour by inserting some ad lib jokes, personal anecdotes and off-the-script Bruin trivia. Here's a collection of quotes some students heard on their campus tour.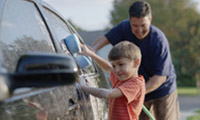 Auto Savings from Liberty Mutual Insurance
UCLA Alumni has partnered with Liberty Mutual to offer you quality auto and home insurance. For more information on this program, you can contact one of Liberty Mutual's licensed representatives at 1-888-379-2530 or visit Liberty Mutual Insurance.





Major Changes Announced for UCLA Health Sciences and UCLA Health System's Leadership



Chancellor Addresses Campus Community About "Holding Ourselves to a Higher Standard"



Cheng Wang, Ph.D. '13 and Fang-Li Yuan, Ph.D. '14 Win Award for Redesigning Devices that Power Computers, Cellphones



UCLA Receives $10 Million Donation for Wasserman Football Center from Carol and Jim Collins '50



15 UCLA Residency Programs Rated Among 10 Best in Western U.S.



Professor and Three Alumni Present Findings on How to Tell When Someone is Lying



Video: Snoop Dogg Talks About Son, Cordell Broadus, Committing to UCLA





Class Notes: See What's Up with Fellow Bruins and Post Your Own Career Updates



Learn the Art of Networking from Foremost Expert Dr. Bill Saleebey '70, Ph.D. '80 - March 25, James West Alumni Center



Join Young Alumni Professionals in the Bay Area for Happy Hour at the Royal Exchange - March 12, San Francisco



Bruin Career Connections Fair for BruinView Subscribers - April 15, UCLA





Audio: A Salute to UCLA Freedom Riders and Their History-Making Journey, Portraits on Display at James West Alumni Center






Dance Marathon Invites You to Its Second Annual Alumni Reception - April 18, UCLA



Video: Bruins Russell Westbrook and Zach LaVine Headline NBA All-Star Weekend as MVP and Slam Dunk Champ. See LaVine's Amazing Dunks



Teacher Mary Hazlett's '94 Students, Who Regularly Give Blood, Meet the Man Whose Life They Saved



Video: Joe Bruin Makes Appearance on The Tonight Show with Jimmy Fallon





Help Select the 2015-16 Alumni Scholarship Recipients by Reading Applications, Interviewing Candidates or Judging Competitions



Host a UCLA Student for a Day at Your Workplace for a Job-Shadowing Experience - March 23-26





New Webinar Series: Empower Hour This Month Will Focus on Violence Against Women and Resiliency



Briana Perez '14 and Brittany Ko '13 Enrich Lives of Young Artists In and After School



Award-Winning Oregon Shakespeare Festival Comes Alive with Exclusive Lectures by UCLA Professor Stephen Dickey





ASIAN PACIFIC ALUMNI OF UCLA



May 31, Hollywood | Motown the Musical


BLACK ALUMNI ASSOCIATION



March 22, Mammoth | UBAA Annual Ski Trip


LAMBDA (LGBT) ALUMNI ASSOCIATION



March 4, Los Angeles | USC vs. UCLA Men's Basketball Viewing Party


LOS ANGELES SOUTH BAY NETWORK



March 17, Palos Verdes | Book Club


LOS ANGELES WESTSIDE NETWORK



March 7, Santa Monica | All Pac-12 Alumni Pub Crawl


ORANGE COUNTY NETWORK



March 7, Irvine | Volunteer to Fight Hunger



March 7, Huntington Beach | Yappy Hour



March 11, Newport Beach | Orange County Network Meeting



April 8, Newport Beach | Network Planning Meeting



April 11, Irvine | Volunteer to Fight Hunger


SAN DIEGO NETWORK



March 18, Oceanside | Culinary Tour: Joe's Crab Shack



March 21, San Diego | Urban Hike: Seven Bridge Walk



March 24, San Diego | UCLA Baseball at San Diego State



March 28, San Diego | San Diego Crew Classic


SAN FERNANDO VALLEY NETWORK



March 21, Van Nuys | Volunteer with Operation Gratitude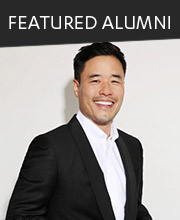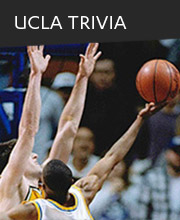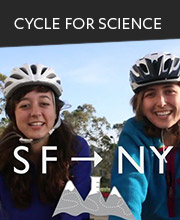 UCLA Alumni Connect, Vol. 14, No. 3, Young Alumni Edition | Other Editions
UCLA Alumni Affairs, James West Alumni Center, Los Angeles, CA 90095

©2015 UCLA Alumni Affairs