FEBRUARY 2015 | YOUNG ALUMNI EDITION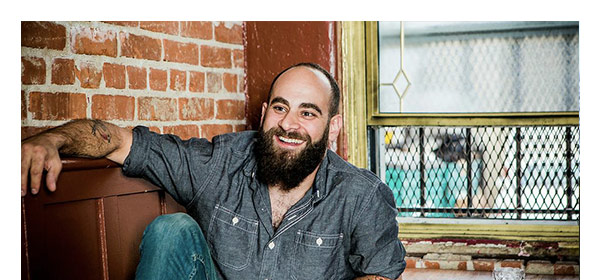 Bruin Foodies: In the Spirit of Cocktails with Josh Goldman - Feb. 25, Santa Monica. From bartender to barmacist, Josh Goldman '05 is sharing his expertise in mixing craft cocktails with young alumni. Learn about this entrepreneur's journey as one of the most sought-after counselors of wine and spirits, and have a taste of one of his delicious concoctions.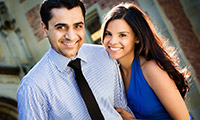 Bruins in Love
During the month of romance, we celebrate five couples who found their love for each other at UCLA. Read the stories of how their courtship began and continues to this day. If you are a Bruin in love, send your story to community@alumni.ucla.edu for a chance to be featured on the UCLA Alumni Facebook page.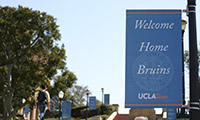 What Can You Do in a Day at UCLA?
From academic and cultural offerings, to traditional landmarks and new additions to the campus, there are so many things to see and do. Here is a taste of what you can enjoy on your next trip back to your alma mater. Save the date May 16 for UCLA Alumni Day.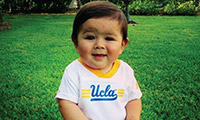 Alumni Class Notes
Whether it's about career or relationship advancements, or the announcement of a birth or passing, check out the life changing experiences of fellow Bruins and share your own class note.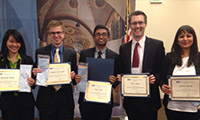 Alumni Recognize Distinguished Seniors
The True Bruin Distinguished Senior Award recipients were selected this past fall showcasing the exemplary students at UCLA. Alumni volunteers helped determine the five finalists as they have done throughout the 78 year history of the Alumni Scholarships Program. Take part in selecting the next group of freshman and transfer Alumni Scholars. Volunteer today!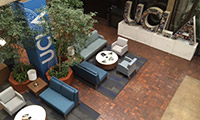 The Alumni Living Room at the Heart of Campus
The James West Alumni Center, located between Pauley Pavilion and Ackerman Student Union, is undergoing a renovation to provide a more welcoming and relaxing space that returning alumni can proudly call home. See what's changed and be sure to stop by on your next visit to campus.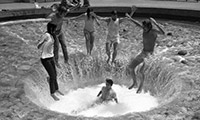 UCLA True Bruin Traditions Keeper App
What if there was a prize for attending the Beat 'SC Bonfire or watching Spring Sing? UCLA students have a new bucket list in the form of an app that documents each experience with a UCLA tradition. Complete enough traditions and they'll earn a medal for Commencement, a trip to an award ceremony hosted by alumni and a UCLA experience they'll never forget.





UCLA's Akeem Ayers and Matthew Slater '07 Help Patriots Win the Super Bowl



Audio: Lost Recording of Martin Luther King, Jr. 1965 Speech at UCLA Uncovered by Archivist



UCLA Receives Record Number of Applications for Fall 2015, Most in the Nation



$10 Million Bequest from Gordon Smith '63 Funds Scholarships at Graduate School of Education and Information Studies



The Legacy of Henry Waxman '61, J.D. '64, Who Recently Retired from Congress After 40 Years



UCLA Student Groups Hold Vigil for Victims of Charlie Hebdo Attack



Senator Kristen Gillibrand, J.D. '91, Spoke at UCLA Law During Launch of Initiative Empowering Law Alumnae



UCLA Engineering Receives $2.5 Million Donation from Mukund Padmanabhan, M.S. '89, Ph.D. '92




Bruins in Forbes' 30 Under 30: Catharine Ahearn (Art & Style), Christopher Conway (Venture Capital), Este Haim '10 (Music), Carrie Hammer '07 (Retail-Commerce), Natalie Kim '08 (Marketing-Advertising), Om Marwah '12 (Enterprise Tech), Jeron Smith (Marketing-Advertising)



Meet with Recruiters and Employers at Nonprofit Networking Night - Feb. 10, UCLA



Video: Bruin Brent Bushnell, Co-Founder of Two Bit Circus, Mixes Technology and Spectacle





Ann Wang '13 and Jessica Willison '13 Won a $400,000 Validation of Their Idea



MLK Day of Service: Students and Their Alumni Mentors Painted Murals at an Elementary School



TV Series Creator Darren Star's '83 Donation to TFT Opens New State-of-the-Art Screening Room



Team Alumni Top 2015 Bruins, 5-0, at Annual Alumni Baseball Game



Mohini Bhardwaj '08 to be Inducted into USA Gymnastics Hall of Fame





Alumni Leadership Invite You to Volunteer for Alumni Scholarships Program



Share Your Long Hair with Someone Suffering from Medical Hair Loss, Plus Get a Free Haircut - Feb. 5-6, UCLA





From the Globes to SAG to Oscars, Here's Your Bruin Connection to Movie Award Season


Video: Culver City's 10th Annual MLK Celebration Featured an All-Bruin Panel: Robert Farrell '61, Bobby Grace '84, Kokayi Jitahidi '05, Funmilola Fagbamila and Music by Keschia Potter '02, M.A. '05



Chancellor Block Op-Ed: Funding Two Years of College is a Small Price to Pay to Get Educated Workers



Former LA County Supervisor, Zev Yaroslavsky '71, M.A. '72, Stepped Down After 20 Years; Helped Shape Westwood Development



Twelve TFT Alumni Had Films that Premiered or Competed in Sundance Film Festival



2015 Economic Outlook: Entertainment and the Economy of the Golden State, Save $70





Your Children Will Remember What You Share. Begin Early With a ScholarShare 529 College Savings Plan.








SAN FRANCISCO BAY AREA NETWORK



Feb. 5, Palo Alto | UCLA Basketball at Stanford


ORANGE COUNTY NETWORK



Feb. 4, Newport Beach | Network Meeting



Feb. 7, Irvine | Yappy Hour



Feb. 8, Los Angeles | Back to School for Lunch



Feb. 27, Irvine | UCLA Men's Volleyball vs. UCI


UCLA ALUMNI AFFAIRS



Feb. 6, UCLA | Journey to Change: From the Freedom Riders to Ferguson



Feb. 28, March 7 & 8, Various | Attend a Local Dinner for 12 Strangers



May 16, UCLA | Save the Date: UCLA Alumni Day


CHANNEL ISLANDS NETWORK



Feb. 7, Camarillo | Peruvian International Dinner



Feb. 17, Oxnard | Mardi Gras Celebration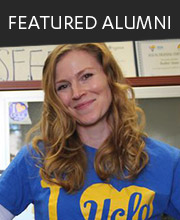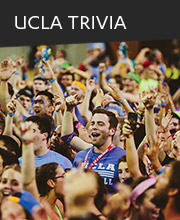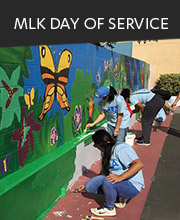 UCLA Alumni Connect, Vol. 14, No. 2, Young Alumni Edition | Other Editions
UCLA Alumni Affairs, James West Alumni Center, Los Angeles, CA 90095

©2015 UCLA Alumni Affairs