DECEMBER 2015 | YOUNG ALUMNI EDITION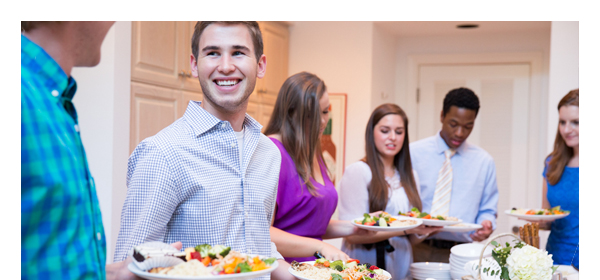 Host a Dinner for 12 Strangers. As a host, you call the shots, pick the food, set the décor and drive the conversation. And in return, you fill your home with laughter, delightful conversations and newly-formed Bruin friendships. You'll never know how much fun it is until you give it a try.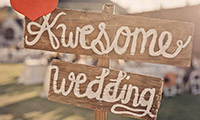 Engaged and Inspired: A Bruin's Guide to Wedding Planning - Dec. 6, UCLA
Are you engaged, single or optimistically planning ahead? This program will inspire you with great ideas not just for your wedding, but for any event. If you, or someone you know, is planning a wedding in the near future - this will be the perfect setting to get all your questions answered by the experts, as well as find the right Bruin vendors for your budget. Photo credit: Beaux Arts Photographie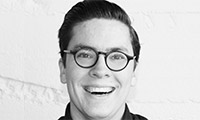 Young Alumni Spotlight: Matthew Manos '10
Matthew Manos started his design and strategy consultancy, Verynice, while a sophomore at UCLA, where his clients were student groups. His company has now completed more than $4 million in pro bono work. Learn how he's changing the world by helping out nonprofits.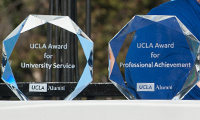 Nominate an Everyday Hero for a UCLA Award
They walk among us, distinguished Bruins, who by their hard work, achievements and integrity, exemplify a True Bruin. You needn't look too far to identify that everyday hero who deserves a UCLA Award. See the categories and nominate a person or persons who make you proud to be a Bruin. Award recipients will be honored by the UCLA community and their peers on May 7.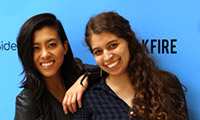 Evolving Entrepreneurs Launch, Grow and Give Back
When Ann Wang '13 and Jessica Willison '13 launched their socially-conscious startup, Enrou, they didn't realize what sorts of opportunities would later open up for them and their company. Now with new vendors and a new product line, they're taking their company to new heights, while still staying true to their Bruin roots. Check out the Enrou holiday discount for Bruins.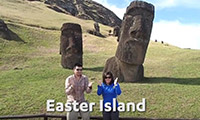 Video: 2015 8-Clap Heard Around the World
Making its debut at the Beat 'SC Bonfire and Rally, the sixth rendition of the 8-Clap video shows us that the Bruin Spirit can be found all over the world, among all ages and backgrounds. Once a Bruin. Always a Bruin. Everywhere a Bruin.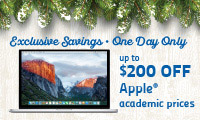 Alumni Save Big at the UCLA Computer Store
Dec. 2 - For one day only, the UCLA Computer Store is offering big savings on select MacBook, MacBook Pro, MacBook Air, iMac and iPad models. Save up to $200 off Apple's academic prices. That's $400 off the regular price. Reserve your model today!





David Geffen Donates $100 Million to Launch Innovative UCLA School for Grades 6-12



UCLA and Other UCs Join Campuses Nationwide on White House Climate Pledge



UCLA Community Salutes Military Service Members and Veterans



Regents Approve Plan to Increase UC Resident Enrollment by 10,000



Dave Roberts '95 Named Dodgers Manager, Read More in Class Notes





Q&A with Erick Oh, M.F.A. '10 About Life as a Pixar Animator, Including a Glimpse Into "Finding Dory"



Tony Hong '00 Goes from Doodling in Powell to Showcasing His Art





UCLA School of Theater, Film and Television Sundance Film Festival Reception - Jan. 23, Park City, UT



Video: Students Organize Vigil in Support of Victims of Paris, Beirut Attacks



Video: Bruins Stand in Solidarity with Mizzou Students Protesting Racist Incidents



At 17, Moshe Cavalin '13 Has Written a Book, is Nearly Done with His Master's and Works at NASA for Extra Money



Faysal Saab, M.D. '12 Shares His Stories of Hope: "This is Why I Go to Malawi"



UCLA Salutes Medal of Honor Recipient Captain Florent Groberg





Harold Williams Receives the Highest Honor Bestowed by the UCLA School of the Arts and Architecture



Q&A: Sy Stokes '15 Talks Life After the "Black Bruins" Video



Alumna Creates STEMsocks to Change Stereotypes About Scientists





Visit Review.com to sign up for a free practice test (MCAT, LSAT, GRE or GMAT)


Join the UCLA Alumni Wine Club: Get Access to Exclusive Alumni Events, Daily Complimentary Tastings and Special Pricing on Wine and Safari Tours in Malibu! Click Here or Call 818-570-1890


Join Maria Sharapova, Kei Nishikori, Madison Keys, Jack Sock, Andy Roddick, Michael Chang, Laura Robson and Chelsea Handler for a Weekend of Professional and Celebrity Tennis - Dec. 12-13, L.A. Tennis Center



UCLA Alumni Have the Advantage of Choosing Appropriate and Affordable Health Care Using Mercer Marketplace, Powered by GetInsured





ASIAN PACIFIC ALUMNI OF UCLA



Dec. 3, Los Angeles | Toy Drive for the L.A. Community


CENTER FOR THE ART OF PERFORMANCE AT UCLA



Dec. 4, UCLA | Booker T. Jones and Black Joe Lewis Concert and Exclusive Pre-Show Reception (Alumni Members Only)


CENTRAL COAST NETWORK



Dec. 6, Avila Beach | Central Coast Bruins Lighthouse Tour


LOS ANGELES SOUTHEAST NETWORK



Dec. 10, Downey | Holiday Party and Toy Drive


LOS ANGELES WESTSIDE NETWORK



Dec. 15, Los Angeles | Holiday Party


ORANGE COUNTY NETWORK



Dec. 9, Irvine | Winter Holiday Party


PILIPINO ALUMNI ASSOCIATION



Dec. 10, Los Angeles | End-of-Year Mixer


SACRAMENTO NETWORK



Dec. 10, Sacramento | Holiday Party


SAN DIEGO NETWORK



Dec. 19, San Diego | Volunteer at Local Food Bank - Feeding America


SAN FRANCISCO BAY AREA NETWORK



Dec. 4, San Francisco | Cup of Java



Dec. 11, Mountain View | Cup of Java in Silicon Valley



Dec. 12, San Francisco | UC Night at the San Francisco Symphony


UCLA ALUMNI AFFAIRS



Dec. 3, UCLA | UCLA vs. Kentucky Men's Basketball Pregame Party



UCLA Alumni Connect, Vol. 14, No. 12, Young Alumni Edition | Other Editions
UCLA Alumni Affairs, James West Alumni Center, Los Angeles, CA 90095

©2015 UCLA Alumni Affairs