AUGUST 2015 | SAN FRANCISCO BAY AREA EDITION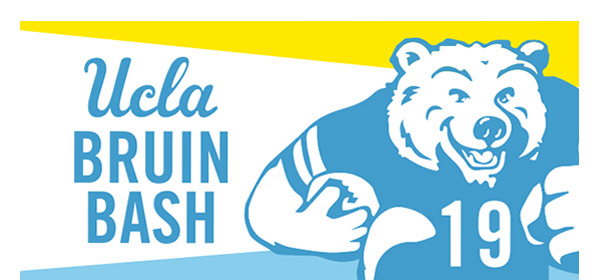 Bruin Bash 2015. Are you excited for UCLA Football? Make your reservations to the ultimate pre-game party for every game, home or away. Bruin Bash features a delicious buffet of food and beverages, a DJ, entertainment and a whole lot of Bruin spirit. See photos from last season.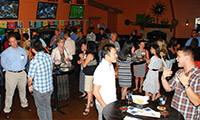 Nachos and Networking - Aug. 19
One of our most popular events is coming to Santa Clara, bringing Bruins together to share stories and experiences, and have a good time. Unwind from the workday, enjoy delicious food and tap into the powerful network of alumni that is uniquely UCLA.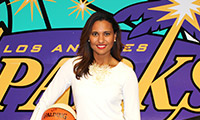 Christine Simmons '98 Leads the Way
As president and COO of the WNBA's Los Angeles Sparks, Christine Simmons began as a campus student leader in the mid-90s and has since returned home as president-elect of the UCLA Alumni Association. Along the way, she's worked with minority-owned businesses, created strategic alliances with Disney and NBC Universal, and found a mentor in Magic Johnson.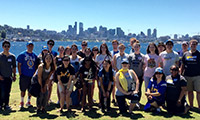 Upcoming New Bruin Send-Offs
As incoming students prepare to leave their hometowns for the educational experience of a lifetime at UCLA, join parents, students and fellow alumni in their send-off celebration. From park picnics to backyard barbeques, find a New Bruin Send-Off happening near you.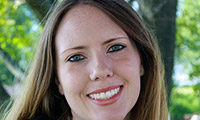 New Leadership, Partnership and Careers
As director of Partnership UCLA, Katrina Davy used collaborations across campus and in the community to help students prepare for the professional world. She recently joined Alumni Affairs to lead Alumni Career Programs and initiate new strategies and partnerships to help alumni search for jobs, make career transitions and offer opportunities for professional growth.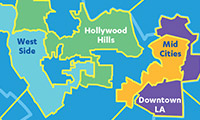 Bruins in Government
Whether it's at the local, state or national stage, UCLA alumni have served in public office at every level of government. While representing constituents of their district, they bring honor to the university through their public service and their common Bruin heritage. Get to know the active Bruins in office representing L.A., several California districts and New York State.






The 2015 Special Olympics World Games Take Center Stage, Eight Sporting Events Held on Campus






UCLA Hospitals Rank 3rd in the Country in U.S. News and World Report





UCLA Offers Admission to More than 16,000 Students for Fall 2015, Most Diverse Group in Campus History



UCLA Hosts Global Forums in Hong Kong, Taipei and Tokyo to Strengthen Ties in Asia





Christine McCarthy, M.B.A. '81 Named C.F.O. of The Walt Disney Company, Learn More in Class Notes








Charleston Shooting Brings Campus Community Together in Alumni Center to Grieve



UCLA Gold Medalist Rafer Johnson '59 Continues to Champion Special Olympics



For Eunice Gonzales '15, These Incredible Photos Prove What the American Dream Really Looks Like



From Broadway to Big Bird: Behind the Scenes With Sesame Street's Alan Muraoka '85



Foster Youth at UCLA Help Lead Effort to Outfit Haitian Soccer Team at Special Olympics





Get Students Off to a Great Start This Fall by Donating School Supplies for Underrepresented Students in Need





Bruins of Mixed Heritage Invited to Join the UCLA Mixed Alumni Association



Gourmet Ice Cream, Inspiring Reads, Creative Cuisine, Here's a Bruin Guide to an Offbeat Summer



Violinist Yasmeen Al-Mazeedi '15 Creates Philanthropic Pop Ensemble of UCLA Musicians



Bruin-Produced, Award-Winning Food Series 'TASTE' Captures Unifying Aspect of Food





Liberty Mutual Offers Quality Auto and Home Insurance to UCLA Alumni Association Members



Super Kiddos Make the Brightest Superstars! Open Their World to the Wonders of Education by Opening a ScholarShare College Savings Account





SAN FRANCISCO BAY AREA NETWORK



Aug. 11, Various Locations | Summer Happy Hour



Aug. 13, Mountain View | Cup of Java @ Silicon Valley



Aug. 19, Santa Clara | Nachos and Networking



Sept. 12, San Mateo | New Bruin Send-Off



UCLA Alumni Connect, Vol. 14, No. 8, San Francisco Bay Area Edition | Other Editions
UCLA Alumni Affairs, James West Alumni Center, Los Angeles, CA 90095

©2015 UCLA Alumni Affairs