APRIL 2015 | ORANGE COUNTY EDITION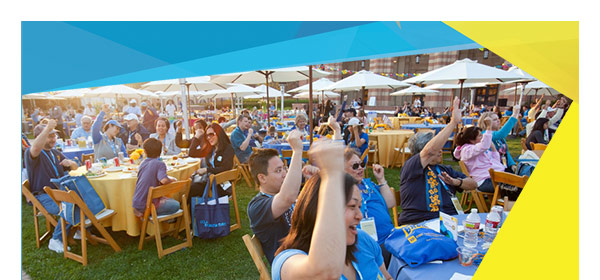 Catch the Spirit. Unleash Your Bruin Pride. UCLA Alumni Day is on Saturday, May 16, and we want you and your family to feel that rush of blue and gold pride. Reconnect with fellow Bruins, eat delicious food and hear from inspiring alumni who are revolutionizing their communities and industries. It's a great time to come back to campus and celebrate being a Bruin. Make a reservation today.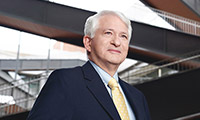 Chancellor Block: Bringing Bruins Together
From increased programming and inclusion, to complimentary membership to the Alumni Association, Chancellor Block outlines the action plan for strengthening the bonds of alumni with their alma mater, making it easier for ideas and support to flow back and forth.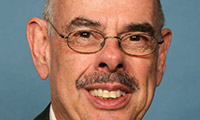 UCLA Awards 2015 Revealed
From Arthur Ashe '66 to Jackie Robinson, Carol Burnett '54 to Francis Ford Coppola, M.F.A. '67, UCLA Awards recognize alumni whose contributions to their community or field has brought great honor to the university. Topping the list is Alumnus of the Year Congressman Henry Waxman '61, J.D. '64. See who else made the distinguished honor roll and hear their inspiring stories at UCLA Alumni Day.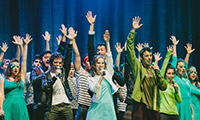 Rock Pauley at Spring Sing - May 16
More than just a talent show or concert, this 70 year old UCLA tradition showcases the Bruin spirit in performance art. Reserve your tickets for a night of amazing music, laughter and surprise celebrity guests. Alumni pre-sale on April 15-16 thru CTO or Ticketmaster, passcode: SSAlumni. Alumni Day attendees, refer to your confirmation email on how to purchase your Spring Sing tickets now.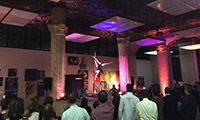 Mixin' It Up Makes an Impression
With a gorgeous venue, captivating performances and striking art, the Mixin' It Up event on March 12 at the downtown L.A. Art Walk was a remarkable cultural experience. The event demonstrated the commitment of UCLA Alumni to engaging with its diverse alumni community with avant-garde alumni relations offerings.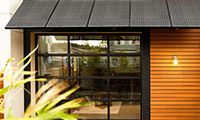 There Has Never Been a Better Time to Go Solar
Get a $500 gift card for joining the clean energy revolution with SunEdison, the world's largest sustainable energy developer. Lease, loan or buy your solar system after a free quote and consultation.








This is What Admission to UCLA's Class of 2019 Looks Like on Social Media



Women's Basketball to Play in NIT Finals, Men's Basketball Reach NCAA Sweet Sixteen, Women's Gymnastics Seeded #2 in Regionals






Twenty-seven UCLA Graduate and Professional Programs in Top 25 of U.S. News Rankings



Alan Leve's '51 $5 Million Gift Will Ensure UCLA Center for Jewish Studies Remains Among the Best in U.S.



23-Day Old Baby Receives Heart Transplant at Mattel Children's Hospital UCLA











UCLA Career Week Activities April 6-10 Open to BruinView for Alumni Subscribers











UCLA Student and Spring Sing Alumna India Carney Impresses on 'The Voice'



In Case You Missed It: UCLA Spirit Squad All Access Reception



Daily Bruin Receives 30 California College Media Association Awards Including Best Daily Newspaper



Submit a Video Clip of Yourself Saying Why You Love UCLA and Be a Part of the I ♥ UCLA Week Compilation Video this May





Help Student Practice Interviewing Professionally at Interview With a Bruin - April 29





Video: Part 2 of the Living Globally Series Answers Some Practical Questions About Living Abroad



Video: Web Series Empower Hour Features Resilient Women in the Face of Sexual Assault



Robert Farrell '61: Memoirs of a Freedom Rider and How They Changed America



Dr. Gary Small '73 of the UCLA Longevity Center Offers Pointers for Staying Mentally Fit






UCLA Arts to Host More Than 150 Performances, Lectures and Exhibits This Spring



Erik Courtney, M.F.A. '02 Talks About Being Filmed for the Reality Show "Newlyweds: The First Year"








BUNCHE CENTER



April-May, UCLA | Bunche Center Spring Events


BRUIN PROFESSIONALS



April 16, Long Beach | Inside the NCAA



April, All Chapters | Network Meetings


JONSSON COMPREHENSIVE CANCER CENTER



May 1, Beverly Hills | Taste for a Cure 2015


ORANGE COUNTY NETWORK



April 11, Irvine | Volunteer to Fight Hunger



April 18, Irvine | Bruin+PLUS Career Workshop



April 23, Dana Point | UCLA Golf Classic



April 26, TBD | End of Month Brunch



April 29, Irvine | Network Meeting


UCLA ALUMNI AFFAIRS



May 3, UCLA | UCLA Baseball vs. Gonzaga at Jackie Robinson Stadium



May 29, UCLA | Save the Date: TEDxUCLAWomen


UCLA ATHLETICS



April 25, Pasadena | UCLA Football Spring Showcase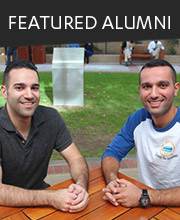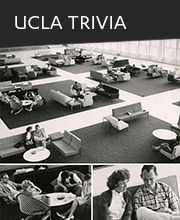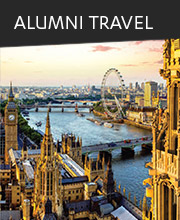 UCLA Alumni Connect, Vol. 14, No. 4, Young Alumni Edition | Other Editions
UCLA Alumni Affairs, James West Alumni Center, Los Angeles, CA 90095

©2015 UCLA Alumni Affairs