JUNE 2014 | NATIONAL EDITION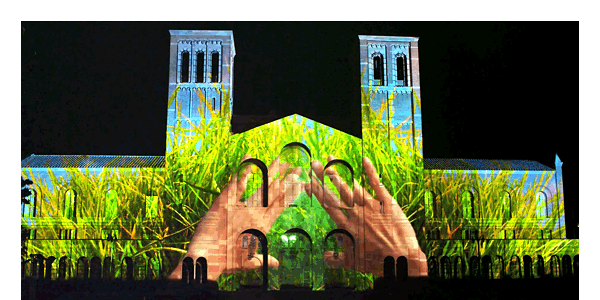 Alumni enjoyed the UCLA Centennial Campaign launch festivities. The $4.2 billion fundraising effort, launched as the campus counts down to its 100th anniversary in 2019, is the largest ever undertaken by a public university. An estimated 1,500 UCLA alumni and community supporters attended a Centennial Campaign event at Royce Hall on May 17, which culminated the three-day kick-off that included Thank UCLA Day, Alumni Affinity Reunion and a light and sound projection show on Royce Hall. See what alumni had to say about their experience.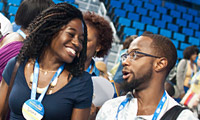 Bruins Reunited
The exciting buzz of returning Bruins getting reconnected and spontaneous rounds of 8-claps can be heard as hundreds of alumni converged onto campus for the inaugural UCLA Alumni Affinity Reunion. View event photos and plan to attend UCLA Alumni Day next spring.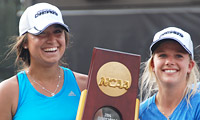 Women's Tennis Wins UCLA's 111th National Championship
The UCLA women's tennis team captured its second NCAA title and the 111th NCAA title in UCLA history after a 4-3 win over North Carolina on May 20 in Athens, Ga.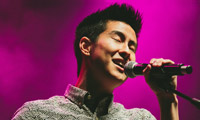 Video: Spring Sing 2014
From celebrity judges such as Dennis Quaid and Raven-Symoné to the amazing winning performances like that of Eric Jung and Alex Liu, watch the best of this year's Spring Sing and re-live the show that rocked Pauley.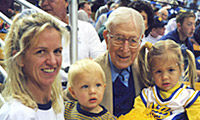 The Making of a Bruin
Stefanie Moye just submitted her Statement of Intent to Register at UCLA. But as a child of passionate Bruin parents, Amy '86, '88 and Chris '85, her journey as a Bruin began long before receiving her acceptance notification.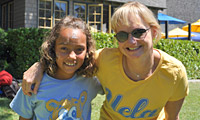 The Highlight of Alumni Life
Bruin Woods embodies the Bruin spirit and everything great about UCLA: family, friends and being inspired by both people and your surroundings. If you're going on a family vacation, this is the one to go on.








Jane Fonda, Herbie Hancock, YouTube CEO Susan Wojcicki, M.B.A. '98 and Nobel Laureate Randy Schekman '71 Among Commencement Speakers



Bruins Travis Kalanick, Senator Kirsten Gillibrand, J.D. '91 and Natalie Massenet '87 Named Time's 100 Most Influential









Angela Davis Speaks at Royce 45 Years After Being Fired by UC



Philanthropist James Easton '59 Receives the University's Highest Honor



Marilyn Beaudry-Corbett, M.A. '77, Ph.D. '83 Establishes First Endowed Chair in Mesoamerican Archaeology at the Cotsen Institute



White House Honors Urban Planning Chair Evelyn Blumenberg '95













Bruin Bash and UCLA Football a Winning Combination at Every Away Game. Make Plans to Join the Pregame Party











Want to Mentor a UCLA Student This Fall? Fill Out an Interest Form





Visit the Enchanting Natural Beauty of Sicily and the Divine Amalfi Coast, Oct. 10-19



Promote American Indian Education by Supporting and Empowering Ms. UCLA Pow Wow










NEW YORK TRI–STATE NETWORK



June 12, New York | PAC-12 Alumni Boat Cruise



June 17, New York | Book Club Meeting



July 15, New York | Book Club Meeting


WASHINGTON, D.C. AREA NETWORK



June 6, Washington, D.C. | Jazz in the Garden



June 7, Washington, D.C. | D.C. Bruin Alumni Softball Team Game Watch



June 14, Washington, D.C. | Board Meeting



June 19, Arlington, Va. | Third Thursday Bruins Happy Hour



June 20, Vienna, Va. | Pixar in Concert



June 29, Washington, D.C. | June Bruin Brunch Club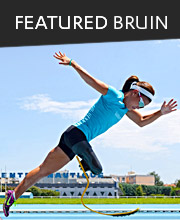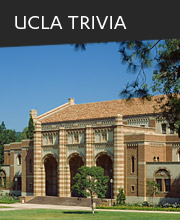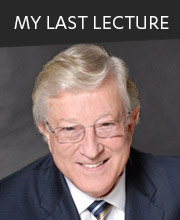 | | | |
| --- | --- | --- |
| | [[member_thankyou]] | |







UCLA Alumni Connect, Vol. 13, No. 6, National Edition | Other Editions
UCLA Alumni Affairs, James West Alumni Center, Los Angeles, CA 90095
©2014 UCLA Alumni Affairs