AUGUST 2014 | INTERNATIONAL EDITION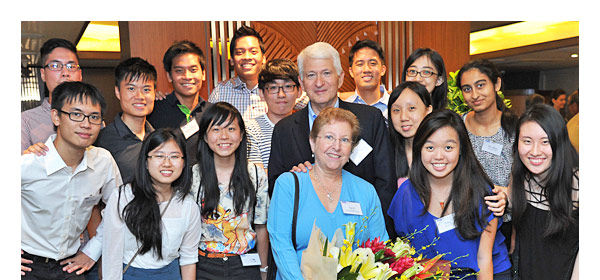 UCLA Goes Global. Alumni responded with gratitude as Chancellor Block and a small UCLA delegation recently traveled to Asia as part of a series of international visits that also included Europe, the Middle East and South America earlier this year. His message promoted the Centennial Campaign and UCLA's role as an engine of change and educational opportunity.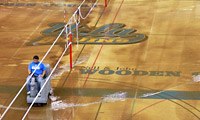 Water Main Break Floods UCLA
On July 29, a water main rupture on Sunset Blvd. sent water gushing through several facilities on campus. Pauley Pavilion sustained extensive damage as did cars trapped in Lots 4 and 7. No injuries were reported. Educational facilities were not damaged.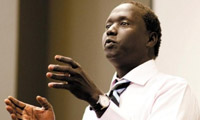 Making History in South Sudan
Jok Madut Jok, Ph.D. '96 lives a schizophrenic existence. Trained as an anthropologist at UCLA and a professor at LMU, he returned to his homeland of South Sudan, after witnessing decades of war-torn strife and human suffering, to help rebuild the new state into a nation with a collective identity and sense of purpose.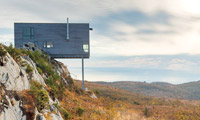 Alumnus Wins the AZ Award
Brian MacKay-Lyons M.Arch. '82 received Azure Magazine's AZ Award for Best Residential Architecture for the Cliff House in Nova Scotia, Canada.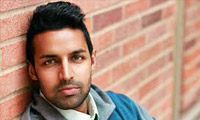 Classic Case of Bruins Helping Bruins
The talented creator of "Keeping Up with the Guptas" Sunny Tripathy '12 uses the alumni connections he made at UCLA's Entertainment Networking Night to propel his career, striking a TV deal with 20th Century Fox to produce a comedy series about his personal and family experiences.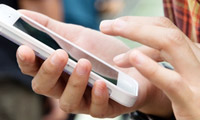 Let Your Fingers Do the Scrolling
Since UCLA launched its mobile app, thousands of students, alumni and visitors have used it to access the campus directory, maps, events, news and social media updates in real time. Find out how this free app can serve you.








Ira Sangar '10 Reflects on How UCLA Helped Her Career in the Nonprofit Sector in India



UCLA Hospitals Ranked 1st in California and 5th in the Nation in U.S. News' Survey



Mo Martin '05 Eagles the Final Hole to Win the Women's British Open



UCLA to Develop 'Brain Prosthesis' to Help Brain-Injured Patients Recover Memory



Campbell Hall Construction Gives Academic Advancement Program Room to Grow











Gulf War Vet Anthony Allman '08 Improves the Lives of Veterans On and Off Campus





Cape Town, Robben Island, Victoria Falls – Discover the Extraordinary Treasures of Southern Africa



Michelle Sinness '14 Blogs About Her Humanitarian Work with Chikumbuso Women and Orphans in Zambia



Become a Member and Save 10% on UCLA Extension Classroom and Online Courses








INDONESIA NETWORK



Aug. 16, TBD | New Bruin Send-off Celebration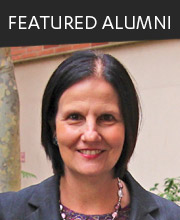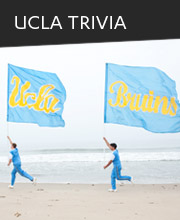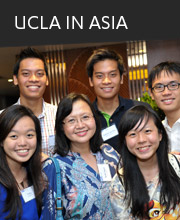 | | | |
| --- | --- | --- |
| | [[member_thankyou]] | |








UCLA Alumni Connect, Vol. 13, No. 8, International Edition | Other Editions
UCLA Alumni Affairs, James West Alumni Center, Los Angeles, CA 90095
©2014 UCLA Alumni Affairs